6 Ways to Diversify Revenue as a Creator
Sharing ways to generate more income as a creator by expanding your brand and activating your community.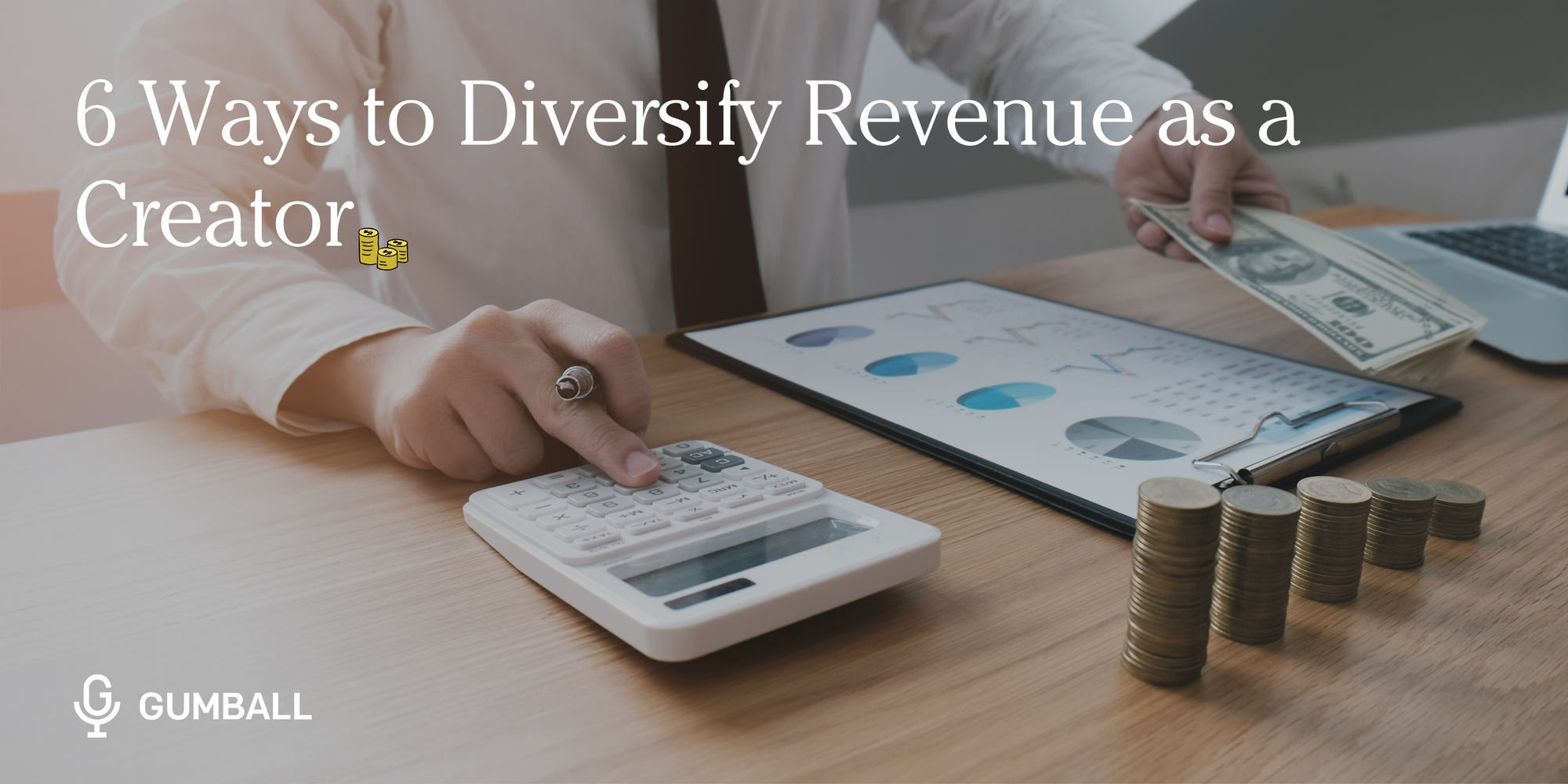 As a creator you have the power and privilege to bring your ideas to life – activating and unlocking your creative potential. The digital landscape you started out in may look very different from the one you're navigating today. Luckily, you are adaptable and primed to tap into the many lucrative opportunities that can turn your passion into sustainable income streams. Be sure to identify why and how you hope to diversify since each new venture can be as expansive as it is an investment of time, energy, and effort to get it up and running.

In this article, we'll share practical ideas to diversify your brand, show, or network for long-term financial success.

1 - Explore Video Platforms & Content:

We are seeing an explosive number of podcasts expanding through video content, especially on YouTube. YouTube is now one of the most popular platforms for podcasts. Especially since the pandemic there's been a growing desire for audiences to not only connect with podcast creators through audio but also visually through video. By using Google AdSense for YouTube you can get paid for the video views you rack up. Explore posting full episodes and shorter clips of some of the most compelling or entertaining snippets from each episode.

2 - Build Audience Membership Opportunities:

Audience loyalty cannot be overestimated. There are those superfans who love engaging with you and would be willing to support you beyond the podcast space so here are three ways to build that tighter community network that can be beneficial to all:
Membership Platforms: provide you with unique digital membership spaces to engage with and provide exclusives to your communities. The fans that opt in to financially support you will receive the VIP treatment from you by offering them exclusive content, products, brand sponsorship codes, and more. Some of our favorite platforms are Patreon, Discord, Substack, Mighty Networks and more.
Paid Newsletters: are another great option to uplift your voice and brand to those who choose to subscribe for a fee. Platforms like Mailchimp or Substack make it possible to provide your fans with premium content, member-only events, early access, discounts and codes for products and more. How much you choose to charge depends on the frequency and quality of offers you're able to include in the subscription. Pricing models tend to be monthly or annually (typically at a discounted rate). Bonus: depending on your audience and niche, brand sponsors may be willing to sponsor your newsletter.
Live Streams: is a good option if you're looking to create intimacy with your fan base in real time. Depending on the platform you stream with (Moment, Twitch, Bigo Live, YouTube Live, etc.) there are ways for your followers and audience to donate or tip you for the experience you're sharing with them. By setting yourself up as a live streamer you can integrate brand sponsors into the stream for an added financial boost.

3 - Become a Teacher with Online Courses

Depending on your expertise or niche, you have amassed a following for activating what you're about and having knowledge that followers seek out. Chances are, you've learned so much from your podcast, the guests on your show, and the research you've done. Putting this wisdom to good use through online courses is a fantastic way to amplify your expertise while also making passive income.
Choosing what to teach is up to you but should be a topic that appeals to you and your audience that they'd be excited to learn, engage with, or become more proficient in. There are online course platforms like Skillshare, Mighty Networks, Podia, Thikific and many more that boast streamlined ways to create and publish your courses. Once you've put in the work to research, outline, film, edit, and publish your course you can continue to amplify it on all your other channels to encourage your audiences to purchase. Better yet, identify a few topics you'd be able to make online courses about to continue to diversify and create content your audience might be interested to learn or invest in.

4 - Spread the Love with Affiliate Marketing

If you're working with brand sponsors for your show or podcast then you're already familiar with affiliate marketing. Affiliate marketing is a way of building a partnership with a brand, product, or service to act as a marketing channel for them and earn a commission from it. When you share a product recommendation and use a unique tracking link or discount code through any of your host-read ads, newsletters, membership platforms etc. and your followers make a purchase, you'll receive a percentage of the sale. Depending on the agreement terms with the brand, you can strategically think about the ways you'd like to promote these links or codes while also providing value to your community.

5 - Activate Community with In-Person Events

We hear from many of our creators that there is something about meeting their community IRL that can't be beat. Making memories, creating connections, and meeting those who support your show or brand is an invaluable experience. No matter the size of your following or niche, creating opportunities for in-person events is a way to generate income from ticket sales. You can get creative with the type of event you want to host, if you want a percent of proceeds to go towards a non-profit or an organization, or how big or intimate you want it to be. By hosting an in-person event, you also have the opportunity to seek out brand sponsors or weave in an integration to help support your vision and cover various activation costs.

6 - Get Creative with Merchandise

Whether it's at an in-person event, on your website, or dropping it as an enticing perk for your digital communities, selling merchandise gives your community a chance to help support and promote your show or brand. Merchandise can do a lot for your brand by creating brand awareness, exclusivity, and differentiation. It's as much a creative endeavor as it is a strategic one as there's a lot to consider when choosing to make an upfront investment into this revenue stream. Being thoughtful about what to sell, the design of the product/s, finding a trusted or sustainable vendor, determining a fair price, as well as sourcing the best packaging and shipping methods are all essential to consider. But once you do, it can feel very satisfying and can be a lucrative way of diversifying your revenue by doubling down on your brand and community in such a creative way.

For more strategies and thought starters on diversifying your revenue as a creator, check out our other articles Part 1: Picking a Podcast Monetization Strategy that Works and Part 2: Choosing the Right Monetization Partner.