Part II: Choosing the Right Podcast Monetization Partner
The question you need to be asking yourself when considering different monetization partners is this: How will you dedicate your time?
Welcome to the final installment of our two-part series. If you haven't read the first part, be sure to start here.
Previously, we looked at the different techniques of podcast monetization and the best times to apply them based on context or situation. Building on from there, this time we're going to explore what is arguably the most popular way to monetize your show: Selling ad inventory.
However, by general rule of thumb, there is a certain threshold your podcast must cross before you consider employing this method — a minimum number of sustained downloads per episode — and this number can differ based on your chosen method of selling ad inventory.
But before we begin, it bears repeating:
While the purpose of monetizing your podcasts is to make you money, you must ensure that doing so does not impact the listener's experience.
To state the obvious, without an audience you don't have a podcast to monetize.
It's crucial to check in with your listeners on the regular, and so we strongly recommend that you get to that right away with this audience survey template from Edison Research; conducting a listener survey will provide deeper insights into your audience's demographics, listening habits, and engagement. In fact, you should be sending this survey around every six months to keep track of how your audience evolves.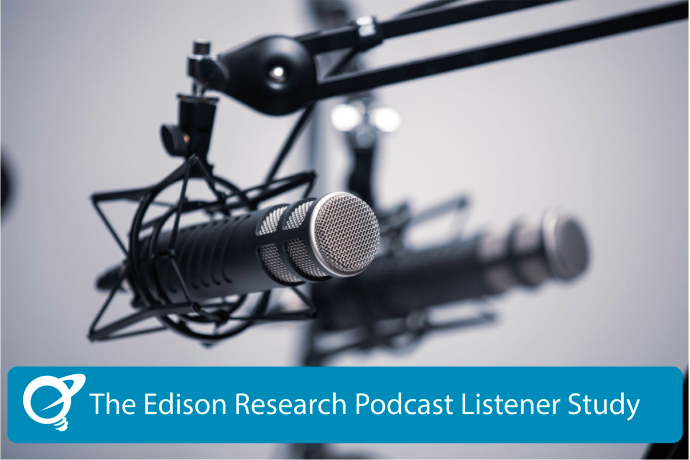 Consequently, this understanding will become critical when the time comes for you to narrow down what kind of brands, products, and services they are likely to buy. And that is the acumen which makes your audience oh-so-valuable to your sponsors.
With all that obligatory finger wagging out of the way, let's talk about selling ads. There are two ways to go about it. You can either:
sell your own ads, or
find a monetization partner.
Selling your own ads
What: You personally sell your ad inventory for your show. This involves finding sponsors to work with and manage all campaign logistics such as scheduling the ads and reporting their performance.
This is ideal for podcasts with primarily localized and/or hyper-niche audiences. While you don't need 10,000 downloads per episode for this one, per se, we still recommend reaching at least 5,000 downloads per episode so that you can back up and solidify your pitch to advertisers… AND earn some meaningful income off of the sponsorship itself.
How to do it right: Remember the Edison listener survey? Use its insights to first identify what kind of advertisers might best suit your audience, and then craft a powerful pitch for why those advertisers need your podcast and your audience.
Here are a few golden tips:
To identify potential advertisers, we recommend starting out by listening to podcasts with offerings and topics similar to yours. Reach out to the brands currently sponsoring those podcasts to pitch them yours directly.

Here's a platinum-tip: To find out whom to pitch to, head over to LinkedIn to find employees with the title "media buyer" or "media planner." In case that doesn't help you find a connection, you'll almost certainly find the right person in their marketing department.

Fear not if your podcast has yet to reach the 5,000 downloads per episode threshold. If you have a targeted audience — say your podcast covers a local sports team — you can start by getting in touch with businesses that are advertising on local radio stations and tell them why they should venture into podcast ads too!
Practically speaking, the only thing the direct selling method will cost you is time. You'll have to handle all communications. You'll have to handle all the invoicing. Eventually, you'll find yourself wondering if it's possible that your time is worth more. As your show grows, as it hopefully will, you might find this question looming ever larger over you.
If in the future you are ever faced with such a constant question, you'll be glad that you took the time to read this article and become aware of other ways to monetize your podcast.
Partnering with someone to sell your ads
What: When you've achieved 10,000 or more downloads per episode for at least five consecutive episodes, it's time to at least consider delegating the selling of your ads to someone else. Monetization partners are usually one of three types: podcast networks, sales representation firms, and platforms/marketplaces.
Let's break them down:
Joining a network: When an independent podcast has been around and performing for a while, they typically consider joining a podcast network as a typical next step. Becoming part of a credible podcast network affords a podcast access to production, marketing, and sales services. Ideally, when picking a network, you'd join one that houses similar shows to yours so they have experience selling ads to your audience and can assist with your shows long-term growth.

Being represented by a firm, or a second-seat seller: Second-seat sellers are firms that communicate with advertisers looking to invest in podcast ads, on behalf of podcasters. Usually, when podcasters think of monetization through selling ads, they're thinking of this scenario. Representation firms are typically in-charge of all campaign logistics, right from scheduling ads to full management of your ad rates.
Working directly with monetization platforms: A fair number of podcasts today eschew the two options above in favor of automating much of the monetization processes through a marketplace, directly. Gumball is unique in that we bring much of the strengths from an ad rep partner, combined with the efficiencies of a tech-enabled platform. (We dive into the benefits of this arrangement, further down.)
Characteristics of a good monetization partner:
Transparency: A good monetization partner will be upfront from the very beginning. They will work with you to understand your audience and goals. They will give it to you straight. It is vital that your partner is candid with you, especially when it comes to setting expectations around monetizing your podcast. Be wary of moonshots.
Managing Communications: Remember that a sales partner communicates on your behalf. Here's another place where having done that listener survey comes in handy — you can share with your partner exactly what you want to be communicated on your behalf. This also arms your partner with invaluable information helping set your show apart from the rest.
Payments: This is a simple one: know what you have made and know what you are owed. If possible, get any monetary promises in writing, right from the start.
Why work directly with a monetization platform?
Software vs. Email: In our case, Gumball is a tech-enabled platform, meaning you can view the details of your campaigns in real-time, without having to wait for human response time. This real-time sharing of available ad inventory, pricing, and your revenue dashboard adds a level of transparency very few partners can provide. Moreover, working on a platform means less scope for human error and fewer email threads to keep track of. This makes communication faster and clearer.
Higher Revenue Shares: Working directly with monetization platforms is more likely to provide a better revenue share. For instance, Gumball streamlines so much of the logistics and operational annoyances like tracking down payments, finalizing ad copy, and uploading airchecks. This allows us to pass on to creators a greater share of the revenue as a standard.
Exclusivity: More often than not, a sales partner is hoping to earn the exclusive right to sell your ad inventory. Podcasters shouldn't hand over that privilege without clear terms and assurances provided in exchange. Specifically, when engaging in an exclusive sales arrangement with a potential sales partner, be sure to outline what minimum revenue will be guaranteed to you over the course of your engagement. Both parties will make various commitments to satisfy this exchange. At Gumball, we work podcasters both non-exclusively and exclusively, and we're prepared to consider either relationship depending on a podcaster's goals, expectations, and audience reach.
A final note
As a matter of expectation setting — sales is not marketing. A sales partner will do sales but not marketing, as they're not your dedicated marketing partner. Their only commitment is to get ads on your podcast; it is not their stated job to grow or engage with your listenership.
And if your podcast sales partner says they will provide marketing services, make sure that both parties are clear on the definition of what exactly constitutes "marketing" and get it included in any agreement made.
Ultimately, the questions you need to be asking yourself when considering different monetization partners is this: How will you dedicate your time? Do you want to spend half your working hours producing your podcast and the other half selling it? Or do you want to find a reliable partner who can handle the selling for you while you dedicate yourself entirely to content production?
*  *  *
We're not quite done exploring what goes into creating a successful partnership stack around your podcast. That will be the focus of the final part of this series; stay tuned.
If you'd like to learn more about how Gumball can support you by selling host-read ads for your podcast, provide some initial info here and someone from our team will be in touch to schedule a demo.