Get in the Spooky Spirit with the Gumball Team's Favorite Halloween Content
Check out the Gumball staff's podcast and YouTube recommendations for this Halloween season.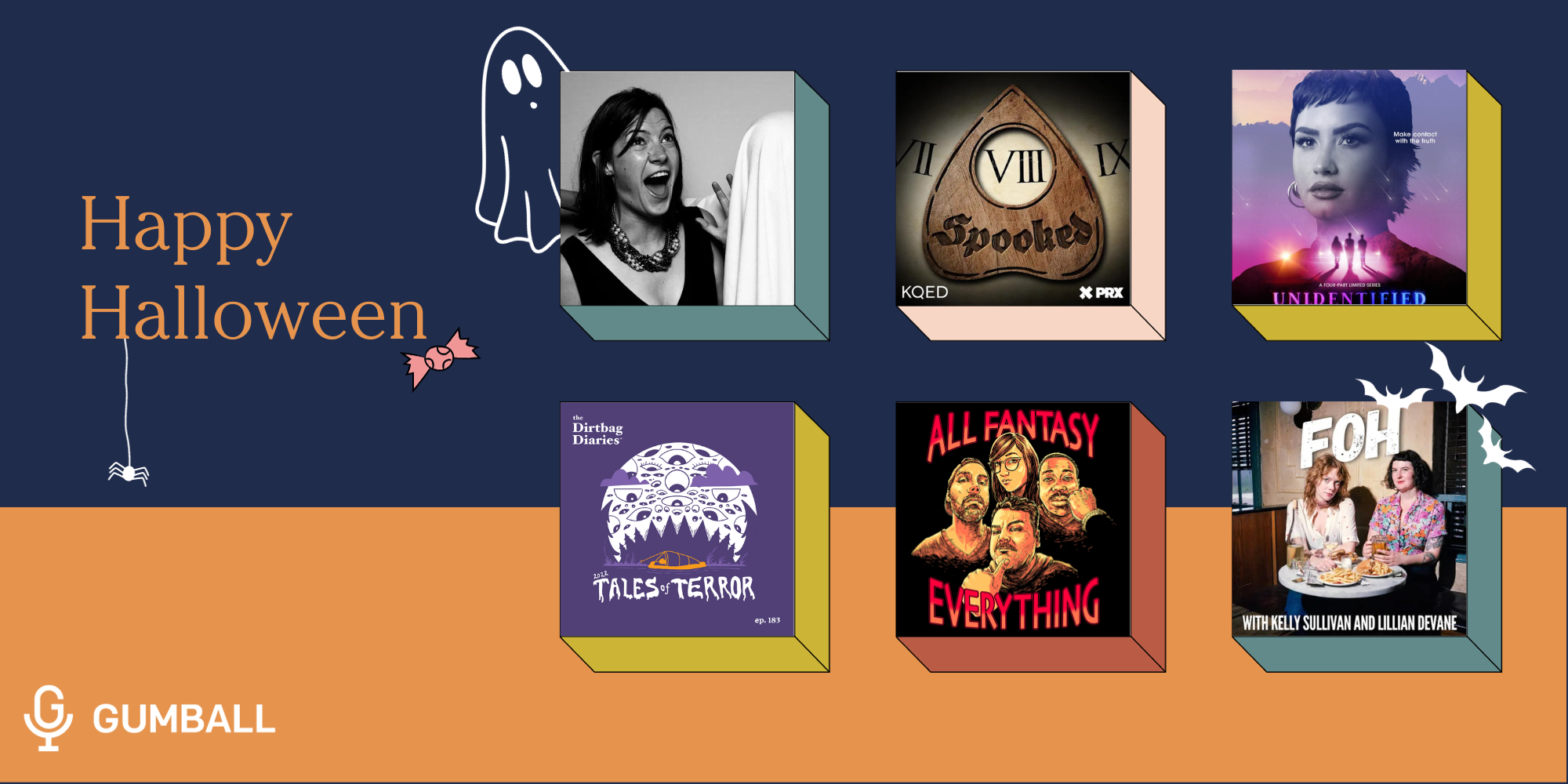 Halloween is creeping closer! While costume parties and trick-or-treating are timeless traditions, there's another way to embrace the spirit of the season: indulging in some spooky content made by creators we love. So if you're ready to embark on a bone-chilling journey through the supernatural, the mysterious, and the downright terrifying, we've got a thrilling lineup of Halloween-themed podcasts and YouTube videos, curated by the team at Gumball.
1. "Demi Sings Skyscraper to an Extraterrestrial Entity" from Unidentified with Demi Lovato
Recommended by Allie Kahan, Content Coordinator
"The pièce de résistance of Demi Lovato's short-lived extraterrestrial PeacockTV series Unidentified with Demi Lovato is arguably the moment when Demi meets Carmen, a spirit who is said to have experienced past trauma with men, while exploring an allegedly haunted property. In an effort to connect with Carmen, Demi asks if they can sing for the extraterrestrial entity and then proceeds to belt an a capella rendition of their hit single "Skyscraper". In this seminal moment, Demi's voice comes a bridge connecting the living and dead in a singular powerful moment of song like no one has ever done before or since."
Recommended by Brad Hild, Account Manager
"I remember my first time listening to the Dirtbag Diaries' "Tales of Terror" series - Driving through the Colorado Rockies in a thunderstorm late at night. The perfect recipe for a scare, right? These collections of listener-submitted spooky stories from the wilderness have become a yearly staple for my Halloween rotation. Encounters with mountain lions, harrowing mountain descents, and ghost stories - these stories are guaranteed to give you a chill!"
Recommended by Anya Kanevskaya, Producer
"On FOH, my very favorite service industry podcast, the hosts Lillian Devane and Kelly Sullivan vent about whatever blood-curdling thing happened to them that week at work, all year round. But every Halloween, they collect the spookiest and most horrifying shift stories from their loyal listenership of current and former servers, bartenders, and front-of-house staff. A must-listen for anyone who works in a restaurant, used to work in a restaurant, or has ever eaten at a restaurant. Turns out, the customer is often wrong!"
Recommended by Will Conover, Account Manager
"This Snap Judgment spinoff has been a favorite of mine ever since I started listening to podcasts. From ghost stories to alien encounters to haunted dolls, Spooked has got it all! Glynn Washington has an incredible classic radio voice and the show features some truly haunting sound design. There are hundreds of captivating scary stories from listeners and producers around the world. As a scaredy cat, I'd recommend listening with the lights on!"
5. Nick Wiger as Leo Karpatze on Comedy Bang! Bang!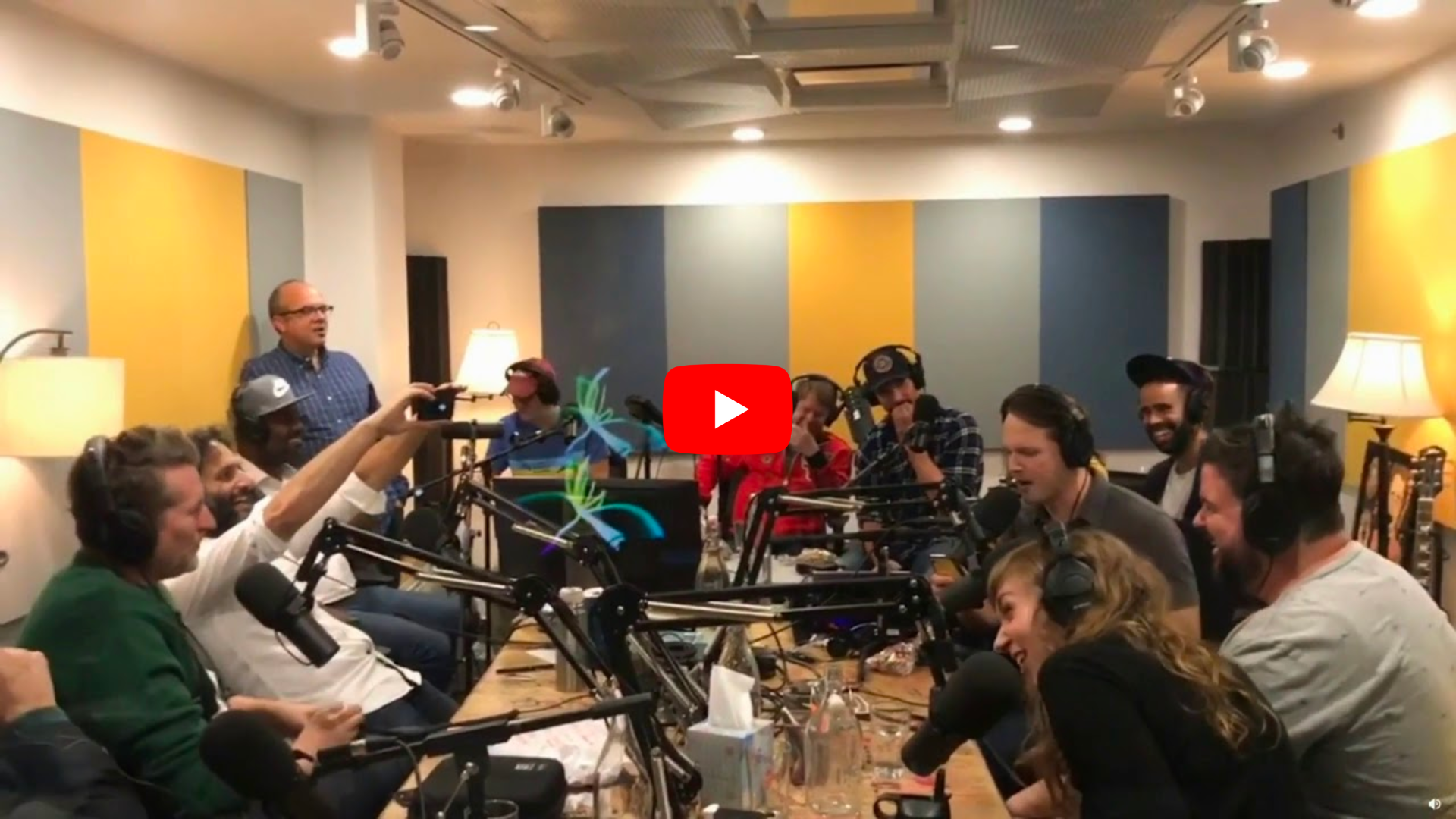 Recommended by Marika Brownlee, Director of Marketing
"Few things bring me more joy than the 10-year recurring bit on Comedy Bang! Bang! that is Nick Wiger as Leo Karpatze performing his famed song, the 'Monster Fuck'. The very chaotic Halloween episodes were retired after 2017, but Leo has continued to make an appearance almost every year since. On last year's episode, 'Unique Stuff', Scott claimed Leo wouldn't be invited back on the show even though he performed the very different 'Reboot' version. There's still one more Monday left in the month, though, so we can hold out hope for Leo's return."
Recommended by Saige Gipson, Marketing Intern
"Ghost in the Burbs is a podcast about the people of Wellesley, Massachusetts and the things that haunt them in their everyday lives. The show goes into the darkness that lurks behind that monotony of neighborhood life. The host, Liz Sower is a compelling and imaginative storyteller, who thoughtfully tells real life stories of the supernatural in Wellesley."
7. "Things That Gross or Creep You Out" from All Fantasy Everything
Recommended by Marty Michael, CEO
"What's better than a spooky All Fantasy Everything episode? How about a spooky VIDEO episode of the podcast!! This frightening October, don't forget to jog your memory of all 'Things That Gross or Creep You Out', fantasy draft style. Laugh, Cry, Scream, Enjoy!"