Gumball Expedites Payments to Content Creators with the Launch of LightningPay
Creators of all sizes can benefit from brand sponsorships and build sustainable livelihoods with the introduction of Gumball's new LightningPay option.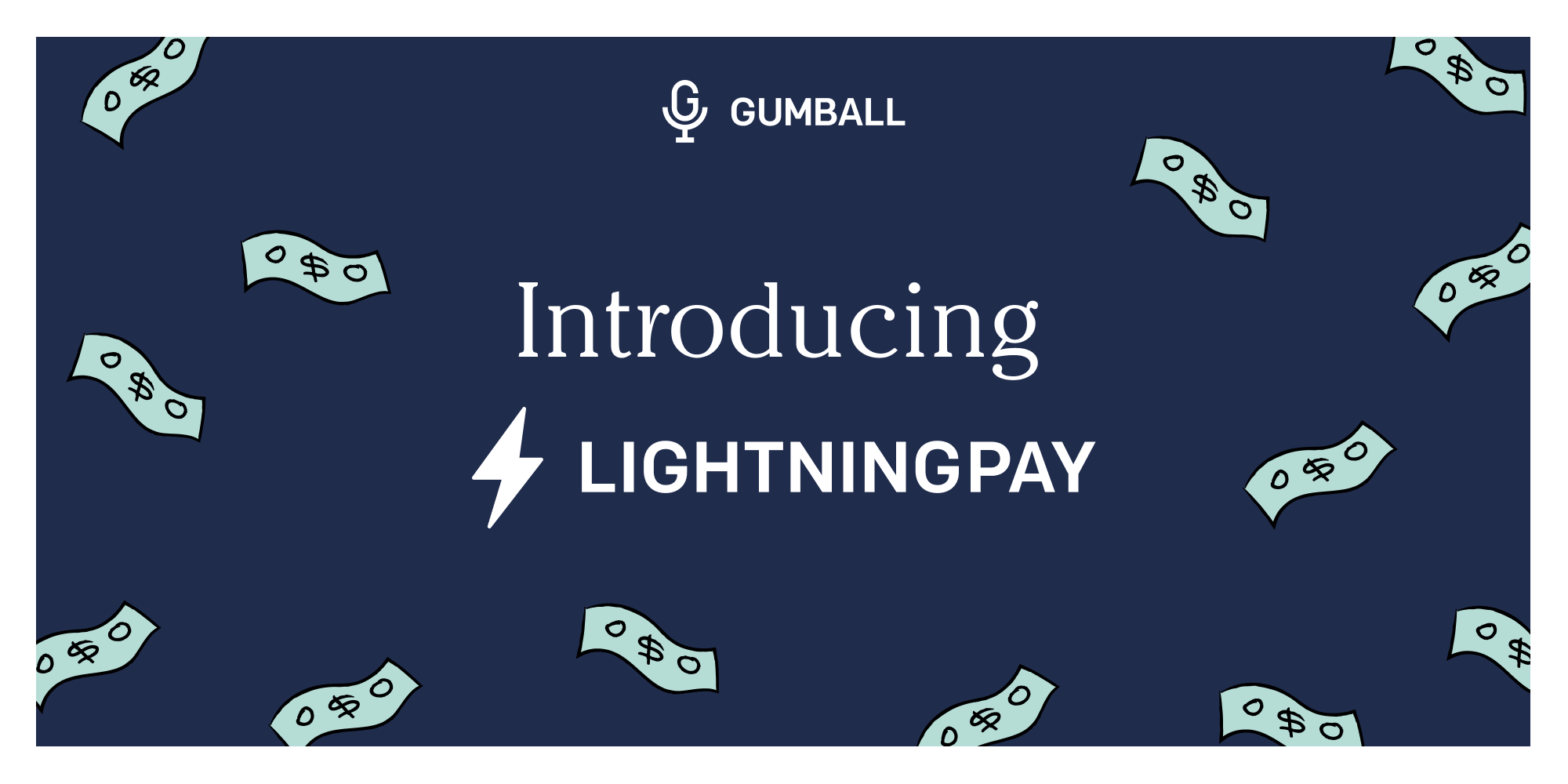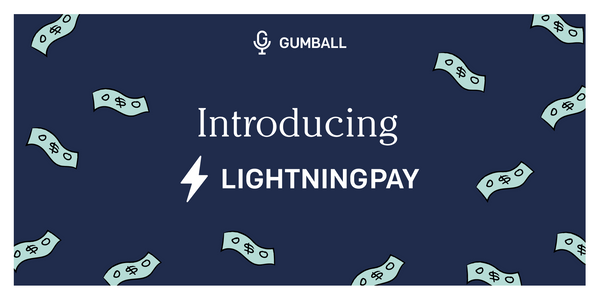 New Gumball feature shortens typical payment terms for podcasters from three months to a matter of days, levels playing field for creators of all sizes  
Los Angeles, CA – October 27, 2022 – When it comes to podcast advertising, independent content creators generally find themselves at the end of the payment chain, typically waiting 90 days or more to get paid. Today, Gumball, an advanced platform disrupting the host-read podcast advertising industry, is reducing this payment window with the launch of LightningPay, a service that allows content creators to be paid within days and with confidence.  
Launched in 2020 by the team behind the acclaimed podcast network Headgum, Gumball streamlines the process of buying and selling host-read ads, the most valued inventory in podcast advertising. LightningPay furthers Gumball's mission to level the playing field for content creators of all sizes by allowing podcasters who opt into the opportunity to be paid upon ad delivery completion.
"Content creators should be rewarded for their hard work promptly, and corporate payment terms should never be a barrier to smaller creators benefiting from brand sponsorship," said Marty Michael, CEO of Gumball. "LightningPay is designed to reduce the payment friction for content creators surrounding host-read ads by literally putting their money where their mouth is, faster. By supporting the entire ecosystem, we are benefiting podcasters, the advertisers that value their output, and ensuring audiences continue to access the shows they love."
LightningPay is available to podcasters of all sizes who are currently using Gumball and have implemented Gumball's latest tracking tool Gumshoe. For a 5% service fee, payments are processed as fast as 7 days after ad completion, as verified by Gumshoe. It is the latest feature within the Gumball platform, which has multiple benefits for both podcasters and advertisers:  
Gumball allows Podcasters to:
Get paid quickly and confidently with transparent payment tracking and predictable timelines
Verify campaign delivery and download data on Gumball
Work with a greater number of brands that require an independent source of truth
Protect listener privacy
Gain access to the biggest brands that align with their values
Better manage campaigns with intuitive dashboard tools, including ad scheduling, unified script and referral code access, and timely reminders to make sure ads air on schedule and airchecks upload
Have automatic brand category exclusivity
Book more advertising spots, increase revenue, and focus on developing compelling content
Gumball allows Advertisers to:
Track and evaluate ad impressions
Track and evaluate campaign delivery
Browse and book available inventory in real-time with transparent pricing
Filter audiences by demographic
Have automatic brand category exclusivity
Utilize automated ad copy, vanity URLs, and coupon code distribution
Easily verify ads have aired and listen in one place
Scale across hundreds of shows  
Hundreds of podcasts are available for host-read ad campaigns on Gumball. They include Headgum Original shows, podcasts within the Headgum Network, and independent podcasters and content creators signed to Gumball.  Some of the biggest consumer brands using Gumball include Casper, CBS, Netflix, OkCupid, Squarespace, Warby Parker, Brooklinen, AMC, Linkedin, and StockX.  
Since coming out of beta in March 2022, Gumball has facilitated more than 20,000 host reads for 740 brands across 200+ podcasts. For further information, please visit https://gumball.fm.  
About Gumball
With offices in New York and Los Angeles, Gumball is the marketplace for advertisers to buy host-read ads directly from podcasters. The platform enables advertisers to easily book impactful advertising campaigns through a modern and transparent buying process. It was created by the team behind Headgum, an acclaimed podcast comedy centric podcast network established in 2015. To learn more about Gumball and the platform, visit https://gumball.fm.