Webinar Recap: Unlocking the Power of Host-Read Advertising with Gumball
Gumball's first webinar was led by Director of Creator Partnerships Narisa Ladak and guided participants through the Gumball platform and examples of effective host-read ads.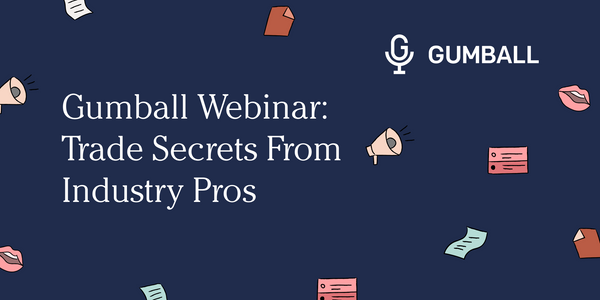 On October 18, Gumball premiered its webinar series with the session,"The Power of Host-Read Podcast Advertising: Trade Secrets from Industry Pros."
The webinar was designed and led by Director of Creator Partnerships Narisa Ladak, with support from Creator Partnerships Manager Alex Berkmen and Director of Sales Micah Hurwitz.
If you missed this webinar, here are the main takeaways.
First, a brief intro to Gumball and how it works.
Gumball is a marketplace that connects advertisers to podcasters to create impactful host-read ad campaigns. It's an all-in-one platform for both parties.
Advertisers can browse more than 200 podcasts and filter by audience demographic, genre, and other categories; easily book multiple spots on multiple podcasts in one session; and track campaign performance and delivery. Podcasters can specify what kinds of advertisers they want to work with; see ad scripts and upcoming campaigns in one place; and view their payment status.
The following definitions provided additional context to the rest of the conversation.
DAI: Also known as dynamic ad insertion, is the technology that allows an ad to be stitched at the time of listen or download by the hosting site and runs across an entire catalog
Embedded: A type of ad that is manually edited into the episode file using editing software; embedded ads are "baked in" to that episode forever (unless you manually remove it later)
Host-read vs. producer-read vs. a generic voice (like on the radio): These terms differentiate who is reading the actual ad
Host-read vs. host-endorsed ads: A host-read ad is when a host is talking about the brand and host-endorsed ad is when a host is talking about their experience with a specific brand
A good host-read ad has many elements.  
The most important things for podcasters to keep in mind are:
Authenticity and staying true to your personality.
Connecting with your audience the way you know best.
Other elements include:
Tying in the ad to the content of the podcast.
Picking some, but not all of the talking points provided, and rotating through them in subsequent reads.
Taking notes of the whole experience as you test out the product or service.
Providing added value to the advertiser by distributing the vanity URL or promo code everywhere you can, especially if they're a first-time sponsor.
We then listened to examples of great host-read ads from the podcasts Dead Eyes, If I Were You, See The Thing Is, and Twenty Thousand Hertz and discussed why they were effective. All the ads made use of the above elements to varying degrees, but the clear similarity is how each host stayed true to their own voice and made the ad read personal and engaging.
Audience Q&A
The session concluded with questions from the audience, two of which are highlighted below:
Do you have any advice for how to conduct host-read ads for fictional podcasts?
We recommend reading your ads in the voice of a character from the podcast and creating a fictional story out of the brand or product. This tactic helps with continuity, and the listener won't be jolted out of the world you've just created.
If it doesn't make sense to use a character's voice, you can also make an all-new character specifically to voice the ads. Passenger List does an excellent job at the latter. Using either of these methods, you can also potentially charge higher CPMs to advertisers if you're creating soundscaped, fully produced ads that match the quality of your podcast.  
When a brand is sponsoring multiple episodes, how should podcasters approach reading from the same script?
We actually have a blog post on this exact topic! At Gumball, both we and advertisers expect each ad read to be unique — even if you're working off the same set of talking points. We recommend rotating through talking points and staying organized on which points you've already addressed in past reads.
Thanks to everyone who participated in our first webinar and stay tuned for more in the future. If there's a topic you'd like us to cover in our next webinar, let us know at hello@gumball.fm.