Webinar Recap: Pulling Back the Curtain on Podcast Ad Operations
In collaboration with the Gumball Ad Operations and Creator Partnership teams, we define the elements of a successful podcast ad campaign, review workflow, campaign tracking, and share our best practices and common pitfalls as it relates to podcast ad operations.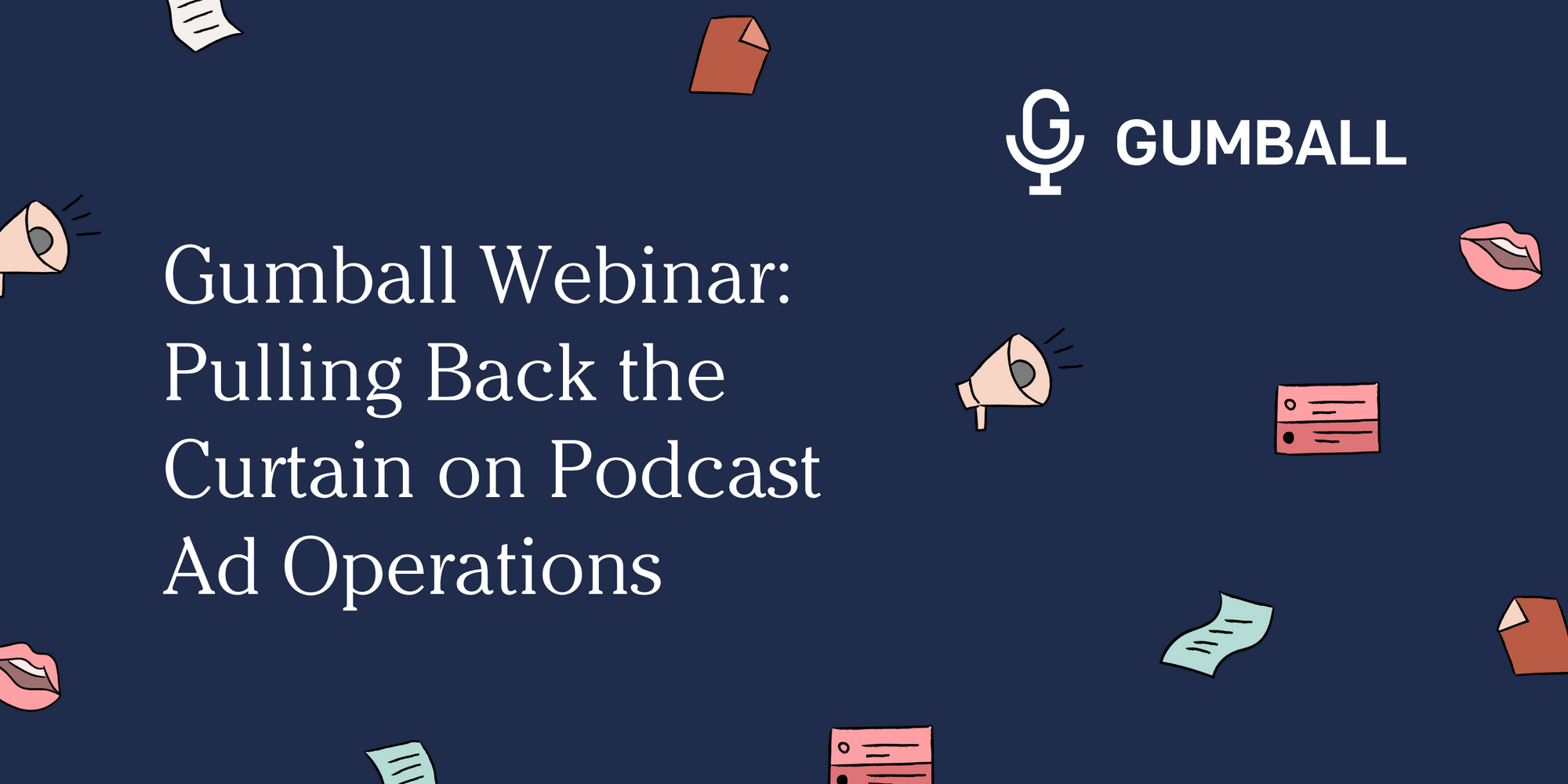 On February 28, Gumball returned to its webinar series with a conversation around "Pulling Back the Curtain on Podcast Ad Operations" with VP of Creator Partnerships at Gumball, Dane Cardiel and VP of Ad Ops & Client Services at Gumball + Headgum, Michelle Macias.
If you missed this webinar, check out their expert insights below:
But first, a recap of Gumball and what we do.
Gumball is a host-read ad marketplace that connects advertisers to podcasters (creators) to create impactful host-read ad campaigns – it's an all-in-one platform for both parties.
Advertisers can browse a plethora of inventory with 300 shows currently on the marketplace (the number of shows available on the platform is growing rapidly quarter over quarter) and filter by audience demographics, genre, and more; easily booking multiple ad spots on multiple podcasts in one session. Our platform is a hub for campaign and performance tracking and is a one-stop shop for creators to review the campaign agreement, ad copy, and upload their deliverables for review and even get paid. Gumball offers various programs for campaign tracking and payment that we'll hit on next.
A brief summary of programs we mention throughout this article:
LightningPay: a new creator-first expedited payment product that Gumball launched in 2022. Once the Gumball platform confirms that the ad has been fully delivered, it can pay creators immediately to help them with cash flow. For a small fee creators no longer need to wait for advertiser payments to be collected and processed before getting paid.
Gumshoe: a measurement tool that's attached to a podcast's RSS feed (for embedded ads) and an ad campaign within a DAI hosting platform (for dynamic ads) to provide free and independent insights into the podcast's download analytics. Gumshoe works with most hosting platforms.
Fundamentals of podcasting ad operations
Dane and Michelle kick things off by explaining some of the definitions and reasons why ad ops is such an integral part of the process and business. At Gumball, the ad ops team manages the campaign lifespan from start to finish by identifying and confirming deliverables between the advertiser and podcasters, monitoring delivery and reporting for the advertiser, and facilitating any inflight campaign changes, and managing any post campaign accounting needs (invoicing, creator pay-outs etc.).
Other companies may segment this process out amongst various teams but at Gumball we are able to manage the process with greater efficiency, transparency, and benefit to our creators and clients by servicing both sides of the relationship and translating needs to facilitate a streamlined and successful campaign.
A successful campaign means it needs to be:
On brief - the ad meets the specifications and requirements of the advertiser
On schedule - the ad(s) went live on the drop date (or launch date) scheduled
On strategy - the ads reached the contracted impressions in an agreed upon timeframe
By facilitating and executing a campaign accurately and efficiently, it yields all kinds of opportunities for potential campaign extensions and growth within the advertiser and creator partnership.
Ad operations supports advertisers by taking the lead and ensuring the campaign requirements are crystal clear. They will outline the deliverables, metrics, and overall ask for the campaign.
On the creator side, ad operations will ensure they have all the information needed in a clear, concise way – all done through the Gumball platform so they are set-up for success. Ad ops manages all the communications with the advertiser and makes sure all the info shared is up to date and accurate.
Campaign Tracking & Workflow: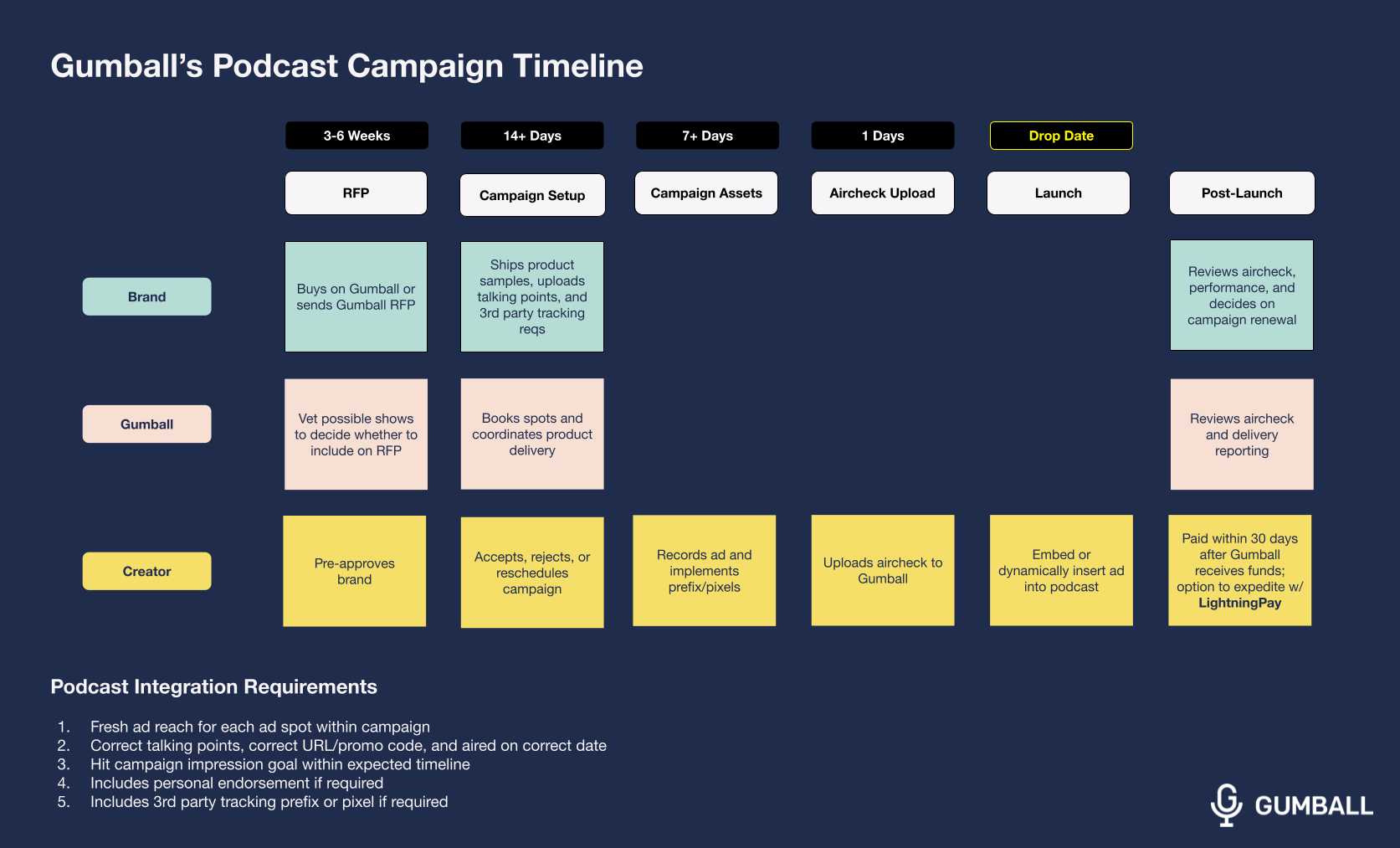 Campaign Tracking Explained
Once the campaign is booked there are several deliverables the advertiser confirms, typically these include: required talking points/copy, if a product or samples will be sent to the creator, and if the advertiser is looking to do campaign tracking or third party tracking. If an advertiser requests it, there are two types of tracking that can be implemented: a Prefix or Pixel. Here's a handy break down of each:
Prefix:
Short URL attached to your show's RSS feed
Allows 3rd parties to track an audio campaign embedded into an episode
Only some hosting platforms support prefix implementation or multiple prefixes
Note: Always confirm with the host platform that a Prefix can be added before agreeing to any tracking implementation. Advertisers may require it so it is important to double check in advance

Pixel:
Unique URL that allows advertisers to track ad delivery on an audio campaign dynamically inserted into your podcast catalog
Most hosting platforms support multiple pixels at the same time; but again confirm with the host platform before agreeing to any host tracking implementation

Ad Ops Campaign Workflow
Pre-campaign
All deliverables (copy, product samples, prefix/pixel needs etc.) from the advertiser will be shared with the creator 2 weeks in advance of the drop date
Onboarding call will take place (if required)
In-flight Campaign
Communication with ad operations to troubleshoot prefix/pixel issues
Sharing any updates to copy changes (if needed)
Airchecks must be uploaded to the Gumball platform two days prior to drop date
Delivery/reporting updates (e.g. weekly pacing and fulfillment metrics via Gumshoe)
Feedback on ad reads or a make-goods notification in Gumball platform
Post-campaign
Gumball's Standard Payment Terms (options like Net 30 payment or LightningPay)
Tip: If taking part in a testing campaign, creators are encouraged to create a one-sheet summary of the added value they've given to the sponsor. It can include:
Summary of deliverables
Engagement and listener feedback via comments or emails received
Communicate in a way that keeps the long-term partnership top of mind
FAQs
The ad operations team receives many inbound questions from creators, so Michelle and Dane share their answers to some of the most common FAQs while giving ideas and tips along the way.
Why haven't I been paid for this spot?
Standard payment terms are to pay creators by the 15th of the month for any money collected in the month prior. Alternatively, creators can increase cash flow when they sign up for LightningPay, instead of waiting for advertiser payments to be collected and processed through accounting.
When will I receive copy/talking points from the advertiser?
Ad copy is required 2 weeks in advance from the advertiser and shared with the creator. If an unforeseen delay occurs then the ad ops team will confirm with the creator if it is something they can still incorporate for the drop date or if the ad needs to be rescheduled.
Why did a brand cancel or not renew my contract?
There are a few reasons this can happen. Performance can be a key factor, especially with third party tracking advertisers have more tools to track performance. Budget cuts are another common reason advertisers may opt out. It's not uncommon for advertisers to return once additional budget is approved later in the year. Lastly, there are times when advertisers are at risk of going over budget that quarter and may shift inventory instead of canceling completely.
Why is a fresh ad read required if the talking point copy stays the same?
Advertisers typically expect a fresh read with each spot they invest in. Gumball recommends that creators leverage the different spots in the campaign to rotate in various copy points within their read delivery. Each spot does not always need to use different talking points but for example, if there's a personal experience component in the read, it can be helpful to share that experience in various ways since the show may have built in listeners who have engaged with that read a few times already, so this provides the audience with a new connection point.
Why is an onboarding call necessary?
Although not always necessary, onboarding calls are a fantastic opportunity for both parties to gain perspective and get clear on inputs and deliverables. It's so helpful when advertisers provide brand values or dos/don'ts lists on the call so a creator can feel knowledgeable about how they can be a collaborative sponsor for the brand while doing it in their authentic way.
Tip: We recommend the creators come to this call enthusiastic and engaged with questions for the advertiser. This shows an interest and desire to make this a successful partnership. It's the creator's opportunity to ask questions and get clear on things like correct pronunciation of the brand or product name, double clicking on talking points received, or gaining insight into how the product or service works. Even getting clarity on the brand's goals for the campaign or ad read beyond performance helps creators brainstorm ideas to build into the ad read scripts.
Ad Read Best Practices & Common Pitfalls to Avoid Make-Goods:

Best Practices:
Use this checklist
Review your Gumball dashboard and the Script page to be clear on copy requirements, along with additional notes (like advertiser dos/don'ts, etc.) and pixels that need to be added
Ensure all mandatory talking points are included and the CTA is correctly stated
Ensure a fresh ad read is produced for every ad spot
If a spot needs to be rescheduled, notify Gumball at least one week in advance
Upload airchecks two days prior to drop date
Common Pitfalls:
Ad read errors, including:
Using old copy (it will always be up to date in the Gumball dashboard)
Incorrect CTA or URL
Mispronunciation of brand names or key words
Not placing ad in contracted spot (e.g. pre-roll, mid-roll, or post-roll)
Not including personal endorsement when required
Not proactively communicating issues on deliverables, such as:
Not receiving product samples 2 weeks prior
Lack of clarity on certain elements of the copy
Prefix/pixel isn't saving properly
Not uploading airchecks to Gumball in timely manner (2 days prior to drop date)
Final Gumball Insights for Creators
How do brands buy inventory for a campaign?
Most advertisers are performance-driven
They like to find shows that perform well for their products
They like to find shows with an audience target that matches their own
They tend to like shows with a consistent, proven track record
They tend to buy 1-2 spots per month on a show
They tend to test on new shows with 3 or fewer spots
How to leverage ad operations for success (especially for new brand partnerships)
Consider delivering 5-15% more impressions per campaign
Consider added value via social media, newsletter, website, etc.
Share post-campaign one-sheet that confirm ad delivery, added value, and fan engagement with product with our team
Follow best practices and earn a renewal stat which will help to build a good reputation in the market for future partnerships
Gumball is now supporting shows with free hosting and ad ops support. This is a great way we can support our shows to ensure effective campaign creation and tracking.
Live Q&A

How much does it cost to purchase an ad with Gumball?
Rates are established with the shows themselves. Gumball works with the podcasters and provides a recommendation on the range to list at to be most successful, but it is ultimately their decision. There is no fee to access rate cards on the Gumball platform.
If you have a podcast that's released on both audio platforms and video platforms (like YouTube), do advertisers prefer to purchase on one or both platforms?
Advertisers are interested in all of it and working with either set-up (or both!) is totally fine. Gumball does provide the combined audience data for advertisers when selling in a campaign package (inclusive of audio and video audiences), therefore it's important that whatever content is produced for the campaign that it be consistent across all channels and placements (for example, it lives in pre-roll in both audio and video).
Data shows that the ad spend market is soft right now, what's Gumball's outlook in 2023?
Positive! Although we saw that long term spending was delayed by a few months in 2022, early 2023 has shown brands coming in especially interested and eager to test campaigns. It is a competitive market right now and Gumball's relationships with advertisers and creators helps determine the pairings that can yield the highest success rates. However, given how selective brands can be right now, creators can always put in energy and effort to ensure they are providing added values to the partnership (like showing interest and providing post-campaign wrap up summaries) or collaborating on effective tests.
We appreciate everyone who participated in the webinar and/or took the time to check out this recap. If you're a creator and have any questions or want to schedule a check-in with the Gumball team, email partnerships@gumball.com or check out @gumballFM. If you're an advertiser interested in setting up a campaign, reach out to advertising@gumball.com.