Critically Acclaimed Podcast "Love and Radio" Joins Gumball
Previously a Luminary exclusive, the show will be available for free on all platforms. You can book your ad campaign on this popular podcast today.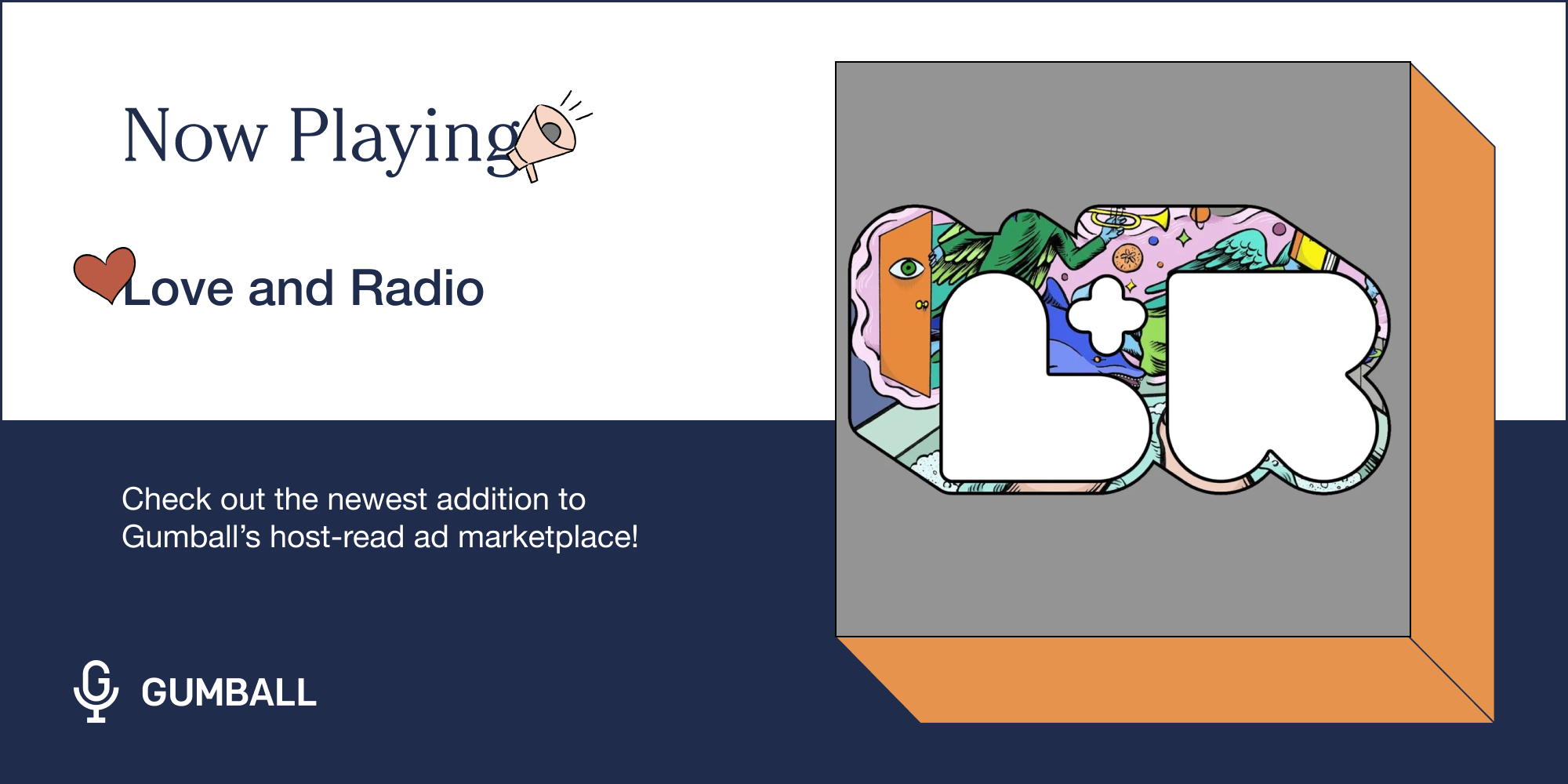 New York, NY – July 20, 2022 - Today, Gumball, the premier marketplace for advertisers to buy host-read ads directly from podcasters, announced that the award-winning podcast Love and Radio has joined its platform and is now available for ad sales. Additionally, Love and Radio has removed its paywall and seasons 8 and 9 will now be publicly available for all listeners. Episodes will be released over the next year on a bi-monthly schedule.  
Hosted by Nick van der Kolk, Love and Radio features interviews and stories ranging in topics from mysterious kidnappings to the secrets and hilarity of journal entries to fascinating animal facts. Its immersive music, unexpected twists and turns, and strange but highly memorable characters have captivated audiences and critics since it began production in 2005.
Love and Radio became the first podcast to win top prize at the Third Coast Festival Competition (for the episode "The Wisdom of Jay Thunderbolt") and has been featured in The New York Times, The Guardian, and Nieman Lab. Notable fans of the show include Ira Glass (This American Life), Roman Mars (99% Invisible), and Jad Abumrad (Radiolab).
Seasons 8 and 9 of the show, previously available exclusively on Luminary, will be available for free on all platforms, expanding the reach of these fantastical episodes to eager listeners everywhere.  
"Gumball empowers creators by streamlining the sponsorship process and allowing podcast makers to focus on what they do best: realizing the innovative and stellar work that they envision," said Nick van der Kolk, host and creator of Love and Radio. "Choosing to partner with them was a natural choice and I'm excited to work together!"
Episodes of Love and Radio drop every other week on Wednesdays starting July 20, and they support 1-minute dynamic pre-roll and 1-minute dynamic mid-roll ads.
Marty Michael, CEO at Gumball, said, "As a longtime fan of Love and Radio, I can't wait to see it thrive on the marketplace. With the addition of the show, we've reached nearly 80 new podcasts on Gumball in 2022 alone. We're excited to continue adding quality podcasts to our offerings and attracting quality advertisers in turn."
Advertisers can start their next ad campaign on Love and Radio on Gumball today.
About Love and Radio
Nick van der Kolk's Love and Radio features in-depth, otherworldly-produced interviews with an eclectic range of subjects, from the seedy to the sublime. Get inside the mind of a rogue taxidermist. Find out what it's like to experience a stroke firsthand. Or spend time with an artist who gives away her life savings every night. Love and Radio returns to all platforms on July 20, 2022.
About Gumball
Gumball is the marketplace for advertisers to buy host-read ads directly from podcasters. The platform enables advertisers to easily book impactful advertising campaigns through a modern and transparent buying process. It was created by the team at Headgum, an acclaimed podcast comedy centric podcast network established in 2015. To learn more about Gumball and the platform, visit https://gumball.fm.