The Monthly Drop: 6 Creators We Suggest For Upcoming Ad Campaigns
New creators covering everything from self-care to survival stories have joined Gumball in June.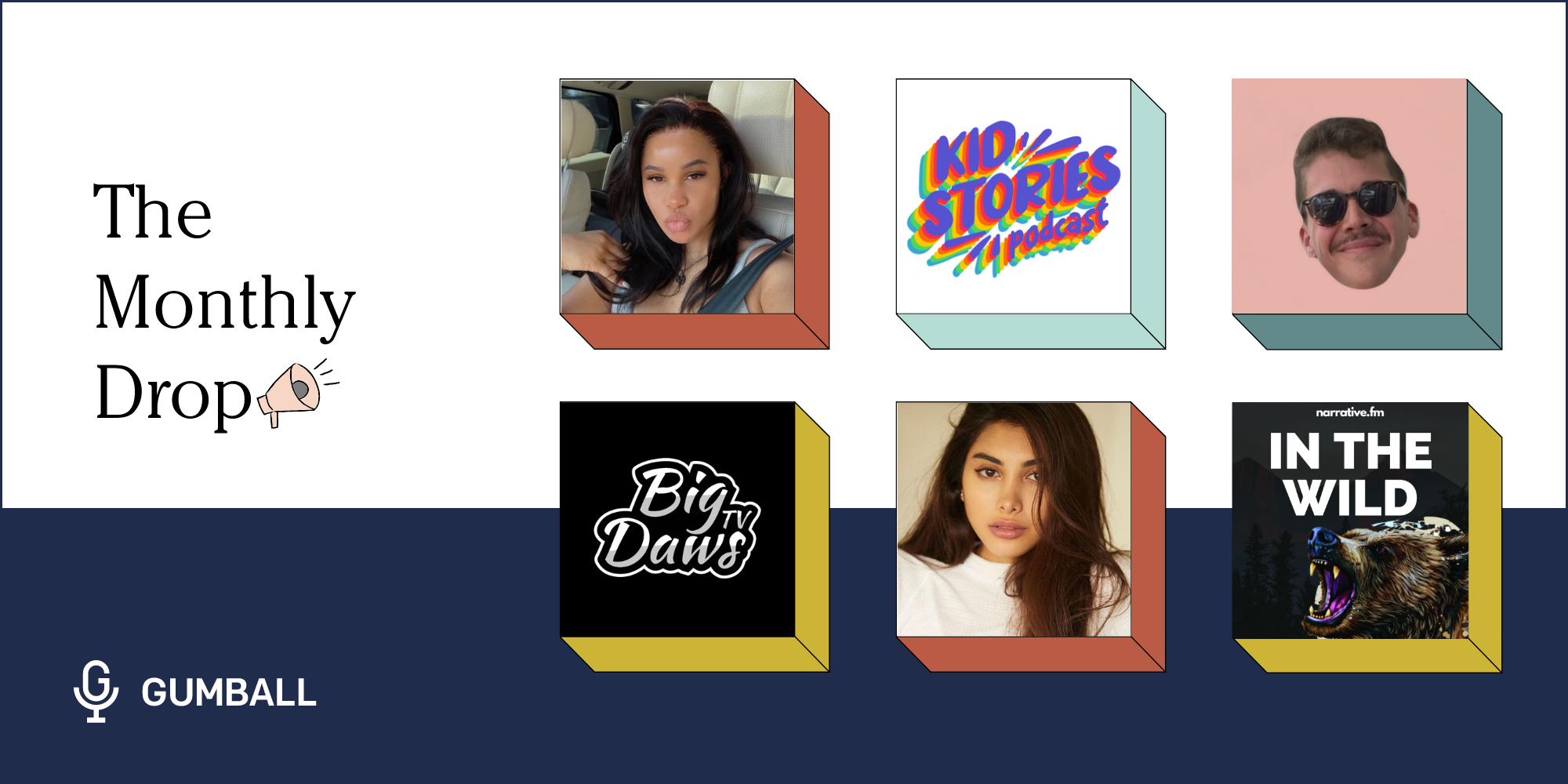 The summer is heating up, and so are the new additions to Gumball. As June comes to an end, find the best podcasts to listen to while on your summer road trip, at the pool, or staying cool indoors.
And for advertisers aiming to connect with audiences binging content on their summer vacations, there's no better platform than Gumball.
This month, our featured creators share content from an extensive array of topics including get ready with me videos, pranks, and original stories for kids.
Here are six creators on Gumball that we recommend checking out for your next ad campaign. This is your June 2023 Monthly Drop:  
1.  Ruslanagee
Ruslana Javadova is a fashion, lifestyle, and beauty-oriented content creator originally from Azerbaijan, living her dream life in Los Angeles. With over 1.5 million subscribers, Ruslana shares her lifestyle, thoughts, and useful tips and life hacks about fashion, beauty, and photography.
At a glance: Airs bimonthly, supports embedded ads, female skewed audience ages 23-44
McKenna Walker is a content creator known for videos on beauty, fashion, self-care and lifestyle improvement. She often posts affordable self-care routines, weekly vlogs, and "get ready with me" videos on her YouTube channel which has gained over 390,000 subscribers.
At a glance: Airs weekly, supports embedded ads, female skewed audience ages 23-34
3. In The Wild
In The Wild is a documentary podcast from the United States featuring true and gripping tales of survival, tragedy, and triumph from the depths of the wild.
At a glance: Airs weekly, supports embedded pre and mid-roll ads, male skewed audience ages 28-59
4.  Kid Stories
An exciting collection of original fun and kid-friendly stories crafted by former kindergarten teacher and current stay at home dad Phil Bechtel.
At a glance: Airs weekly, supports dynamic pre-roll ads, male and female audience ages 35-44
5.  BigDawsTV
Dawson is best known for entertaining givebacks and prank videos. Some of his most popular content include his dropping 1 million dollars prank and his "Nerd Raps Fast" videos. The channel boasts more than 9 million subscribers and is well on its way to 10 million.  
At a glance: Airs monthly, supports embedded ads, male skewed audience ages 18-34
"Just a goofy guy making videos for all my homies around the world." Steven is a YouTuber known for pranks, givebacks and more with over 2.1M subscribers on YouTube and 550K Instagram followers.
At a glance: Airs monthly, supports embedded ads, male skewed audience ages 18-44
Browse our previous monthly picks: