Everything You Missed From Gumball's Podcast Movement 2022 Panel and Happy Hour
In August, the Gumball team converged in Dallas to meet others in the podcast industry and share insights about the long-lasting power of host-read advertising.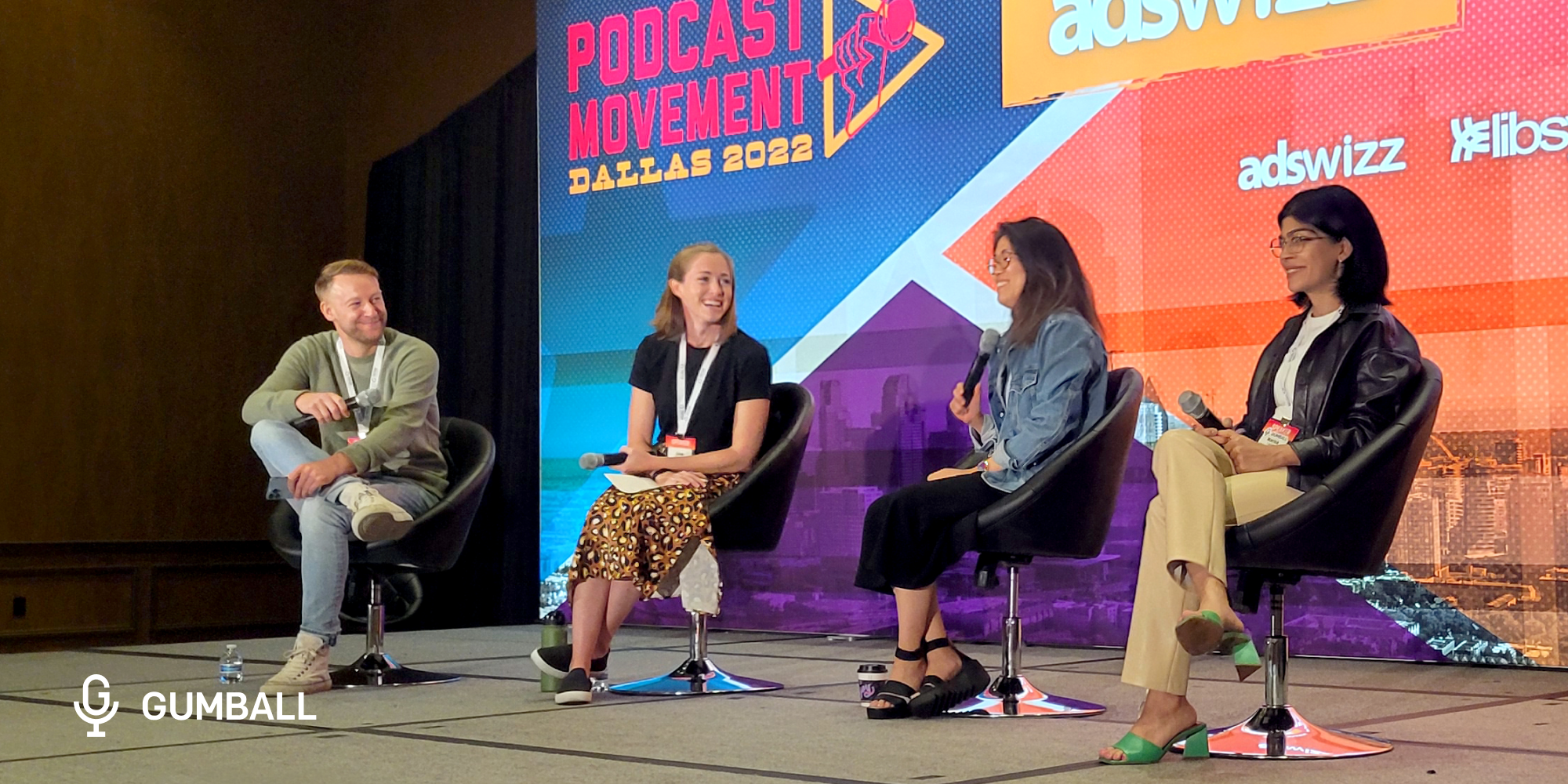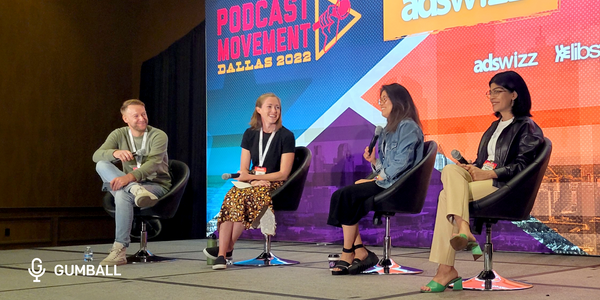 Last week, Gumball sent members of the marketing, sales, and creator partnerships teams to Dallas to 1) attend the biggest annual conference in podcasting: Podcast Movement and 2) eat their weight in Tex-Mex and barbecue.
Featuring four days of workshops, panels, product demos, and networking events, Podcast Movement 2022 provided invaluable opportunities to learn about and connect on everything podcasting.
Team Gumball was especially excited to host our own learning session, "The Power of Creator-Endorsed Messaging: Why Host-Read Ads Continue to Reign Supreme," moderated by Gumball CEO Marty Michael with panelists Sarah Kong (Director of Brand Partnerships at Wonder Media Network), Lisa Jacobs (VP of Media at Ad Results Media), and Narisa Ladak (Director of Creator Partnerships at Gumball, formerly of Acast).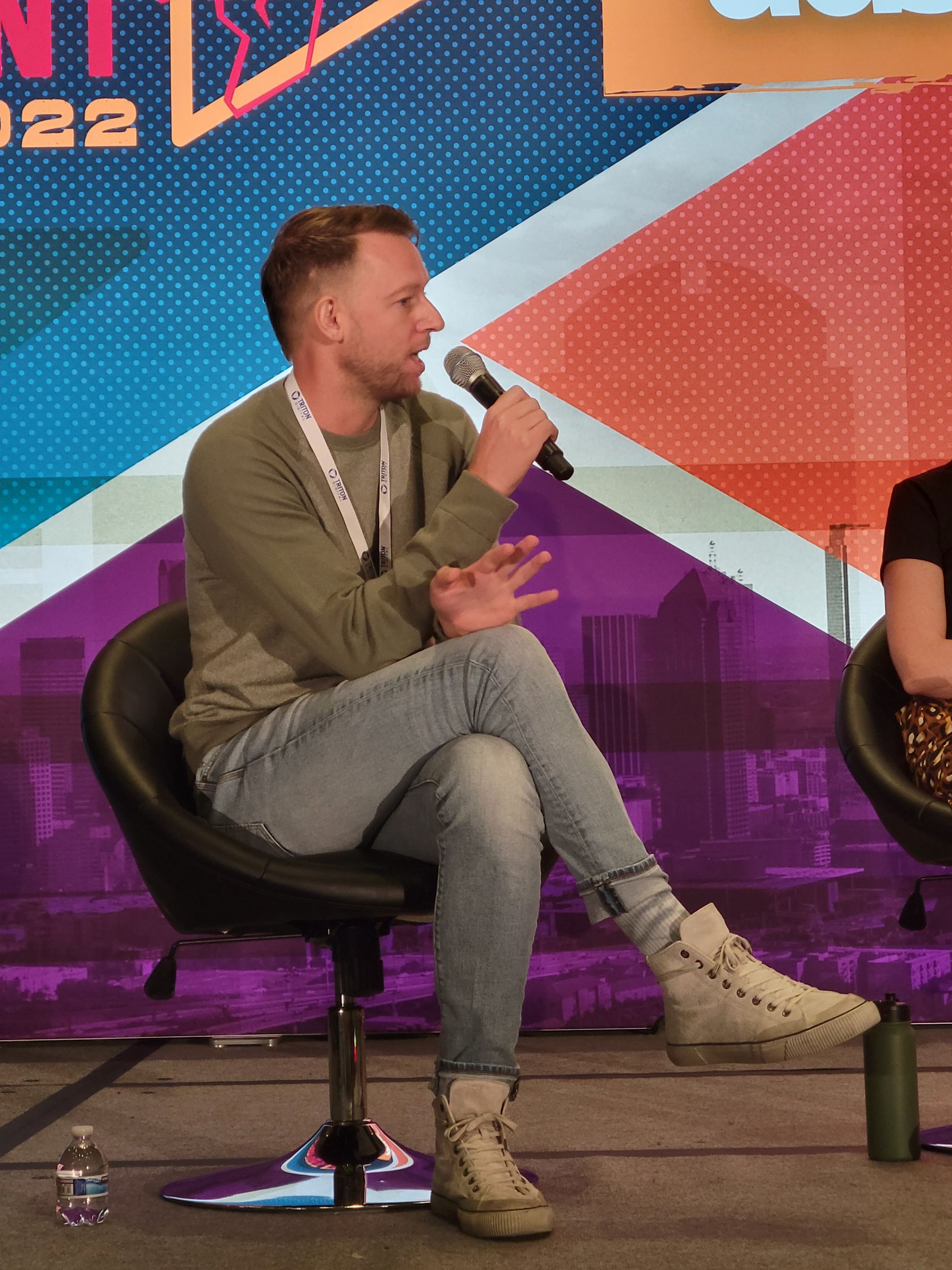 During the 45-minute session, the panelists discussed trends in host-read advertising, why there's no-size-fits-all solution to partnerships, and more. Check out the main takeaways below.
Panelist responses have been edited for length and clarity.
First, some important definitions from Marty.
Dynamic vs. embedded ads: There are two main ways ads are delivered, dynamically inserted and embedded. The latter [embedded] is when the ad is actually part of the audio file that's getting uploaded to the distribution platform. Dynamic is the technology that inserts the ad at the time of download and it allows us to do things like set up targeting and relevancy for the time of download.
Who's speaking? Is it the host, producer, or a pre-produced ad like that on the radio? Those are the three ways.
Host-read vs. host-endorsed ads: A host-read ad is when a host is talking about the brand and host-endorsed is when a host is talking about their experience for the brand. Those things are different in our spaces.
Host-read ads work because of the strong relationship between the host and audience.
Lisa: The host and their audience have a special connection. When you're listening, you feel like the host is a friend talking in your ears whenever you're doing laundry, dishes, or anything where you need some sort of entertainment. As the host, if you already have a trusted audience, and you genuinely like a product and give an ad read, it's going to work better than anything else.
Sarah: It's interesting that in the age and era we live in right now of the influencer economy that we're still trying to convince the world that host-read ads are actually more viable. If you are involved with TikTok or Instagram, you know that the audience really trusts influencers, and that what they're saying is coming from a genuine place. That's exactly what they're doing in the podcast space with host-read ads.
Narisa: Some podcasters actually lean into telling the audience that listening to the host-read ad supports this network and keeps this network and show alive. I love that this kind of messaging can also strengthen that relationship between the listener and the podcaster.
Many brands and agencies are still new to podcast advertising and creator-endorsed messaging. However, as more education becomes available, interest is ramping up.
Marty: A couple years ago, it was challenging talking to digital agencies about podcasting, because it felt like they didn't understand what bucket to put that dollar spend in.
Sarah: That's still a daily battle. The way I approach it is starting in a space they already know, and they usually know experiential, and now having them build that holistic sponsorship in the digital space. I take them step by step based on that to make them understand in terms familiar to them, so that they're able to talk to their clients and get the buy-in.
Overall, the doors are a little easier to walk into. You're seeing less reticence because brands are tracking what others are doing. So if they're seeing reports coming in that Fortune 500 companies are doing podcast advertising, they think, "How are we going to up the ante?" We're able to have these conversations that push them a bit more.
More podcasters are moving towards dynamically inserted ads. And more podcasters should carefully consider their ad placements.
Narisa: This is wonderful for listeners, because for someone like me who binges podcasts and listens to shows from two or three years ago, I hear refreshed ads for something that's brand new rather than something that's baked-in and stale at that point.
It's really important to also think about where you're inserting the ads into the episodes — mid-roll especially. I always advise thinking about a transition point. If you're going from one segment to another, or if you're changing guests, that might be the best place to insert that ad.
Time is a major challenge in the podcast advertising space and something that must be improved.
Sarah: With the sponsorships we do, we have to send a script and then the audio to brands beforehand. We don't always have that time, and we will turn around very quickly but it's definitely a challenge when we're working on these host-read endorsements.
Note: In Sarah's role working with sponsored podcasts, audio is sent to brands to pre-approve. For traditional host-read ads, audio is not sent to brands beforehand. However, on Gumball, the host can upload an "Aircheck" after the ad has run to provide confirmation to the brand.
Lisa: The time to market is difficult. We have to ship them the product, have them try it, have an onboarding call, and then they actually use it. Across the industry, how do we tighten that feedback loop?
It's important to refresh the creative content of your ad reads. Nobody likes being hit with repetitive ads, and listeners are likely to tune out.
Lisa: As we move into DAI (dynamic ad insertion), it's one of the more challenging parts. The hosts aren't thinking about it when they sit down to record. [Learn how to iterate on ad reads and keep them fresh here]
Marty: The way that you sell and the time period in which an ad is sold feels very important to people. That's one of the reasons why we set up ad reads to be weekly versus monthly: to try and avoid just barraging somebody with multiple old, same ads.
Working with advertisers as partners rather than clients may help brands become more comfortable with the idea of investing in podcasting.
Sarah: What I love about the podcasting industry is we have the flexibility to be able to work with the partners and say, "Let's be co-collaborators on this. We want you to also have a say in the creative process." We bring them on very early. We'll even engage the production team, editorial, and just so that they feel, "Oh, this is a different space than something else."
Having that customizability and bespoke lens has been really helpful in having these conversations with brands. I will say it's a lot of conversations. It's a lot of education. It's understanding where the brand's headed. You have to be curious about where they are. What other media they're in. How can you say, "Oh, we're like influencers in this way, we're more similar to digital in this way," and tie it to a common language with them to get them across that finish line.
Narisa: Speaking from the creator partnerships side, offering a discount if you book a certain number of campaigns, as a way for a brand to really test and see what shows are converting or increasing. Advertisers by and large are looking at performance metrics, so if a test with a show goes well, they're more likely to invest more into the show and podcasting as a whole.
Although this is a new space for some agencies and brands, we're seeing more activity as budgets grow and podcasters become more and more influential creators.
Sarah: A lot of times I look at what they're doing, how they're advertising in other media, and show that we want to help and be part of this 360 campaign that's going to yield ROI with their other campaigns. Finding twists on what they've been doing elsewhere has been a successful conversation starter for us.
Thank you to everyone who took the time to attend our panel and ask thoughtful questions. Have a question we missed? Email us at hello@gumball.fm and we'll address it in a future blog post.
Throughout the rest of the week, the team also enjoyed dinners together, hosted a fun happy hour, and cheered on VP of Creator Partnerships Dane Cardiel as he moderated the panel, "How to Secure a Podcast Deal." Not pictured below? Dodging mud puddles and falling crickets thanks to the unfortunate timing of Dallas' second-worst rainstorm on record.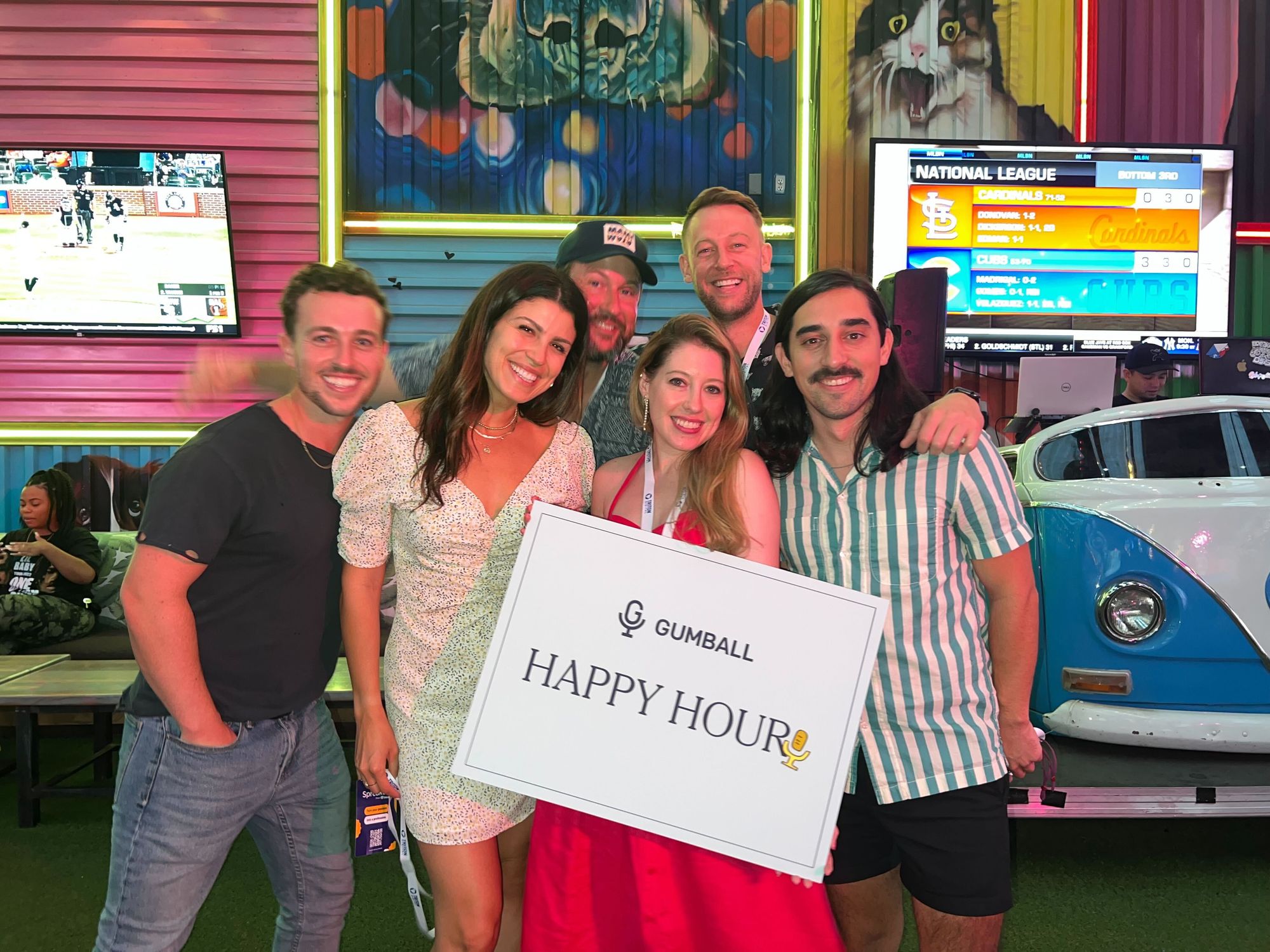 We loved getting to meet and know everyone at Podcast Movement. Hope to see y'all at the next podcast event! You can find all the recaps to our in-person event appearances here.