Gumball's Ultimate Guide to Promoting Your Podcast
So you want to get your podcast in front of more listeners. We share our top 5 tips and strategies from The Gumball Marketing Playbook to help your podcast stand out!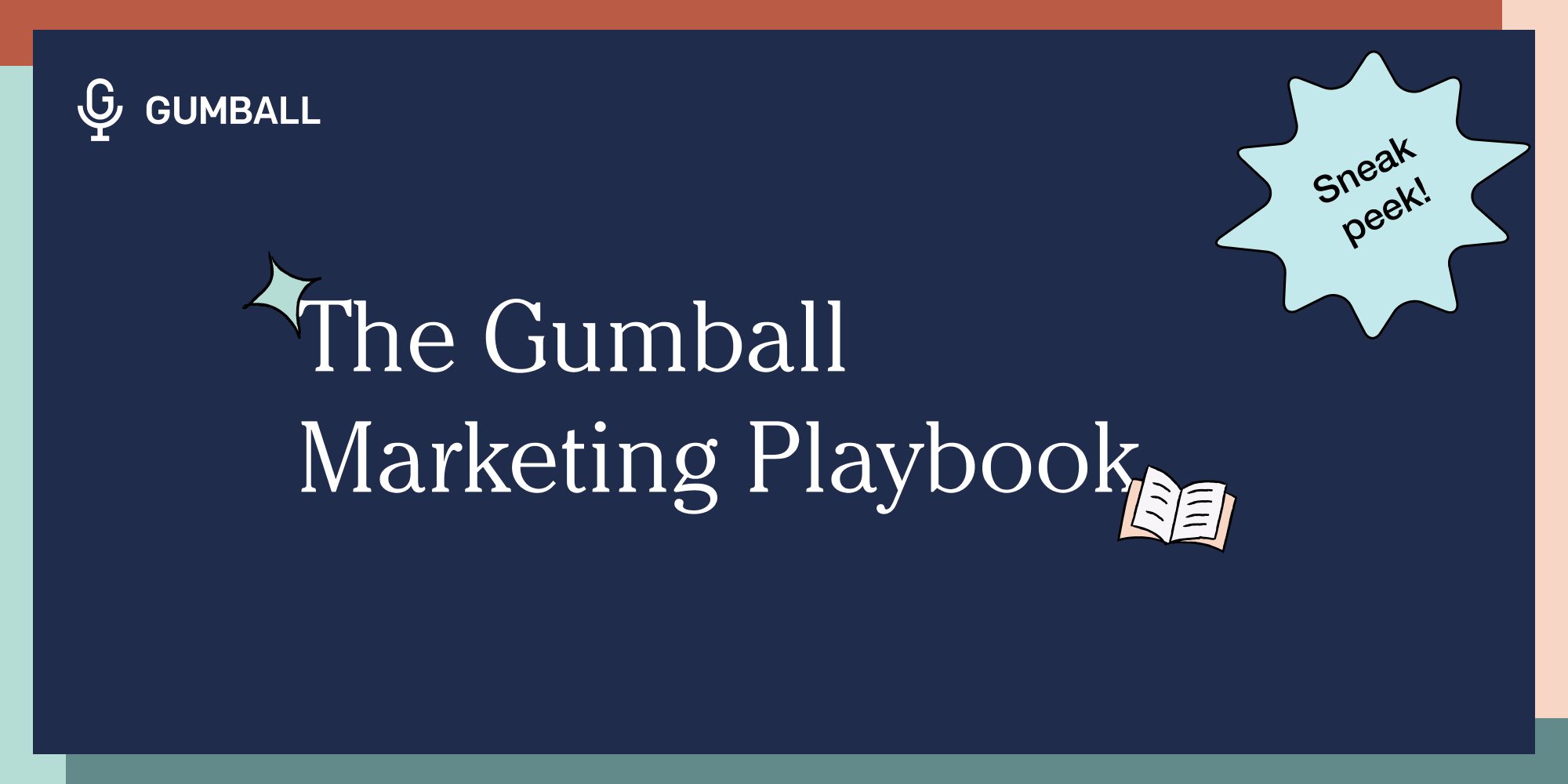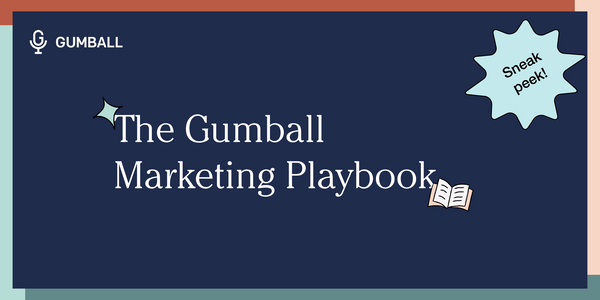 There's a lot to think about when you're creating and producing a podcast: content, format, equipment, artwork, music. And once it's up and running, your job isn't done yet.
If you want to get more ears on your podcast, there are a lot of different marketing practices you can use. Some are as easy as tidying up the metadata in your episode descriptions or submitting your show to an industry newsletter.
As podcasters ourselves, we wanted to share the tricks of the trade we've picked up and validated over the years, so we created The Gumball Marketing Playbook.
While there's no one-size-fits-all solution to marketing your podcast, these are some of the best practices we've used while marketing Headgum podcasts and other shows.
Top 5 Podcast Marketing Tips from Gumball
1. Write thorough and enticing episode descriptions
Your podcast description is one of the first things potential listeners see and your chance to sell them on your show. It's important to craft your first line strategically. You should include the most eye-catching information there because most podcast apps will only show a limited number of words (around 50) before cutting off the rest of the description.
In addition, we recommend including all of the following in the description:
Guest name and their credits
Link to projects that the guest is promoting
A note to advertise on the show, with a link to your Gumball show profile
Link to tickets for any upcoming live shows
Link to merch store
Encouragement to rate and review the show on Apple Podcasts and Spotify
Host's and/or show's social media links
3 interesting topics from the episode, which will help with searchability
Production credits
This week's show sponsors, with links and coupon codes (if applicable).
Here's what that looks like in action: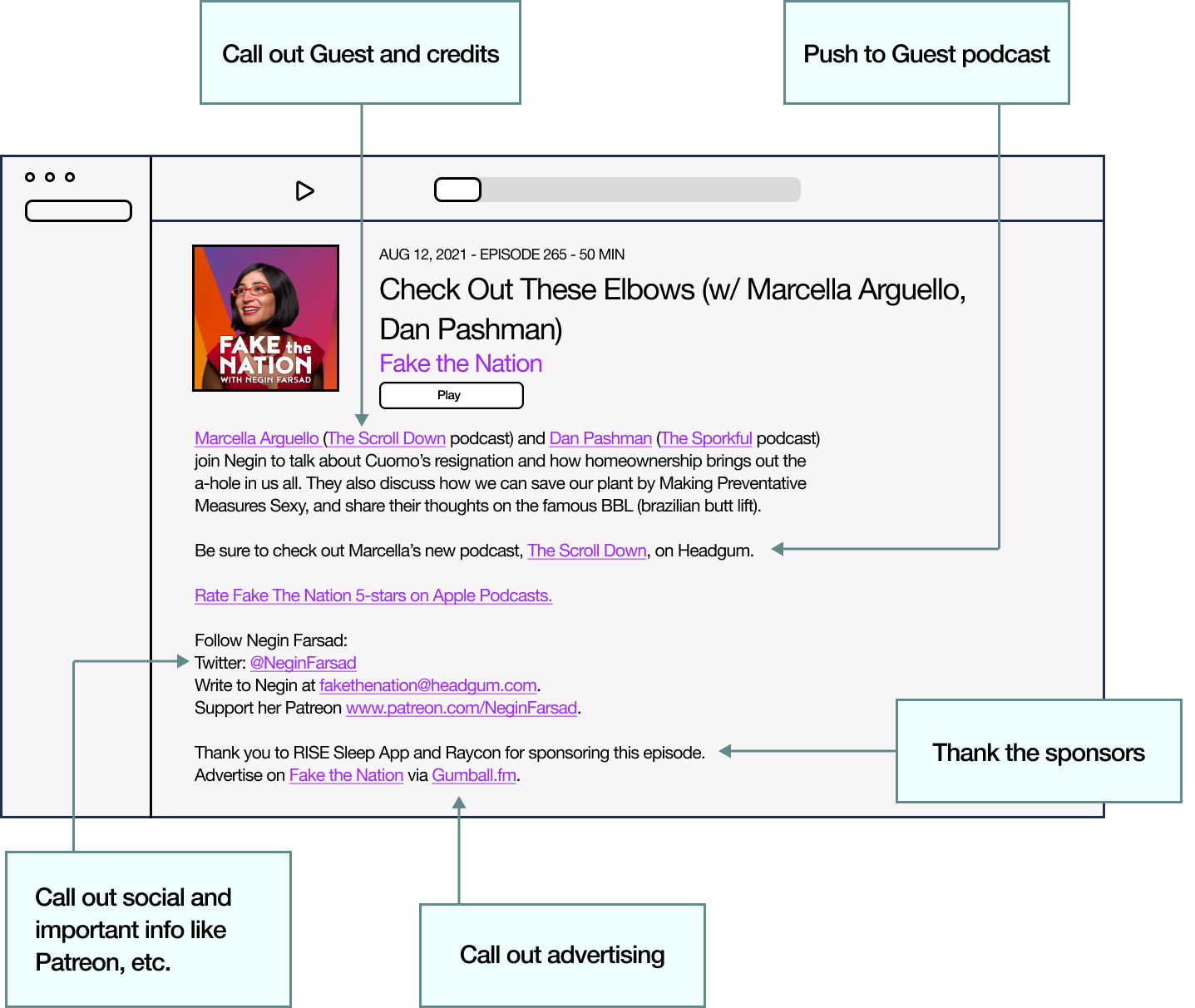 2. Try guest swapping
Guesting is a big part of podcasting and beneficial to everyone involved. Most listeners still discover new podcasts by following their favorite personalities to their next guest appearance, and we've found that guesting is almost six times more effective than running ads for your podcast!
Reach out to a related or like-minded podcast and offer a guest swap. You can use tools like Rephonic to help you identify those similar podcasts.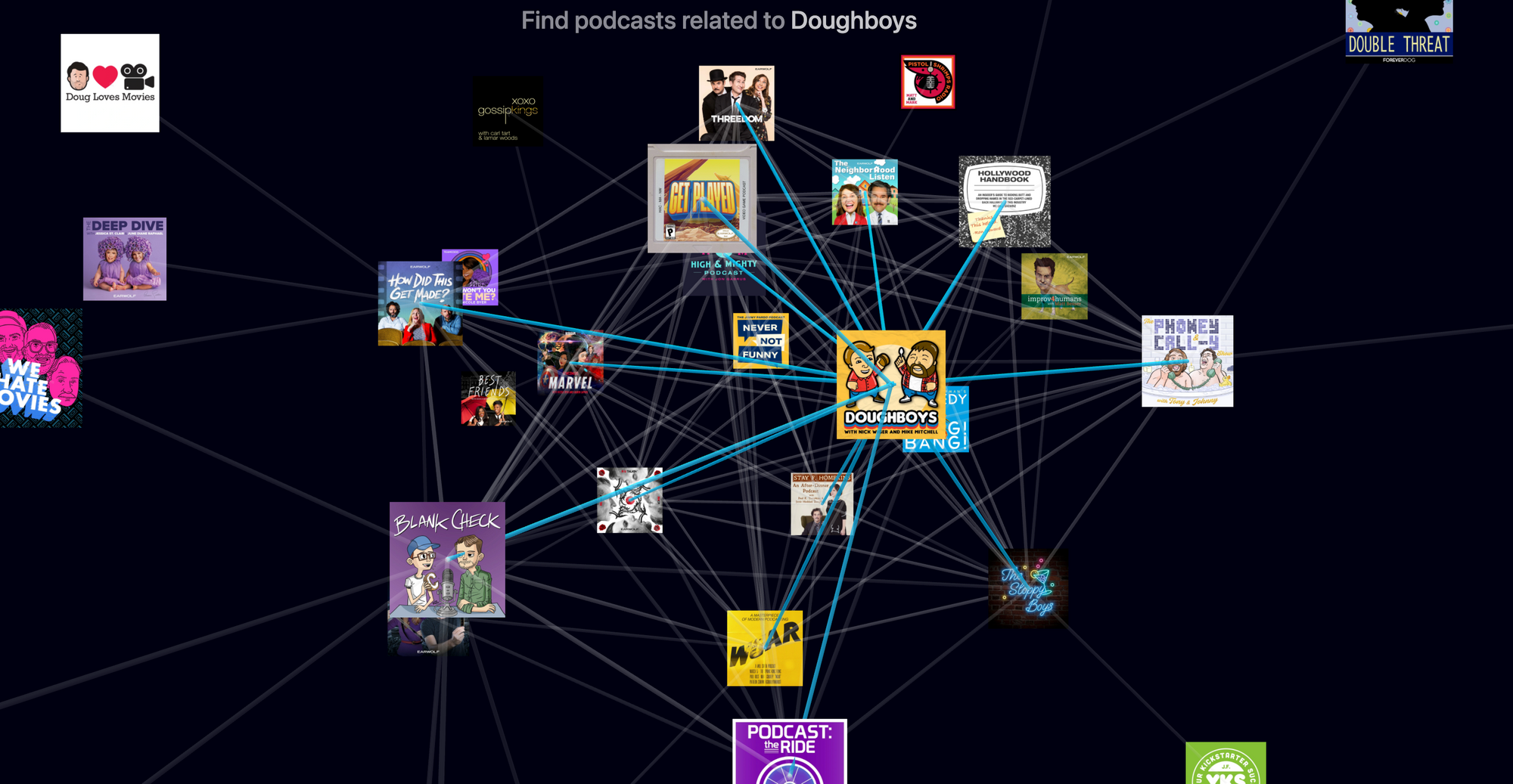 3. Focus on Apple Podcasts when launching your show
If you're announcing your show or a new season, make sure to drive your audience to Subscribe on Apple Podcasts.
Why? 35.7% of global podcast plays happen on Apple Podcasts and its Top Charts are a huge source of discovery for listeners. You have a good chance of charting if your show goes from launch (zero listens/follows/completions) to sudden activity (determined by Apple by listening, follows, and completion rate). Once you chart, you'll have a better foundation to continue building out your audience.
Tip: Include only an Apple Podcasts link and tag @ApplePodcasts. Apple is more likely to engage if you don't include links to other platforms.
4. Submit your episodes to platforms for editorial consideration
Many of the different podcast apps have editorial teams that curate podcast lists and collections. Always try to promote your show or episodes that are most relevant to current topics, holidays, etc. and don't be afraid to name drop in your submissions if you have a special, noteworthy guest.
Here's how to submit a promotion request to each app:
5. Consider a paid media plan like platform ads
If you have some budget to work with (and we recommend that you do, if possible), it's worth looking into platform ads to expose your podcast to new audiences.
Platforms like Castbox and Overcast offer a banner or marquee feature within their apps and all you need are some links, key art, and potentially a banner image. The cost can range from a few hundred to a few thousands dollars depending on the placement and audience.
As you experiment with your podcast marketing, remember that the podcast landscape is always changing and evolving. We'll be here sharing and updating our tips to help your podcast succeed.