The Monthly Drop: 6 Creators We Suggest For Upcoming Ad Campaigns
New creators covering everything from trees to gaming have joined Gumball in the last month.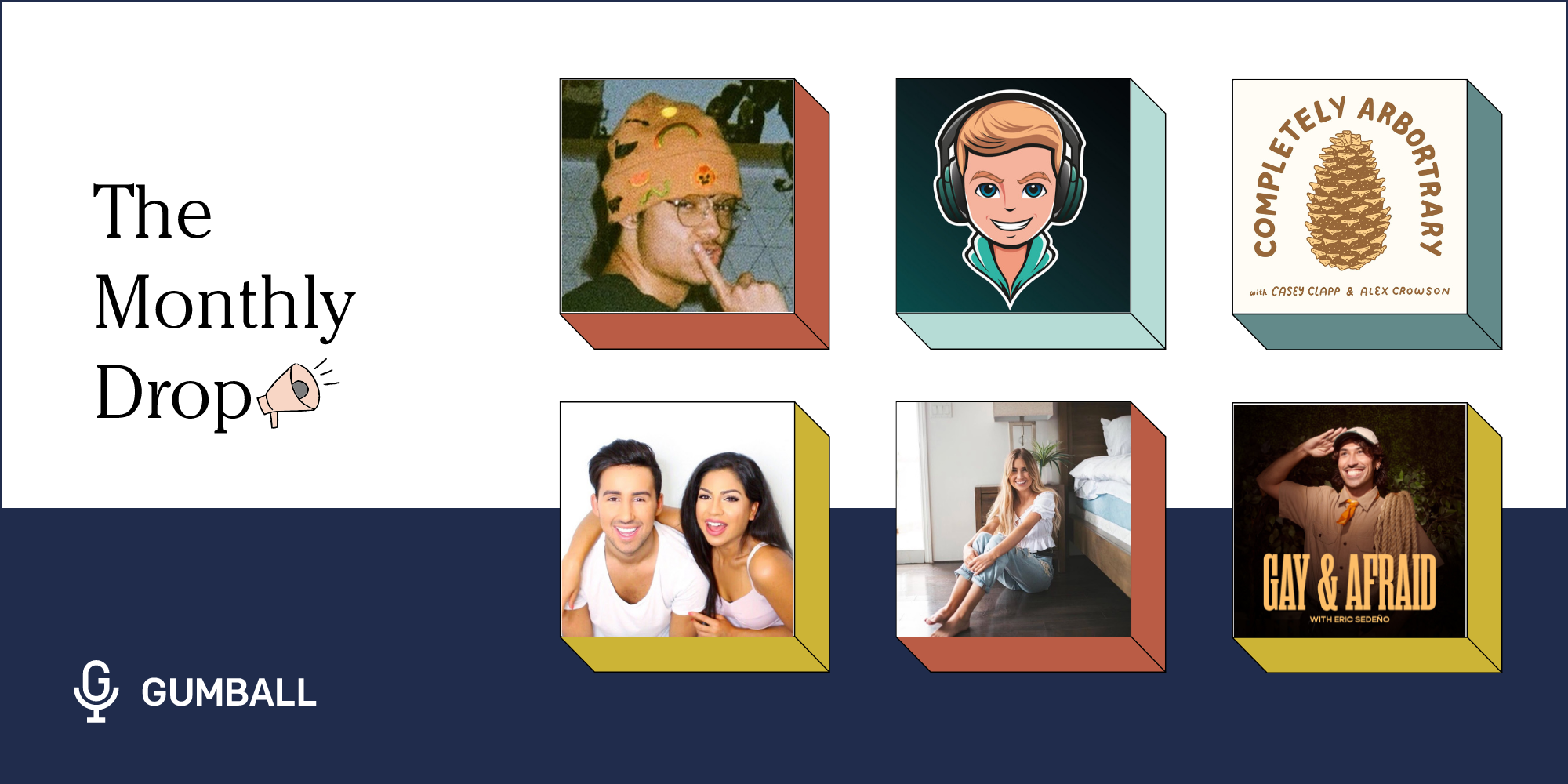 May has just come to an end and with summer around the corner there is no better way to restore and relax than indulging in captivating podcast and video content.
And for advertisers looking to reach a passionate audience there's no better platform to connect with passionate binge-listeners than through the wide variety of shows available on Gumball.
This month, our featured creators share content from an extensive array of topics including sketch comedy and fashion.
Here are six creators on Gumball that we recommend checking out for your next ad campaign. This is your May 2023 Monthly Drop:

1. Completely Arbortrary
Tree advocate Casey Clapp and his tree-curious friend Alex Crowson bring you a podcast about trees and other related topics. History, culture, art, religion, science... trees affect and are affected by everything. Join Casey and Alex on their silly and educational journey to prove it.
At a glance: Airs weekly, supports dynamic pre and mid-roll ads, female and male audience ages 23-34

2. Carter2k
Carter2k is a popular YouTuber known for unique skills challenges in the video game Fortnite. Tips & tricks, challenges, and product reviews has earned his channel over 135,000 subscribers, with an especially devoted following among gamers. Carter2k is also known for his video, "5 Years of Fortnite Controller Progression…" boasting nearly 2 million views, where he shares his journey of playing the video game Fortnite, dating back to it's release in 2017.
At a glance: Airs weekly, supports embedded mid-roll ads, male skewed audience ages 18-44

3. Gay & Afraid with Eric Sedeño
Join Eric Sedeño and a colorful cast of rotating guests in "GAY AND AFRAID," a new weekly podcast that puts the CAMP back in camp... literally. Each week, Eric welcomes a new guest to sit by his campfire and open up about topics like mental health, coming out stories, dating and relationships, and everything in between.
At a glance: Airs weekly, supports embedded pre and mid-roll ads, female skewed audience ages 18-34
4. Dan and Riya
Dan and Riya are two childhood best friends who make a comedy web series where they play 30 different characters living in the fictional world of Beverly Valley High. Their channel has over 2.96 million subscribers and has amassed more than a billion views. Dan and Riya make their viewers laugh for hours as they binge-watch their impressive catalogue of sketches. Their skits are for every age and are about everything including relationships, boys, girls, love, how to survive school, families, and friendship.
Airs weekly, supports embedded SOV ads, female skewed audience ages 18-34
YouTube creator who posts commentary about popular figures and trends in mainstream media, including those on social platforms such as Twitter and TikTok. He frequently collaborates with fellow musician Dev Lemons and is in a band with her as well.
Airs bi-monthly, supports embedded mid-roll ads, female skewed audience ages 18-34
The More Mia Maples channel is Mia Maples's second channel, where fun is the main goal! Mia Maples is a Canadian Youtuber with a passion for creating content in fashion, interior/home design, beauty, food, sewing, and so much more! For the past 10 years, Mia has built a positive community of over 3.8 Million on her main channel. This channel specializes in extra content for Mia's most dedicated fans!
Airs bi-monthly, supports embedded mid-roll ads, female skewed audience ages 18-4

Browse our previous monthly picks: