Joel's Draft Picks
Gumball Software Engineer, Joel Dunoff reveals his favorite sports podcasts, both national and local.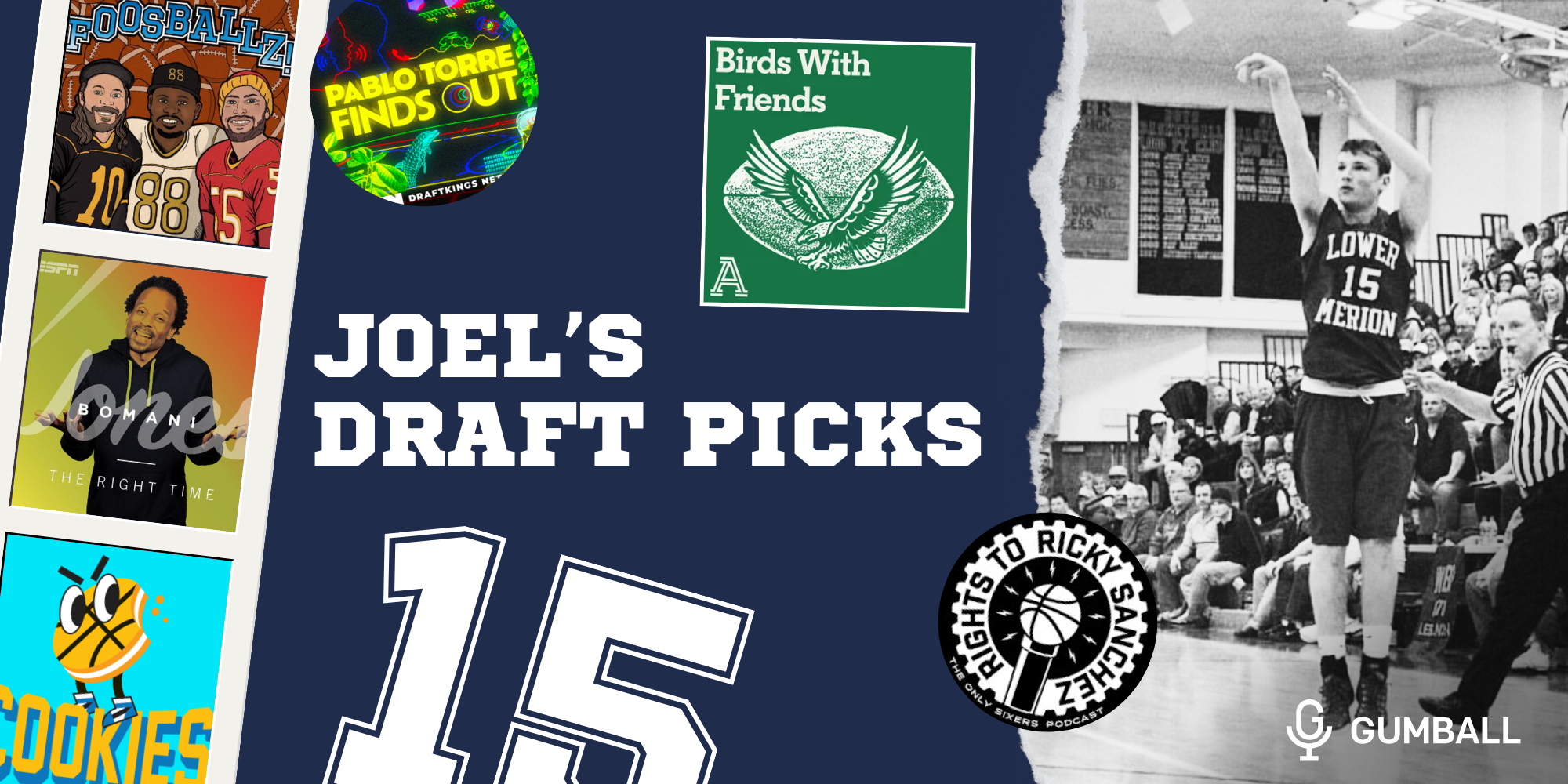 With everything from the US Open to the return of the NFL season happening this month, we asked resident sports enthusiast and Gumball's reigning H-O-R-S-E champion (video proof below), Joel Dunoff, to illuminate the masses on how they can step up their listening game.
Joel is a Philadelphia-area raised (more on that later) Software Engineer based in NYC who has been with Gumball since May of 2022. Joel and the dev team have brought constant improvements to Gumball this year including new show categorization features, smarter checks on ad creative, our YouTube API connection, and so much more!
Listening to Pablo feels like being a dog whose parent has slipped medicine into their kibble. Filled with gregarious banter, running bits, and nostalgic stories from sports-covering days of yore, the tone belies the actual purposeful content covered. In back-to-back episodes, Pablo has explored the dirty work of cleaning port-o-potties during a Buffalo Bills tailgate and then a thoughtful examination of the geo-political dynamics of the looming USA - Iran world cup match.
2. The Right Time with Bomani Jones
A long-time sports commentator who holds two graduate degrees, Bomani Jones cleverly uses sports as a vehicle to discuss the world at large. In a recent segment, he tackled the connection between the overdose death of Len Bias, a top NBA draft pick for the Boston Celtics in 1986, and how powerful Massachusetts congressmen used it to push drug legislation that formed the backbone of the war on drugs. I wouldn't want to debate Bomani -- but listening to him is always invigorating.
3. Cookies: A Basketball Podcast
Cookies: A Basketball Podcast adroitly weaves between stony postulates that will turn your basketball-perceiving mind upside-down, interstitials on daily life in NYC, and what this all means. Andrew Kuo and Ben Detrick introduce their listeners to concepts such as "Jordan Originalism," "Boston Media Mafia," and where and when to eat carbs on carbs. To quote their friend of the pod Cat Marnell: "It's all so elegant."
4. Foosballz!
Foosballz! is a brand new Headgum podcast following the NFL fantasy draft of comedians Carl Tart, Greg Gallant, and Ryan Meharry. Having gone 2-0 in my own league, I'm excited to dig into their weekly lineups and add some NFL news into my podcast rotation. It remains to be seen if I use any of their advice on my team, but as they point out "it always helps to have three comedians who don't know sh*t telling you what to do."
Click here to learn more about advertising on Foosballz!
---
As a die-hard Philly sports fan, it's hard living in a different city from my teams. When in a large, cruel concrete jungle like NYC, there's no more comforting feeling than exchanging a "Go Birds" and a head nod with any passerby decked out in Eagles gear. If you support specific teams, I highly recommend checking out local podcasts—they have stronger communities around them than national pods. Here are the shows I listen to to stay connected with my favorite teams:
5. Birds With Friends (now PHLY Eagles Podcast)
This show's co-hosts bring out both the best and worst of each other. Zach Berman is an old school, no nonsense reporter who is obsessed with analyzing football. Bo Wulf, on the other hand, lives for entertaining esoterica - he publishes an annual column on full sentence all stars (that's the best player at each position whose name is a full sentence) and ensures that every episode title and segment are based around bird puns: Training camp becomes Craning camp. This show recently moved from The Athletic to PHLY and went through a name change, but alongside its insightful analysis, it reminds you that being a sports fan is really about the friends made along the way.
Perhaps no sports team has had a more absurd last decade than the Philadelphia 76ers. They sent the sports world into an uproar with the most brazen tank job in sports history, their General Manager got fired for Tweeting from burner accounts, and both of their #1 draft picks forgot (or never learned) how to shoot a basketball. They hosted annual lottery parties to see which draft pick the Sixers would get. Part tragedy, part comedy, part therapy, Spike Eskin and Mike Levin lead their insane acolytes through the rollercoaster of Sixers fandom.