Gumball Expands Its Host-Read Podcast Advertising Marketplace Model to YouTube Integrations
Self-service platform helps advertisers of all sizes manage on-screen integration campaigns with YouTube content creators at speed and scale.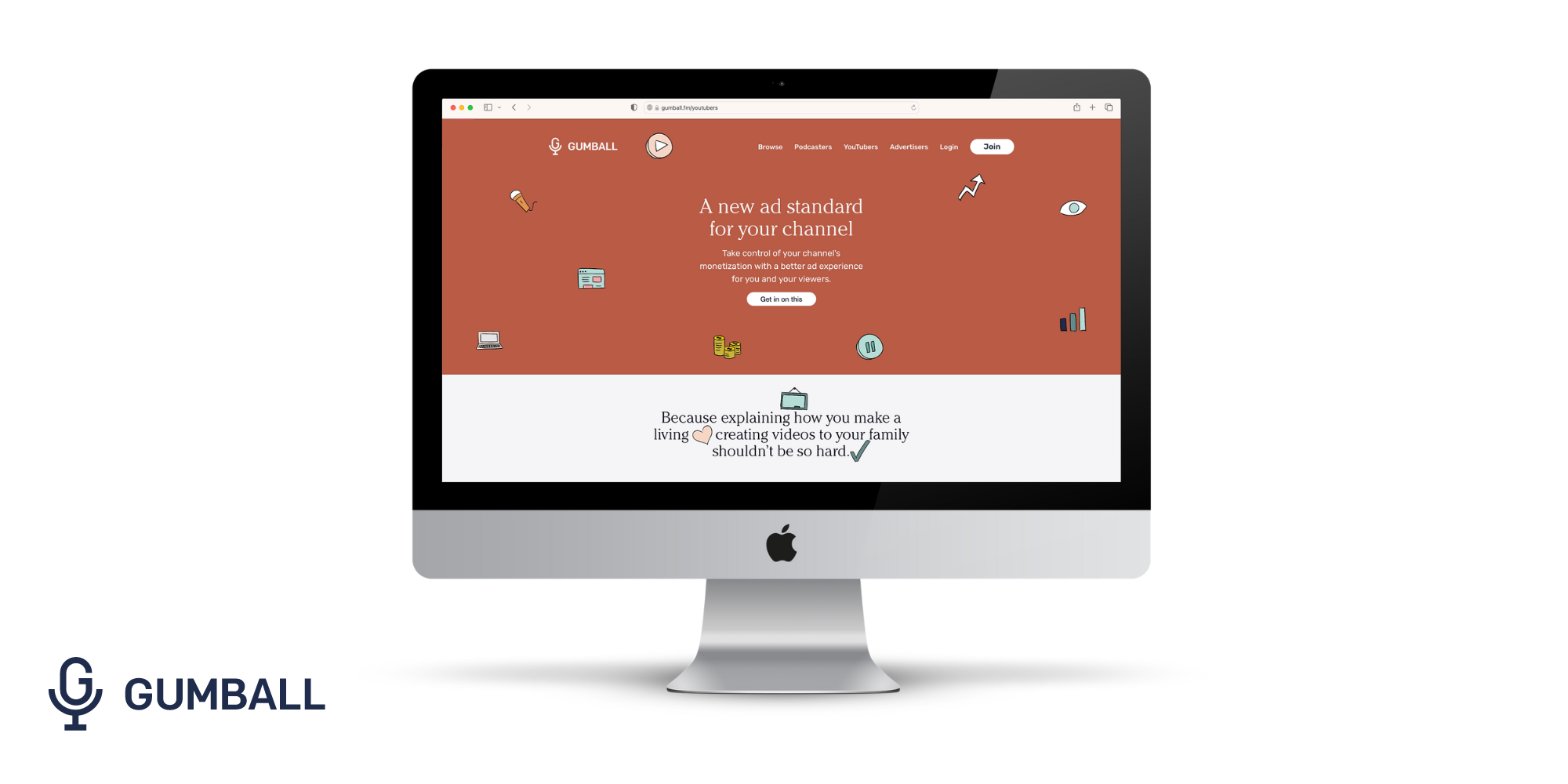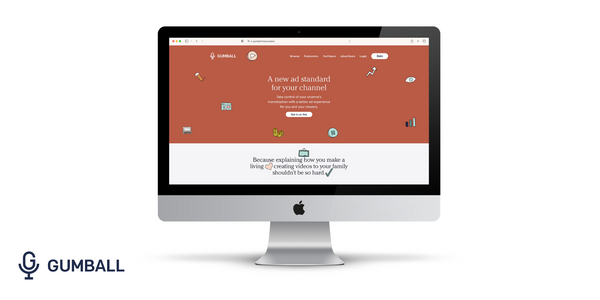 Los Angeles, CA – March 28, 2023 - After Gumball transformed the way host-read podcast ads are bought and sold, the advanced advertising technology solution has today announced it will now be available to YouTube content creators and advertisers. Having served hundreds of podcasters that deliver content through YouTube, Gumball now brings its democratizing technology and model to the video content platform and expands to support content creators of all kinds and genres.  
Launched in 2020 by the team behind the acclaimed podcast network Headgum, Gumball streamlines the process of buying and selling host-read ads.  While seen as the most valued inventory in podcast advertising it is one of the last forms of digital advertising untouched by technology or delivered at scale.  With just a few clicks, it allows marketers to instantly identify and buy inventory on multiple podcasts, plus plan, manage, and track executions at scale in minutes rather than weeks.  It allows campaigns to be planned, managed, and measured with the same speed as programmatic advertising solutions.
Gumball is now bringing this approach to video content creators and advertisers on YouTube. Going beyond just podcasters, it will support "on-screen" host video integration by creators across a range of genres and topics, from unboxing and reviews to how-to guides and tips, from humor and comedy skits, to on-screen personalities and influencers.  
While YouTube is one of the top destinations for media consumption, the ability of video content creators to monetize the "on-screen" video interactions they deliver is antiquated, requiring a lot of legwork. The current process typically involves individual negotiations between marketers and content creators with multiple back-and-forths. Advertisers commonly complain of the difficulty in figuring out who is repping individual YouTube shows and the ability to secure multiple placements at once. Like in podcasting, Gumball is standardizing the monetization process for YouTube creators and brands at scale.
"Gumball has proven to be a game changer for independent content creators and advertisers in podcasting and we are excited to bring this win, win approach to YouTube," said Marty Michael, CEO of Gumball. "Given the close engagement content creators have with their audiences, a host read or on-screen ad integration are highly coveted by advertisers.  Gumball streamlines what was previously a cumbersome and labor-intensive process with a self-service model that provides advantages to all concerned."
Gumball for YouTubers is a powerful tool with benefits for both advertisers and content creators.
Gumball allows Advertisers to:
Discover top YouTube talent ready to collaborate with your brand
Browse and book available inventory in real time with transparent pricing on   Gumball's standardized host-read video ad unit.
Filter creators by content type and audience demographic
Utilize share of voice and brand category exclusivity controls
Bulk-edit and distribute  ad copy, vanity URLs, and coupon codes
Easily view and approve ad creative before it goes live
Track and evaluate campaign delivery
Scale across hundreds of shows
Gumball allows YouTubers to:
Gain access to the biggest brands that align with their values
Better manage campaigns with intuitive dashboard tools, including ad scheduling, unified script and referral code access, and timely reminders to make sure ads air on schedule and airchecks upload
Get paid quickly and confidently with transparent payment tracking and access to LightningPay
Automatically verify campaign delivery and download data via Gumball's YouTube integration
Book more advertising spots, increase revenue, and focus on developing compelling content
During its beta stage, Gumball has been utilized by over 50 YouTube channels, with a combined total of over 37.5 million subscribers. Creators include hosts such as Game Grumps, HIVEMIND, Anti-Chef, Khadija Mbowe, Anncy Twinkle, Jake Doolittle, and Toni Bryanne TV.  It also supports creators such as Theo and Harris which engages with its watch loving audience directly via YouTube to give a more enhanced and interactive insight into the world of watches.
"The YouTube channel was created as a way to further engage with the watch enthusiasts that visit the website," said Christian Zeron of Theo and Harris. "We want to be a leading voice in watch commentary, from inspiring new collectors to begin their vintage Rolex journey to critiquing new releases from the world's leading manufacturers, our audience relies on our guidance to inform their decision making.  We also need to ensure that any advertising that occurs on the channel is of interest to our audience and just as interesting as the content we produce. Gumball has enabled us to engage with advertisers that share our passion, get transparency throughout the ad operations process from booking to billing, and deliver exciting host read ads that instantly resonate with the listener. Gumball has brought us a solution that we didn't know we needed, but now know we can't be without."
"Gumball already supports some of the biggest podcasting brands, including Nike, Procter & Gamble, Molson Coors, Casper, HBO, Netflix, Squarespace, Estee Lauder, Amazon, Athletic Greens, Paypal, and Warby Parker. We are excited to work with these brands and others to take advantage of the exceptional  content integrations made possible on YouTube," concluded Marty Michael.
For further information, please visit https://gumball.fm.
About Gumball
With offices in New York and Los Angeles, Gumball is the marketplace for advertisers to buy host-read ads directly from podcasters. The platform enables advertisers to easily book impactful advertising campaigns through a modern and transparent buying process. It was created by the team at Headgum, an acclaimed podcast comedy centric podcast network established in 2015. To learn more about Gumball and the platform, visit https://gumball.fm.