Work in Progress: Marty's Bold Vision
In his new series, Work in Progress, Gumball CEO Marty Michael offers a personal glimpse into company happenings and more.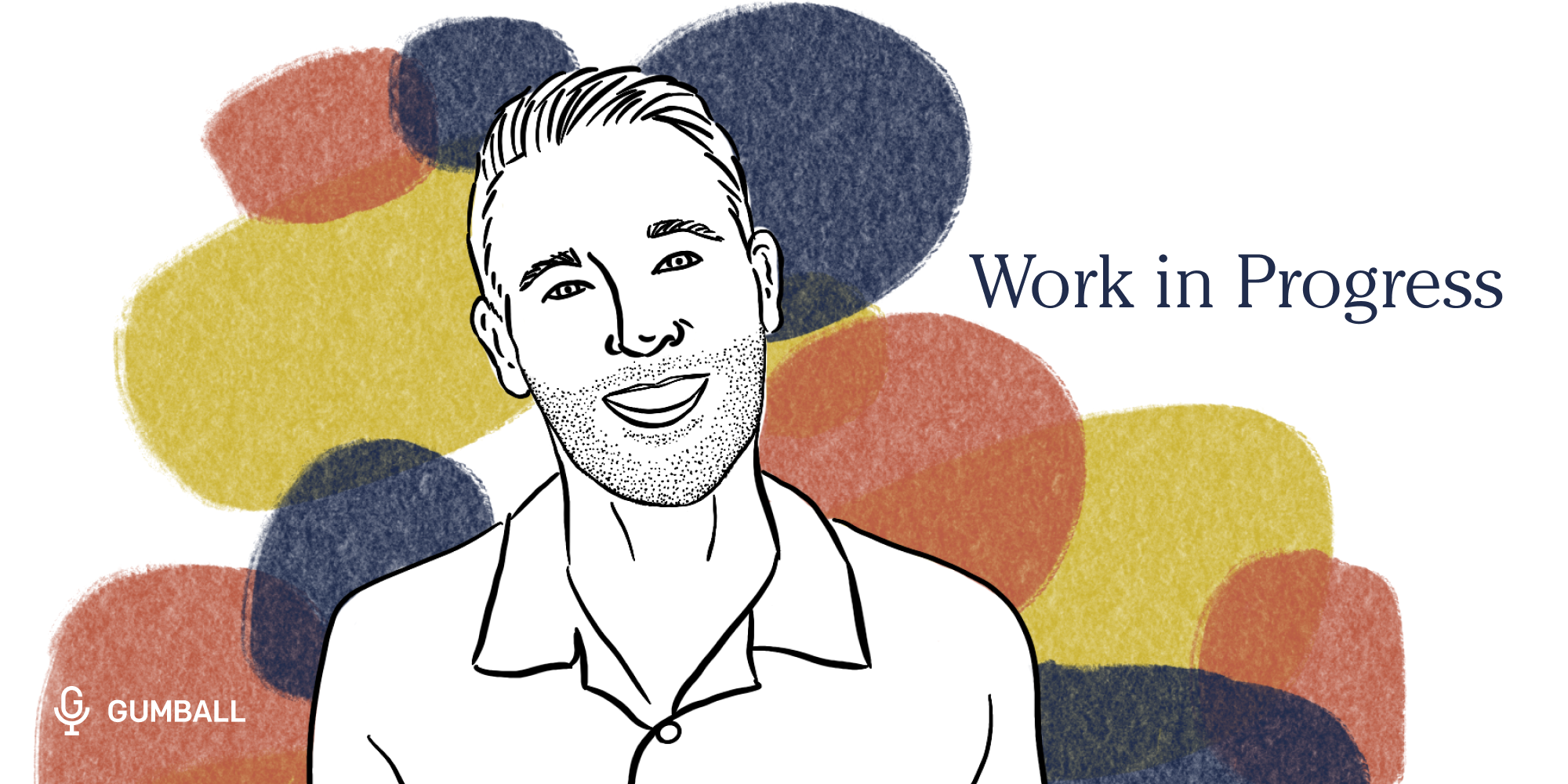 Today, we're introducing a new quarterly series, Work in Progress, where you'll hear directly from cofounder and CEO Marty Michael on what we're building here at Gumball. This intimate glimpse into the inner workings of Gumball will include thoughts and musings on goals, company happenings, industry events, and more — straight from the desk of Marty himself.
In his first post, Marty shares more about Gumball's beginnings and his vision for the future of the company.  
Looking back on the first half of the year, I'm elated by everything we've accomplished at Gumball, from raising capital to rapidly expanding the team. And with the platform and industry as a whole taking off like never before, we're at a very exciting crossroads.
The Story of Gumball So Far
Gumball was created to address a huge gap in podcast advertising: how to make revenue sustainably and efficiently. We care deeply about helping podcasters and advertisers work together and succeed together.
We initially created Gumball as a way to help Headgum, the comedy podcast network I cofounded with comedians Jake Hurwitz and Amir Blumenfeld, become more efficient and profitable. As Headgum grew to 30 shows and tens of millions of downloads, we realized we had reached a critical threshold for what the team could do.
Host-read advertising at the time was a very manual process and we knew something had to change. Podcasters know and love and trust host-read ads. How could we use technology to make them more accessible and scalable to creators and brands alike? We decided to create a tech-enabled marketplace and brought on Andrew Pile (the former CTO of Vimeo) to build it.
Within six months, we had a product for internal use. Over the next few years, we continued to test and expand its capabilities, and I made new hires in our sales and partnerships teams to bring on new advertisers and independent shows beyond the Headgum network.
Our Series A round was instrumental in allowing us to invest in people and continue to broaden Gumball's capabilities and reach. We expanded our team to 30 exceptional people across engineering, marketing, partnerships, sales, client services, and content. This mind trust has fueled explosive revenue growth and established Gumball as the clear leader in host-read advertising. In 2022, we're on pace to triple our revenue.
The Bold Vision
With so much momentum building, I've been thinking a lot about the future of Gumball and how I lead the team. This past May, our team gathered for our first company offsite, where we worked with a group called Fast Forward. They introduced the idea of a Bold Vision, a thought exercise in which you imagine where you are a year from now as if it were a reality.
In the spirit of growing and learning everyday, I wanted to share my Bold Vision. Over the course of the next year, I'll be measuring my progress towards these goals and providing updates through the Work in Progress series.  
I am an inspirational leader and clear communicator of our mission and goals. The team hears from me at least weekly during our team meetings. Every member feels comfortable coming to me for guidance and information as we work together towards our goals. I implement weekly office hours. I love and value the relationships I've built with every member of our incredibly talented team.
I am a decisive decision maker and don't shy away from difficult conversations. In a period of rapid growth and change, I am deliberate in my priorities. I assert my opinions, even when they're at odds with the team. We trust each other's decisions and move forward together steadily even in the face of growing pains.
I protect my own and everyone's time. I ensure that everyone's energies are spent on the work they're uniquely qualified to do. For me, that means being selective about meetings I attend and joining only when there is a need for me to weigh in. I allow others to run day-to-day logistics so I have creative capacity and am able to serve as the external face of Gumball.
I'm fully present in the time I do spend with others. I'm fully engaged in the task at hand and when interacting with others, they know that they have my full attention.
I know my strengths and how to delegate. I'm comfortable saying "no" and delegating tasks that aren't in my wheelhouse. The entire team is thoughtful about who they go to for what, and when people don't know, I direct them to the best possible person.
I am known for my follow-through and reliability. The team trusts that when I say I'm going to take care of something, it will be done.
Gumball has a strong culture. We are motivated. We are clear communicators. We work hard and have fun together. We take care of each other. We value and protect space to enjoy our lives outside of work.
Gumball is the clear leader in host-endorsed messaging within podcast. With our growing roster of independent creators and ever expanding list of ad partners, it's undeniable that we've solidified our place within the ecosystem. The success of the platform and the positive feedback we've heard from both podcasters and advertisers show there is a clear, long overdue need for it in the market.
As we continue to build Gumball and make it the destination for host-read advertising, I look forward to sharing updates and thoughts on the process.
"An extraordinary life is all about daily, continuous improvement in the areas that matter most." —Robin Sharma
Onwards and upwards,

Marty Michael
CEO, Gumball