Gumball Raises $10 Million To Expand Its Podcasting Host-Read Advertising Technology Platform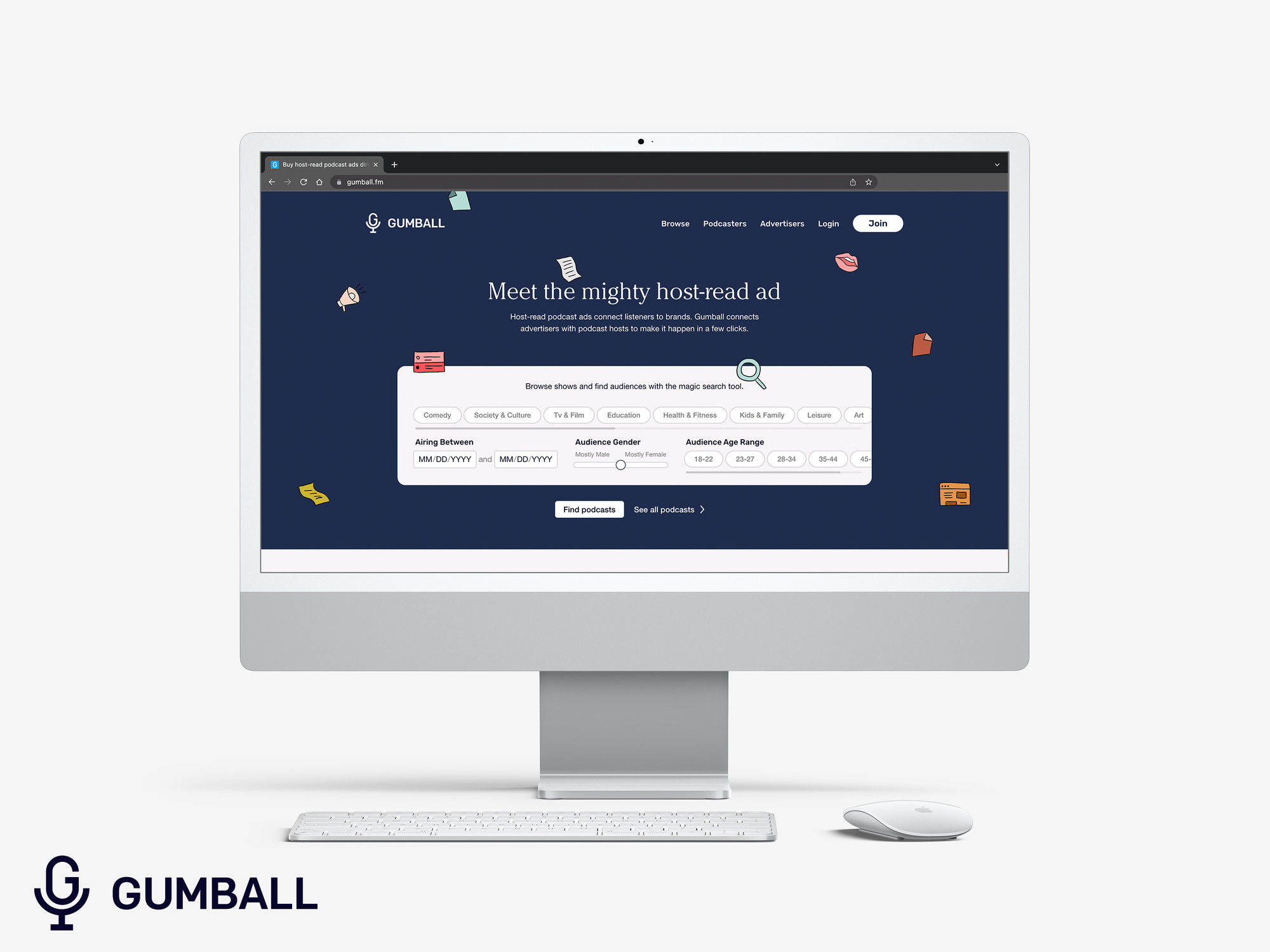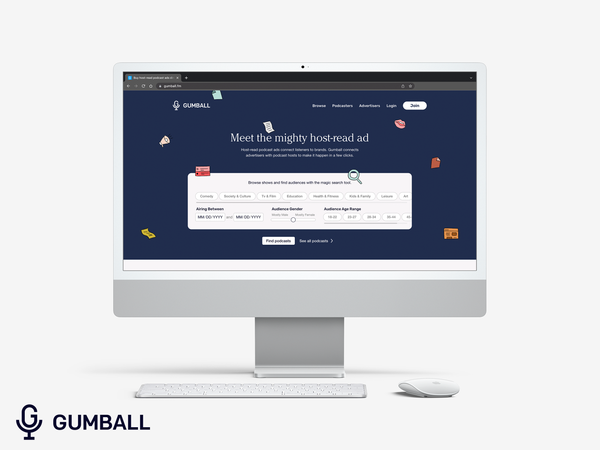 The host-read ad marketplace, Gumball, emerges from stealth to connect brands with independent podcasters with the same scale, ease, and speed as programmatic advertising solutions
Los Angeles, CA – March 8, 2022. - Gumball, an advanced advertising technology solution from the team behind acclaimed podcast network Headgum, has announced it has closed a $10 million Series A funding round led by Union Square Ventures and Good Friends. Bringing total funding to $12 million, the round also includes investment from Craft Ventures, Vertical Venture Partners, Animal Capital, Calm Ventures, Gaingels, and Riverside Ventures.
While host-read advertising is the vehicle that built the ever-growing podcast medium, it is one of the few areas of digital marketing untouched by technology or delivered at scale. Brands and marketers currently negotiate and contact podcasters or networks individually, and independent podcasters must cede control to podcast networks to optimize revenues. Gumball is an innovative technology-led marketplace that streamlines and democratizes the process. With just a click, it allows marketers to connect with multiple podcasters to instantly identify and buy inventory and plan, manage and track executions at scale and in minutes rather than weeks.
The team behind the critically acclaimed and commercially successful Headgum Podcast Network created Gumball. Known for its stable of comedy podcasts, its executive team includes many key contributors that helped build CollegeHumor before its acquisition by IAC and the CTO of Vimeo before its IPO.
Gumball's current inventory includes 100s of podcasts, including Headgum Original shows, podcasts within the Headgum Network, and hundreds of independent podcasters and content creators.  While in development, Gumball worked with more than 500 brands and delivered more than 15,000 host-read ads.
"The host-read ad is the most valuable and powerful asset in podcasting, providing authentic, intimate, and endorsement-level messages natively within targeted content," said Marty Michael, CEO. "Despite being equally loved by brands, listeners, and talent, the way campaigns are bought, planned, executed, and tracked is antiquated, gated, and largely unchanged since the dawn of podcasting. Gumball turbo-boosts the medium with a solution that provides the kind of scale and efficiency of programmatic advertising. Today's funding will allow us to further invest in the technology and attract independent talent wishing to take advantage of this impactful marketing discipline."
Some of the biggest podcasting brands include Casper, CBS, Netflix, OkCupid, Squarespace, Warby Parker, Brooklinen, AMC, Linkedin, and StockX, to name a few successfully using Gumball. It is a powerful tool with benefits for both advertisers and content creators.
Gumball allows Advertisers to:
●  Browse and book available inventory in real-time with transparent pricing
●  Find audiences by demographic
●  Have automatic brand category exclusivity
●  Utilize automated ad copy, vanity URLs, and coupon code distribution
●  Easily verify ads have aired and listen in one place
●  Scale across thousands of shows
Gumball allows Podcasters to:
●  Gain access to the biggest brands that align with their values
●  Better manage campaigns with intuitive dashboard tools, including ad scheduling, unified script and referral code access, and timely reminders to make sure ads air on schedule and airchecks uploads
●  Get paid faster and on time with transparent payments with predictable timelines
●  Book more advertising spots, increase revenue, and focus on developing compelling content
"Gumball is the only company applying scalable technology to the native format of podcasting -- host-read ads -- and has shown exceptional growth during development," said Hanel Baveja from Union Square Ventures. "As music-first platforms such as Spotify and SiriusXM push radio-style programmatic ads and podcast networks often advancing flagship shows, it offers advertisers a compelling alternative and is in a lane of its own. With a management team that is as creative in business as they are in content creation, we are excited to back Gumball as the podcast market goes from strength-to-strength."
Gumball is the latest addition to, and benefits from, being part of Headgum, a growing media company and early pioneer of podcasting. Headgum includes original wholly-owned shows such as If I Were You Newcomers, and critically acclaimed Dead Eyes, as well as an ever-increasing Podcast Network of comedy and entertainment shows. In 2020, the company launched Headgum Studios, providing full-service production services to content creators.
The company's co-founders include comedy-duo Amir Blumenfeld and Jake Hurwitz (If I Were You podcast and formerly of CollegeHumor), CTO Andrew Pile (previously CTO of Vimeo), COO Amir Cohen (formerly of CollegeHumor), and Marty Michael (formerly of Meebo and CollegeHumor), who acts as CEO. Early investors include leading technologists Brad Smith (Founder & former CEO Simplecast; SVP, Head of Podcast Product - SiriusXM), Eric Johnson (CNET Operator), Kunal Shah, Zander Lurie (Survey Monkey, AKA Momentive), and Kerry Trainor (Soundcloud, Vimeo). It also includes talent from Headgum's own roster and beyond, such as Nick Wiger & Mike Mitchell (Doughboys), Jon Gabrus (High and Mighty), Mano Agapion (Drag Her), and Geoffrey James & Reilly Anspaugh (Review Revue), as well as Streeter Seidell and Sarah Schneider (SNL), and Casey Neistat (YouTube Creator).
About Gumball
With offices in New York and Los Angeles, Gumball is the marketplace for advertisers to buy host-read ads directly from podcasters. The platform enables advertisers to easily book impactful advertising campaigns through a modern and transparent buying process. It was created by the team at Headgum, an acclaimed podcast comedy centric podcast network established in 2015. To learn more about Gumball and the platform, visit https://gumball.fm.
About Union Square Ventures
Union Square Ventures is a thesis-driven venture capital firm based in New York City. USV's current thesis is focused on products and services that leverage networks to broaden access to capital, knowledge and wellbeing. The portfolio includes Twitter, Etsy, Twilio, MongoDB, Coinbase, Carta, and Stripe, among others.
About Good Friends
Good Friends is a venture capital firm that was started in 2019 by the founders of Warby Parker, Harry's, and Allbirds. Good Friends invests in early-stage businesses with a consumer lens.