The Monthly Drop: 6 Creators We Suggest For Upcoming Ad Campaigns
New creators covering everything from music to true crime have joined Gumball in the last month.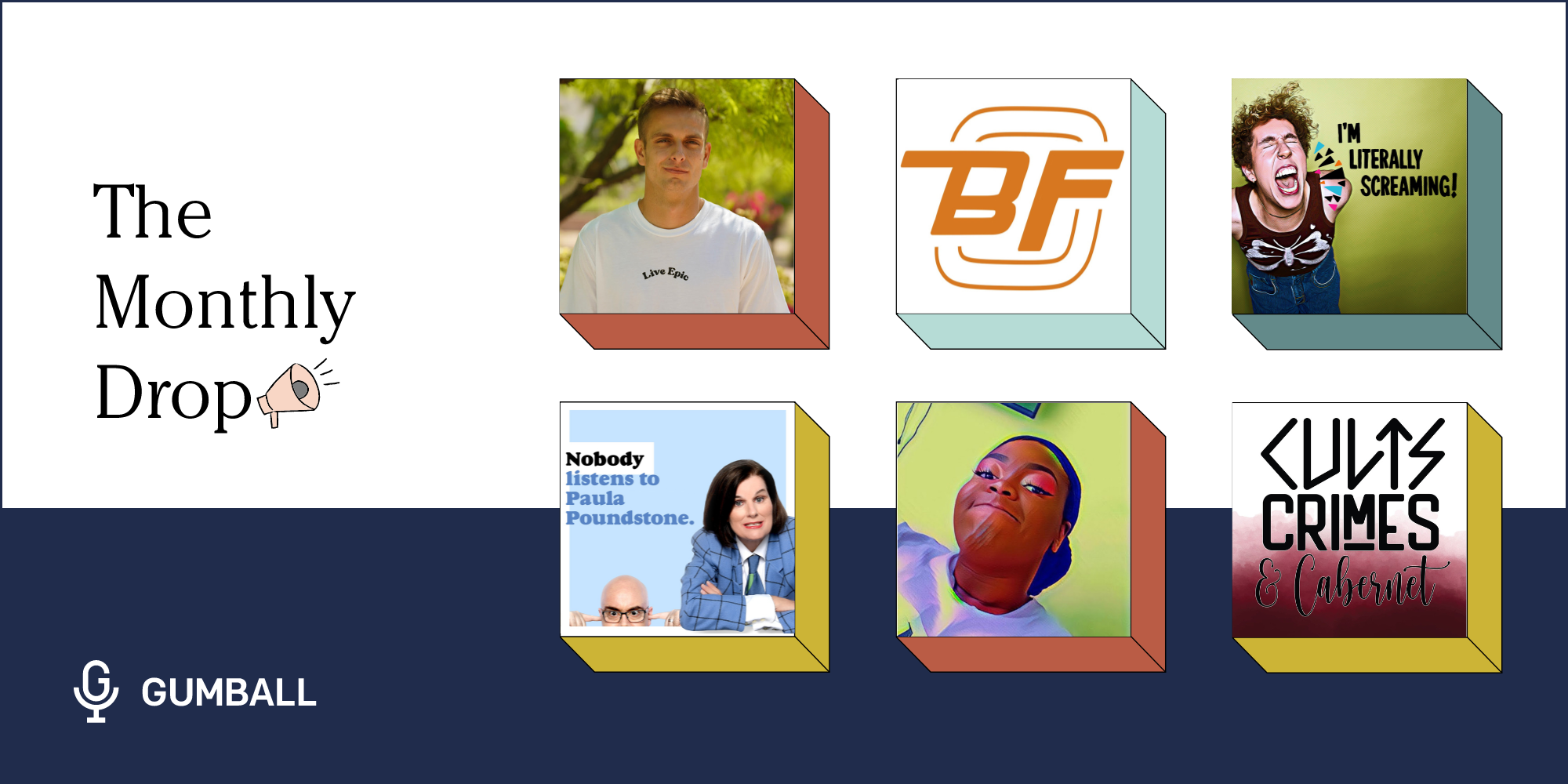 April has arrived, and with it comes the promise of warmer weather, blooming flowers, and longer days. As we emerge from the cocoon of winter, it's the perfect time to refresh, rejuvenate, and indulge in some uninterrupted podcast listening.
And for advertisers looking to reach a passionate audience there's no better platform to connect with passionate binge-listeners than through the wide variety of shows available on Gumball.
This month, our featured creators share content about a wide range of topics, from education to social experiments.
Here are six creators on Gumball that we recommend checking out for your next ad campaign. This is your April 2023 Monthly Drop:  

TikTok sensation Spencer Hunt, aka Spencewuah, takes his 14 million followers on a weekly "scream" in this popular interview show. With a rotating cast of popular guests, Spencewuah gives a candid and unfiltered glimpse into the crazy lives and times of Gen Z's biggest stars.
At a glance: Airs weekly, supports embedded mid-roll ads, female skewed audience ages 18-34


2. Back on Figg
Raised in South Central LA, T-rell has deep connections to the LA music scene. Early on, he was a member of Young Money, which helped him gain national notoriety. He has since launched two successful clothing brands, last kings with Tyga and Sorella Boutique on Melrose Blvd. His latest endeavor, Back on Figg, is a Live show broadcasted on YouTube. Back on Figg highlights the culture and those who make it. T-rell leverages his relationships with A-list artists, designers, athletes and entertainers who fall in-between to be guests on the show. T-rell only knows how to be one thing:... REAL, which keeps his audience captivated week after week.
At a glance: Airs weekly, supports live-read ads, male skewed audience ages 18-44

3. ThatWasEpic
ThatWasEpic is a Mexican-American YouTuber, primarily known for his comedic and heartwarming videos revolving around giveaways, social experiments, pranks and vlogs.
At a glance: Airs weekly, supports embedded ads, maled skewed audience ages 18-44

Cults, Crimes and Cabernet is hosted by Melissa & Whitney. Their true crime obsession launched them into a journey across America visiting the atrocities that make people question humanity. Melissa and Whitney's unique approach to interesting and horrible events provides an entertaining and suspenseful experience. It's as if you're sitting around the table with some friends having a glass of wine. Their mission is to be a trusted resource while empowering others to use action oriented advocacy to create positive change for victims nationwide.
At a glance: Airs weekly, supports embedded mid-roll ads, female skewed audience ages 23-59


5. Nobody Listens to Paula Poundstone
Nobody Listens To Paula Poundstone is like an out-of-control adult education class that meets in a treehouse. Paula Poundstone, Adam Felber, Captain Crinkle, Toni Anita Hull, and a gallimaufry of characters have dropped the rope ladder down for you to climb on up, and sit around the fire with them. Uh-oh into their treehouse.
At a glance: Airs weekly, supports embedded pre and mid-roll ads, female and male audience ages 23-59

6. Queen E
This channel is all about Reality TV with a personal twist; Queen E recaps and reviews her favorite shows, breaking down each scene with insightful and comedic commentary. Queen E has built a community that enjoys content on screen as entertainment, while taking away lessons to implement in their daily lives.
At a glance: Airs weekly, supports embedded pre and mid-roll ads, female skewed audience ages 18-34
Browse our previous monthly picks: