Podcast Movement Panel Recap: Betting on Yourself, How to Succeed as an Independent Podcaster
Gumball, Impact Theory, and Athletic Greens share insights into how to connect with the right brands, create effective ad partnerships, and monetize your independent podcast successfully.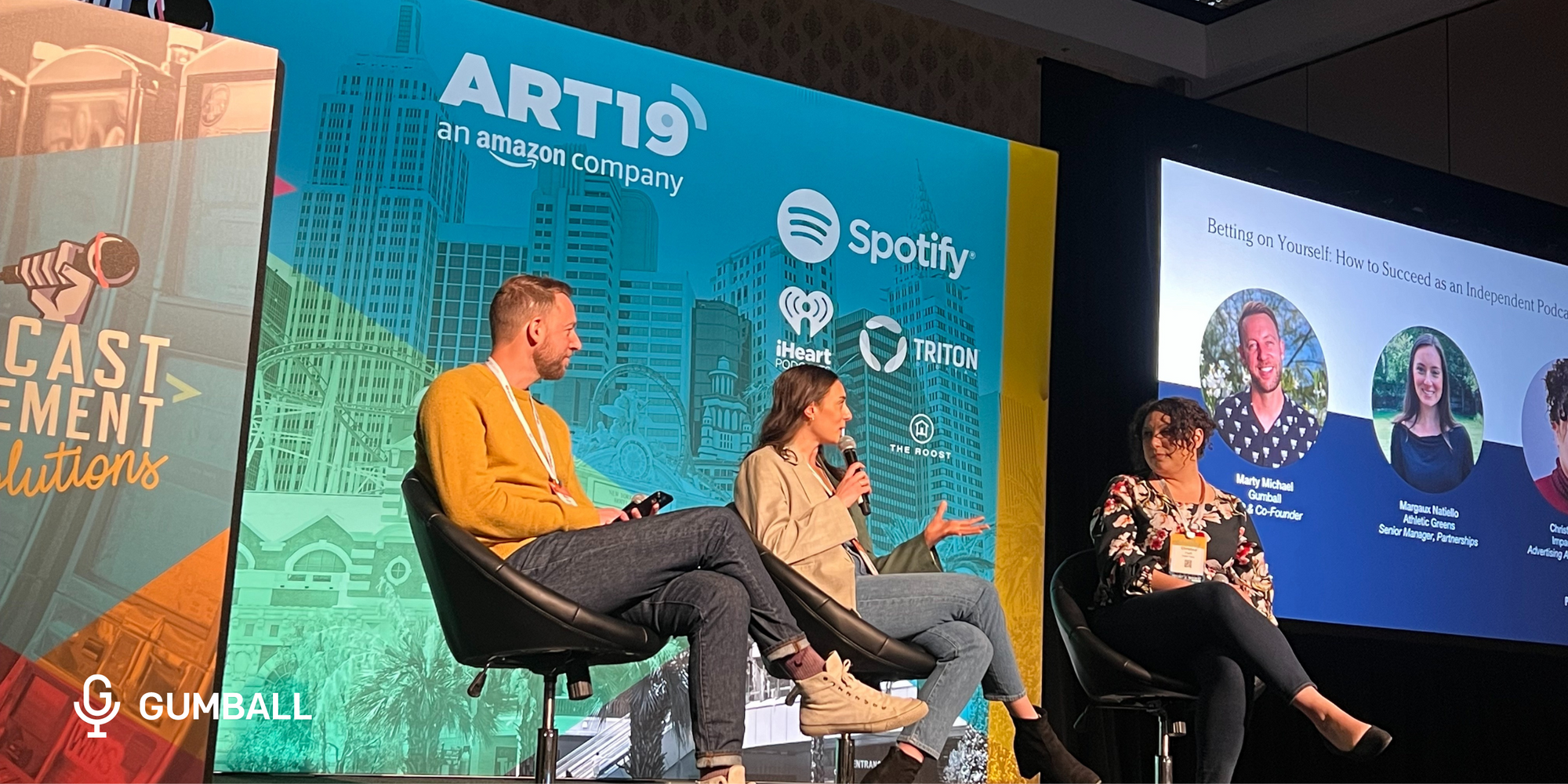 On March 8, our Gumball team hosted a panel at the Podcast Movement Conference in Las Vegas entitled Betting on Yourself: How to Succeed as an Independent Podcaster. Podcast Movement is the world's largest gathering of podcasters and a place for the podcast industry to come together to educate, learn, and network at the industry's largest trade show.

This all-star panel was moderated by our Headgum and Gumball CEO and Co-Founder, Marty Michael and included panelists:
Margaux Natiello, the Sr. Partnerships Manager at Athletic Greens who manages their growing podcast portfolio and long-term partners
Christina Fauth, the Head of Ad Partnerships with Impact Theory, a digital content studio. Christina also co-hosts the My Worst Date podcast, a show where they share hilarious personal dating experiences and read stories from their listeners

The conversation kicked off by sharing some insights and overarching ways Podcasters and Creators can show up more effectively with their sponsors:

Margaux stresses that podcasters can really improve their use and collection of data. There is so much power in trying new things, conducting tests and knowing demographic information about a show's audience and habits. Taking the time to present data in a really clear way to show how well you are able to convert for a specific sponsor goes a long way and would even entice more brands to invest in the podcast marketplace.

Marty taps Christina as a creator to help answer:
"How do you define success as an independent podcastor?"

When thinking about monetization, Christina considers a measure of success to be when the advertiser or a brand wants to renew after a few initial tests and wants to book more inventory. Additionally, when brands reach out directly to work together, it feels good to know that they are known and have a good reputation in the space.

Marty wholeheartedly agrees, especially as Gumball continues to bridge relationships between creators and brands, if an advertiser wants to renew it's one of the most encouraging proof points that the relationship and partnership is successful.

He goes on to ask Margaux:
"How do you measure success on an ad campaign?"

Athletic Greens has a direct-response focused strategy so making sure the product is resonating and converting the audience while also evaluating the spot with high creative standards since the host is acting as a representative for the brand. They can feel when a host is genuinely a collaborative and enthusiastic partner by delivering on the brief in an authentic and accurate way.

Marty looks to Christina to respond with:
"What a pain point is when monetizing a podcast?"

There are various factors and it also depends on the level of the podcast but predominantly brands will always want to know your show's attribution or audience demographic make-up and it's difficult when there is a lack of data.

The way Christina and her team keeps it all organized is through an ad calendar or release calendar and including information like when each episode is dropping, who the guests will be, how many ad units are included per episode. For podcasts with a larger audience, it's worth investing in an organization tool like a Monday.com or a CRM.

Marty engages Margaux to help clarify:
"What are you looking for in new shows/partners when you're testing with them for the first time?"

Athletic Greens wants to see a willingness to collaborate from the creator. They take note of how open they are to try the product, how they weave it into their lifestyle and speak to their experience with it in an authentic and enthusiastic way. Personal endorsements are critical in an ad read and the most critical metric for a potential renewal. Athletic Green's goal is really to test a campaign, provide feedback, optimize, and maintain a partnership with a creator as long as possible. The longevity of a partnership is really top of mind for many brands.

Marty goes on to ask Christina:
"What are effective ways to increase sales and sponsorships for your show?"

She is a huge fan of dynamic ad insertion since, based on recent data from the Podsites benchmark report, it is proven to convert better than embedded ads. It's possible to double sales by embracing dynamic ad insertion. Christina encourages all the creators she works with to learn how to use them. Dynamic ad insertion also provides great versatility when it comes to adding in or removing ads throughout your flight, whereas when the ads are embedded they are edited into the episode more permanently.

Marty seeks out both panelists to answer:
"How do you think video and YouTube have played a role in monetizing podcasts?"

Margaux believes YouTube is such a massive contributor to the growth of the industry. YouTube is a platform with over 2B monthly users and, for many, a default podcast consuming platform. From a brand perspective, video, of course, adds a visual component but also extends the reach and provides the opportunity for product placement, logos, added impressions, and can be a more immersive ad experience and path to purchase. Athletic Greens loves working with partners who are looking to extend their reach with YouTube and notice the new ways these shows are able to display their content.

Finding creative ways to make seamless integrations can be a huge incentive to bring in brand sponsors through negotiation or a flat fee. Monetarily, creators are able to create something unique and bespoke in a video environment.

Marty comments on how in addition to dynamic insertion, expanding to YouTube is another effective way creators can increase monetization and sales very quickly. "A must-do!"

"What are things creators should do to make sure they are delivering a good ad and what should they avoid?"

Margaux shares that getting clear on the expectations from the brand is critical. As mentioned, first person endorsement is important so brands love when creators come with questions, feedback, ideas for collaboration, or even requesting successful ads made with other creators.

It's also important to be thoughtful about the placement of the ads, making sure it's in an intentional, natural placement within the episode to ensure a pleasant experience for the listener.

Christina agrees that over-communication and asking a lot of questions is key, especially when it comes to building a relationship especially with a new sponsor. One of the best ways to set yourself apart from the competition is providing added value for the sponsor.

A teaching moment for Christina came when she received messages from her audience about how one specific advertiser they brought on didn't seem relevant, so she took that as a great reminder to remain selective when working with brands and to consider your specific content and audience for a partnership. It provides credibility when your audience knows they are top of mind in every way.

We look to the future when Marty asks:
"What major changes are you hoping for in the podcast market?"

Christina is hoping for more and better data, more standardized language for greater collective understanding, and, as the industry grows and innovates, that podcast advertising becomes a staple in the marketing media mix for brands.

Margaux believes that the magic of the podcast space is when the relational and digital converge. There are so many advancements happening in measurement, media buying, attribution, verification but also protecting the foundational reason this space was created: human connection.

Live Q&A

"How are you finding and reaching out to podcasters? How does the creator know that a brand that is reaching out is legitimate?"
Marty jumps in to recommend that the best way to suss out legitimacy is having the brand pay an upfront flat fee for the work that the creator is putting into the ad read. Margaux shares that Athletic Greens uses various prospecting strategies like searching specific terms on Google to sales networks that recommend shows to platforms like Magellan AI, Podchaser, PodScribe that are great at finding new shows. Sometimes it's even searching contextually by finding show's that sit alongside their existing partner creators and podcasts.


"As an independent podcaster who might have more of a niche audience but a broader reach on social channels, do brands take that into consideration or do you prioritize audience listens or downloads per month?"
Margaux underscores the importance of hyper-niche shows and how Athletic Greens likes to find host-led shows that create that connection and trust with their audience. The best way to pitch brands for a cross-channel opportunity, is to show them the breadth of what you can provide. You can always start with one channel and expand into other channels if those tests go well. But sometimes brand like a more 360 campaign and you're able to negotiate the terms that make the most sense for both parties. A willingness to collaborate is the best way to show up with potential sponsors.


"My podcast is on average 20-25 minutes per episode. How much time should I dedicate to ad space based on the length of the episode?"
Marty's rule of thumb is no more than two ads in any ad break. Christina suggests for any episode shorter than 30 minutes to test different combinations of ad breaks by number and placement in pre-roll, mid-roll, and post-roll (i.e. 1:2:1 or 2:0:2 cadence). Another option is to work with a brand to integrate the sponsorship into the episode so it feels more seamless in content.


"How do you strategically approach brands to get them to advertise on your show?"
Christina works closely with Gumball to identify brands they might have connections to or who they'd recommend could be a natural sponsor fit. You can use Apollo.io to seek out a brand and the best point of contact to be able to send a personalized email about the show, why your listeners and content would be a good fit for the brand and ask who the best person is to speak with about podcast advertising.


"How are you dealing with the difficulty of attribution?"
Christina uses PodSites and Chartable, but recommends doing a brand lift study if your show is on the larger side. She and her team are big fans of tracking pixels for campaigns. If you're in a position to discount your CPM or the actual ad a bit to include the PodSites pixel then that data becomes as valuable to the creator as it is to the brand. Margaux agrees that from a Brand side, they like to use vanity urls media mix models, post purchase surveys because if they are executing a test to build a long term partnership with a new podcast they want the results to be as accurate and comprehensive as possible.

We hope this talk provided value to both you independent podcasters and brands alike. Creators, this is your friendly reminder you are already using your unique voice in impactful and necessary ways, so never stop betting on yourself!

Until next time ✌️