Headgum Pushes Into Video Podcasting with Lil Rel Howery Video Podcast "Keepin' It Rel with Young Wayne" and New Bi-Coastal Production Studios
Headgum expands slate with Keepin' It Rel with Young Wayne and Too Scary Didn't Watch. Now available on Gumball.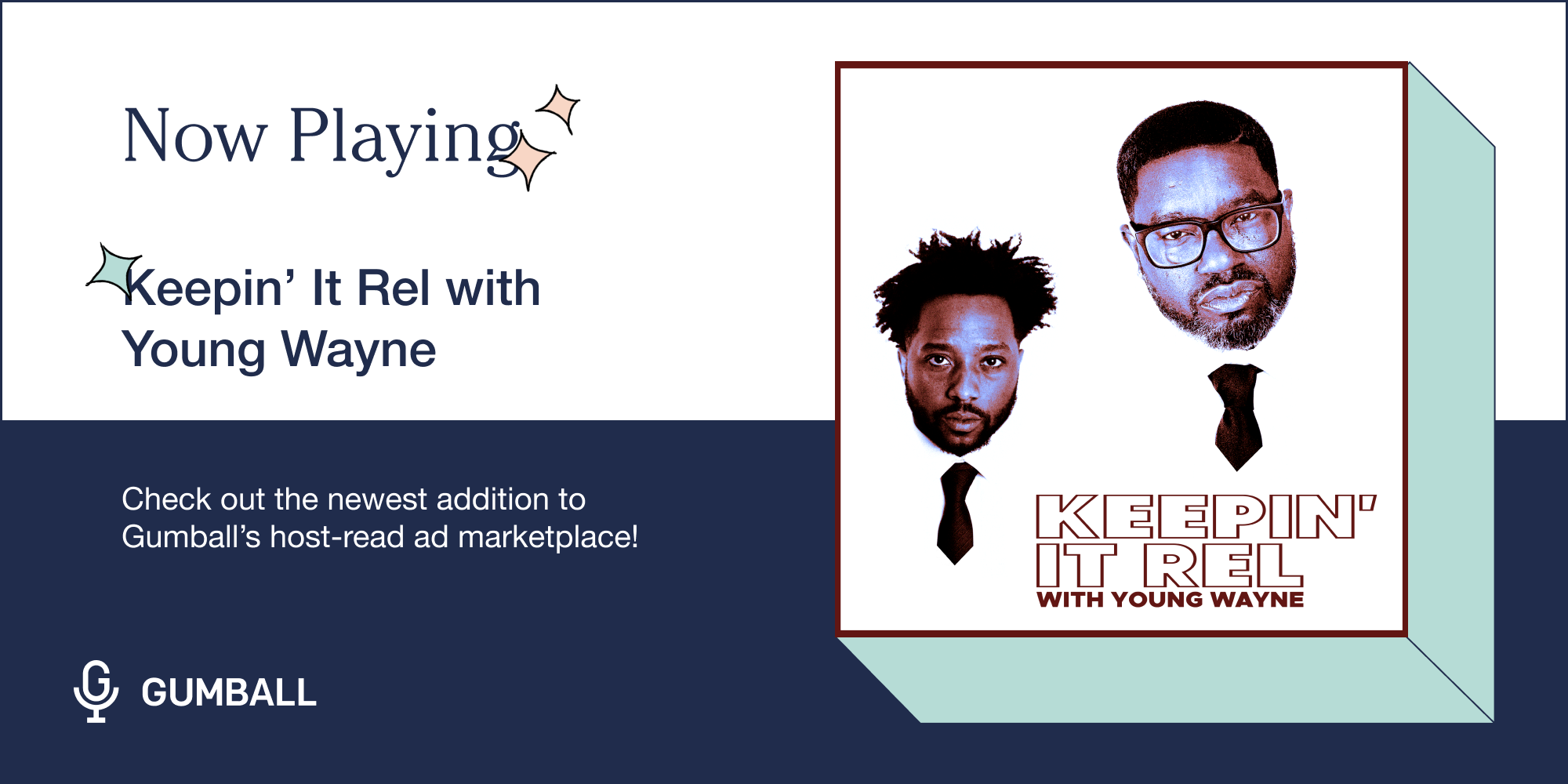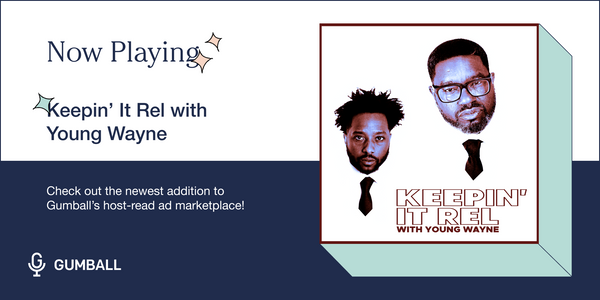 Headgum further expands its content slate with an acquisition of the "Too Scary, Didn't Watch" horror movie podcast, and announces that the average weekly downloads for its Headgum Originals podcasts have increased 50% year-over-year
New York, NY – June 1, 2022 – Headgum, the comedy podcast network behind shows such as Doughboys, Dead Eyes, and Newcomers with Lauren Lapkus & Nicole Byer, announces that they will launch a new weekly video and audio podcast Keepin' It Rel with Young Wayne hosted by comedians and actors Lil Rel Howery (Bad Trip, Get Out) and Dwayne "Young Wayne" Young on June 7th. A video trailer and audio trailer are both out today.
The celebrated comedian's first-ever podcast will find him squaring off with longtime friend Wayne for good-natured roasts, debates and never-heard stories dug up from their Chicago upbringings. In the vein of popular comedic talk podcasts between longtime Hollywood friends, such as Smartless, and reflecting the need for honest, heartfelt conversations, the hosts deliver a funny, incisive and authentic show that dives into topics such as sports, culture, and mental health.
The new series represents a robust investment into video production and programming for Headgum, the leading independent comedy podcast network, as they seek to capitalize on the growing audience appetite for visual podcast content. This spring, Headgum opened two video production studios in New York and Los Angeles, enabling them to produce new video versions of shows from their roster, including If I Were You; Senior Superlatives with Greta Titelman; The Headgum Podcast (which recently hit its 100th episode milestone); Keeping Records; and XOXO, Gossip Kings, all available on YouTube. Additional video-first shows will be announced later this year. Also to note, Headgum has grown average weekly downloads for its Headgum Originals podcasts 50% year-over-year.
"Getting our start at College Humor, we have always believed in using video to connect with our audience and make people laugh. We're excited for our team to pair the power of video with the intimacy of podcasting," said Headgum founders Jake Hurwitz and Amir Blumenfeld. "And we are thrilled to expand our video programming with Keepin' It Rel with Young Wayne, a show that, in a lot of ways, reminds us of our roots while also propelling the Headgum portfolio to new horizons."
"We are excited to let people into the conversations we actually have all the time. But even more it's great to get a more in depth look into our lives, opinions and our love for the culture, sports and just humanity on a whole. We both are naturally funny so you will definitely laugh no matter what we are talking about. With great guests and great topics," said co-hosts Lil Rel Howery and Dwayne "Young Wayne" Young.
In addition to Keepin' It Rel with Young Wayne, Headgum's listeners are sure to enjoy the women-led horror movie discussion podcast Too Scary; Didn't Watch, hosted by Emily Gonzalez, Henley Cox, and Sammy Smart, which Headgum recently acquired for its expanding network. The series finds the three hosts facing their fears and cautiously exploring the sometimes intimidating world of horror, with actors and podcast faves like Haley Joel Osment, Jack Quaid, Betsy Sodaro, Paul F. Tompkins, and Armchair Expert's Monica Padman featuring as guests. New episodes will be released weekly through Headgum.  
In addition to producing industry-leading shows, Headgum has made major moves in ad tech this year. This March, Headgum's ad-tech service, Gumball, a first-of-its-kind marketplace that connects brands with top talent for host-read ads, announced a $10 million Series A funding round that will allow the company to further expand its technology platform. In a time when podcast creation and consumption are exploding, Gumball marries the efficiency of programmatic advertising with the quality and effectiveness of host-read ads to better serve brands who want to take advantage of the growing space. Ad sales for Keepin' It Rel with Young Wayne and Too Scary Didn't Watch are managed through Gumball.
Howery is a comedian, actor, writer, and producer who broke out as TSA agent Rod Williams in the Oscar-winning Get Out and in one of Netflix's most popular movies, Bird Box. He has also recently appeared in Bad Trip with Eric Andre, which reached #1 on Netflix; Deep Water with Ben Affleck and Ana De Armas; Free Guy opposite Ryan Reynolds, and was featured in the six time Oscar-nominated Judas and The Black Messiah. On the TV front, he starred in the critically-acclaimed NBC comedy series The Carmichael Show, and he executive produced and starred in his own Fox sitcom, Rel. Wayne is an alum of Second City Improv Chicago, an actor, creator and host who has worked with brands including McDonalds, Jordan, and Red Bull.  
You can find Keepin' It Rel with Young Wayne video episodes on the Keepin' It Rel YouTube channel and audio episodes wherever you get your podcasts. The audio version of the podcast will be released on Tuesdays, and the video version will be released on Thursdays.