Gumball Just Got Even More "Handsome"
A look at the launch of Tig Notaro, Fortune Feimster, and Mae Martin's brand new podcast "Handsome".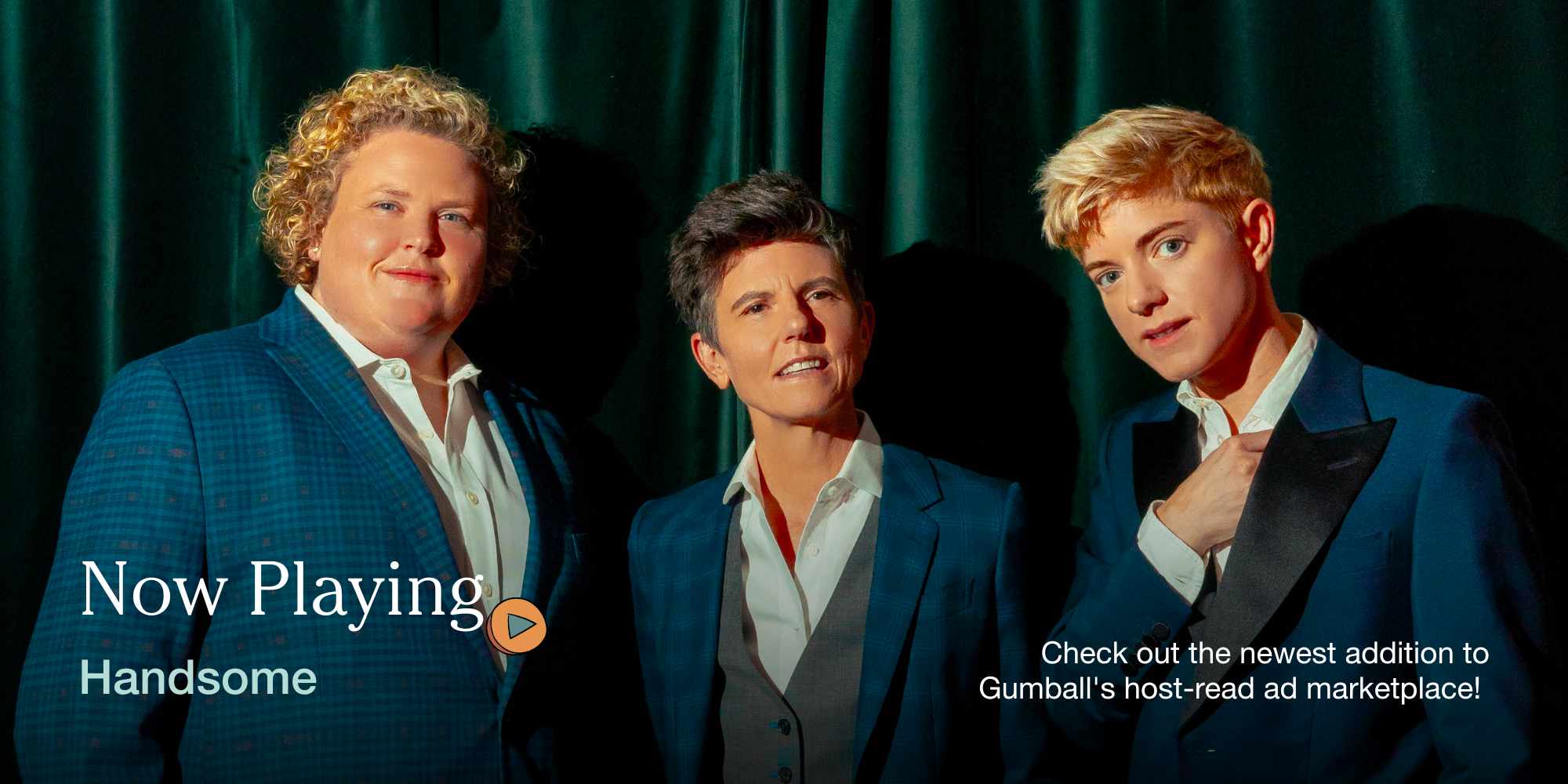 "How do you each wash your a******?"
That's the question posed by Sarah Silverman on the inaugural episode of Handsome, a brand new podcast from comedians Tig Notaro (One Mississippi, Star Trek), Fortune Feimster (Fubar, The Mindy Project), and Mae Martin (Feel Good, The Flight Attendant).
Handsome is a comedy and storytelling podcast where the three comedians laugh their way through a candid, far-reaching and uproarious conversation, fielding a question each week from a friend, including Kenan Thompson, Atsuko Okatsuka, Neil Patrick Harris, Leisha Hailey, Lil Rel Howery, Jimmy Fallon, and many more.
Topics on Handsome range from childhood memories to philosophical musings, to creative inspiration and even (thanks to Sarah Silverman) private-part hygiene. Along the way, the three hosts approach every conversation with the warmth, hilarity, and insight that they've all been celebrated for as acclaimed individual stand-up comedians, actors, writers, and creators. Each of their singular comedic voices is spotlighted on the show, but together, their podcasting presence can only be described as 'Handsome.'
The show's launch on August 15 saw coverage from podpod, Variety, Sounds Profitable, Podnews, and 800 Pound Gorilla Media, and has maintained the #2 position on the Apple Podcast Comedy charts for 5 days straight.
We're thrilled be part of the Handsome launch as the show's exclusive ad sales partner, and are loving the reactions across social media. Having previously worked with Tig Notaro through the Headgum network, we know the power of her audience and what that combined with equally passionate fans of Fortune Feimster and Mae Martin can bring to the table for advertisers as the show continues to grow.
Learn more about purchasing ads on Handsome via Gumball. And if you're a company specializing in bidets, well, have we got a ground-floor opportunity for you. 😂
Listen to Handsome out now on Apple Podcasts, Spotify, or wherever podcasts are available. New episodes of the show will be released every Tuesday.
---