Introducing "Corked," a New Headgum Original Podcast for True Crime and Comedy Fans
Book your next ad campaign on "Corked," which follows a crime mystery in Napa Valley that's almost too funny to be true.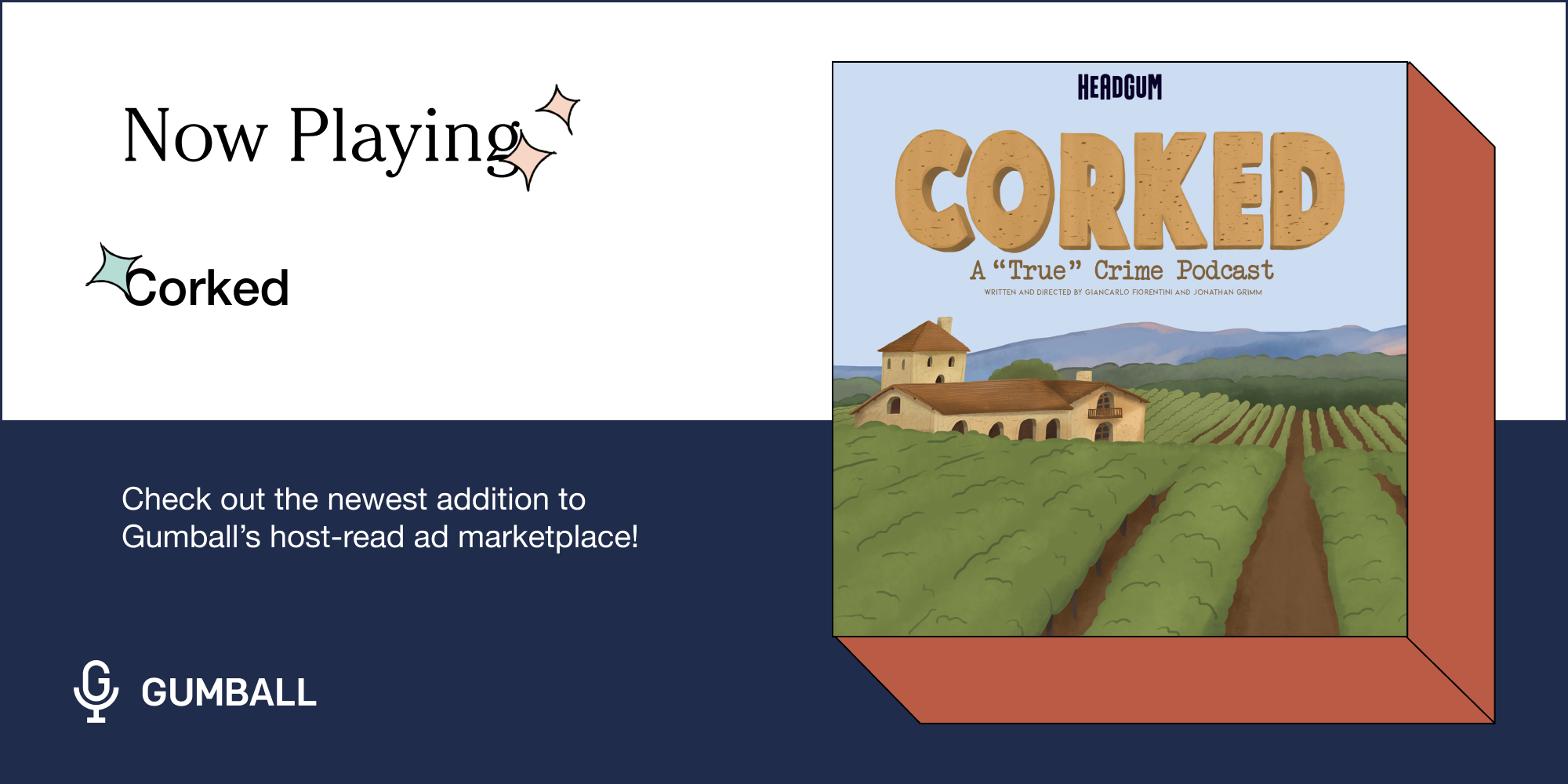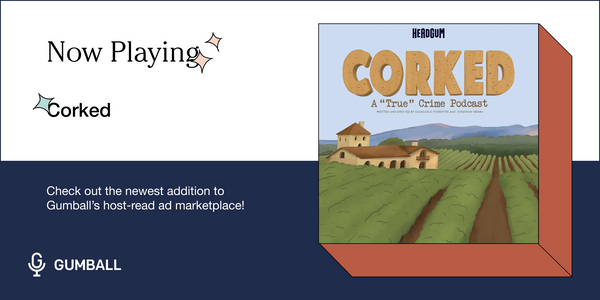 New York, NY – August 9, 2022 – Headgum, the comedy podcast network behind shows such as Doughboys, Dead Eyes, and Newcomers with Lauren Lapkus & Nicole Byer, announces the new narrative "true" crime comedy limited series Corked, which follows a brash winemaker with a secret past, his missing girlfriend, and a jilted roughneck from Louisiana who pulls an investigative journalist into a mystery that quickly consumes his life and career.
This blend of Sideways and Serial features a revolving door of eccentric characters, top notes of fun improv moments, and a strong finish of genuine mystery, complete with in-the-field interviews, dramatic narration backed by moody music, and other markers of true crime podcasts that are ripe for satire.  
In the series, Miles Fletcher, an audio journalist for NPR-esque "Public Radio America," is contacted one day by Jeffers Tatum Trench, an affable but troubled young man from rural Louisiana. Jeffers alleges that Lyle Le Monde, a famous, brash winemaker in Napa Valley, is living under a false identity, and Lyle's girlfriend, Frances Meyer, who went missing several months prior, was murdered by him.
What follows is an immersive mystery populated with absurd characters and massive red flags that unfolds like a game of whack-a-mole. Every time Miles pins down a lead, a new one pops up in its place.
"Corked is our spin on two core pillars of the podcasting world that have become emblematic genres — true crime and public radio investigations that shine a light on society's ills — to understand what makes these stories so compelling, evergreen, and occasionally a bit formulaic in how they're told," said co-creators Jonathan Grimm and Giancarlo Fiorentini. "We're grateful to Headgum for the opportunity to create a show that allows us to both celebrate and skewer the podcast canon, while letting us swing for the fences in terms of silliness."
"From the CollegeHumor days to now, Jonathan and Giancarlo have always been so much fun to work with, and we loved collaborating with them on Corked, which combines improv and scripted comedy to create a truly novel audio experience," added Headgum co-founders Jake Hurwitz and Amir Blumenfield. "This hilarious narrative limited series is a great example of how Headgum plans to continue to expand into narrative podcasts and new ways of telling stories."
The cast includes Anthony Gioe, Whitmer Thomas, Jon Gabrus, Betsy Sodaro, Mary Holland, Dan Klein, Josh Ruben, Ally Beardsley, Lou Wilson, and Natalie Palamides.
Corked co-creators Giancarlo Fiorentini and Jonathan Grimm are childhood friends who grew up down the street from one another. Their relationship with Headgum extends back to their CollegeHumor days, where they directed more than 1,000 videos during their tenure as in-house directors, including nearly 600 episodes of the Webby-award winning CollegeHumor series Jake and Amir, which to date has garnered over a billion views.
In addition to Corked, they've also written for Disney, Comedy Central, MTV, Funny or Die and many more. Their comedic short film The Old Man and the Seymour was selected for numerous film festivals nationwide, including the Austin Film Festival, LA Shorts Fest, and Friar's Club Comedy Festival. They were nominated for Best Writing Webbys for their shorts Facebook Ruins Job Interview and 36 Questions.
Ad sales for Corked will be managed through Gumball, the Headgum-owned marketplace for advertisers to buy host-read ads directly from podcasters.
You can find Corked episodes wherever you get your podcasts every Tuesday from August 16 to September 6.
About Headgum
Headgum is an LA & NY-based podcast network creating premium podcasts with the funniest, most engaging voices in comedy to achieve one goal: Making our audience and ourselves laugh. The network produces hit shows such as Doughboys, Dead Eyes, Newcomers with Lauren Lapkus & Nicole Byer, If I Were You, and Not Another D&D Podcast.
About Gumball
Gumball is the marketplace for advertisers to buy host-read ads directly from podcasters. The platform enables advertisers to easily book impactful advertising campaigns through a modern and transparent buying process. It was created by the team at Headgum, an acclaimed podcast comedy centric podcast network established in 2015. To learn more about Gumball and the platform, visit https://gumball.fm.