Celebrate Black History Month with Content From Black Creators We Love
We're celebrating Black History Month by sharing some of our favorite Black creators innovating in the podcast and YouTube spaces.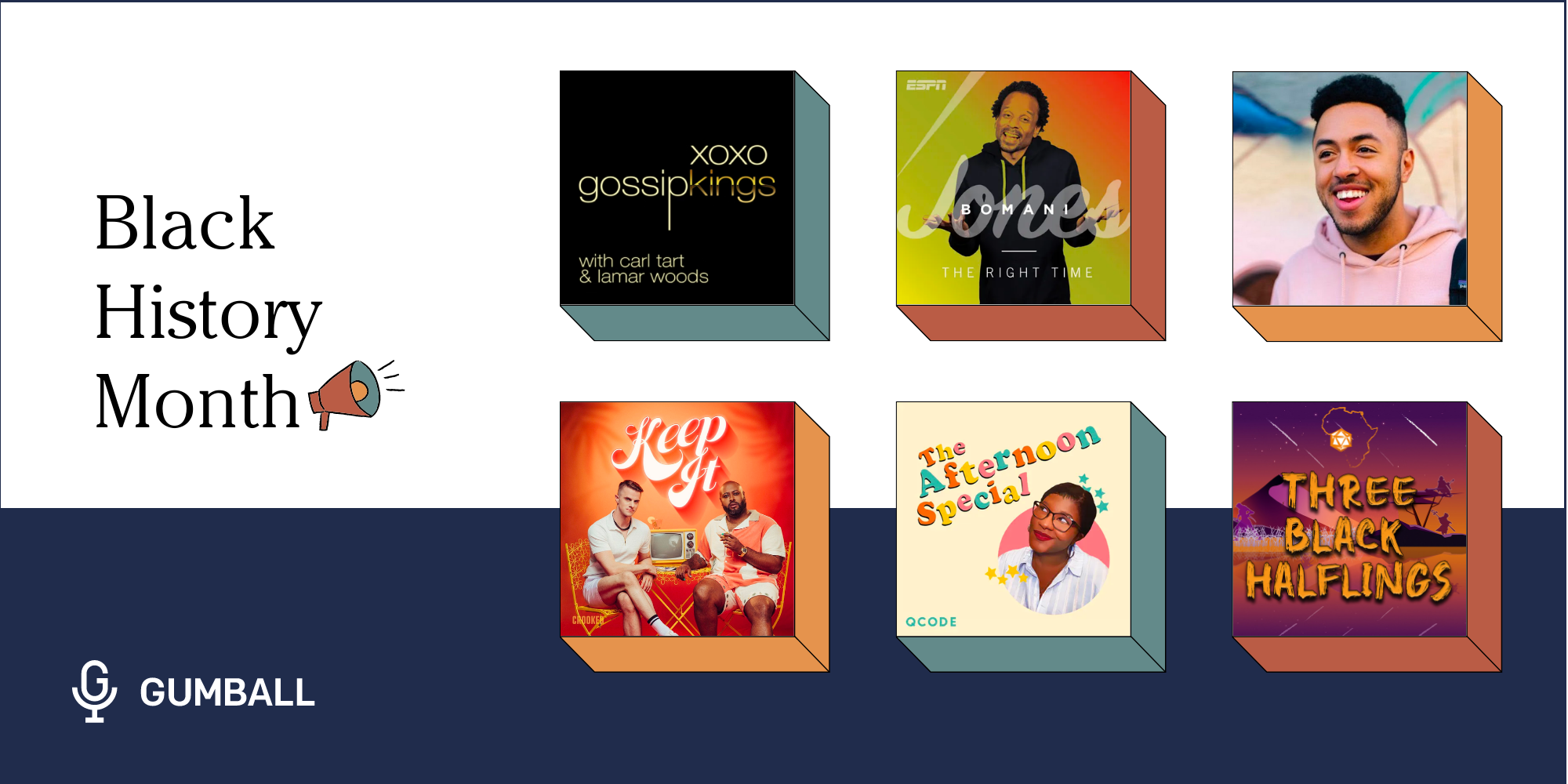 Check out the Gumball and Headgum teams' recommendations of insightful and hilariously entertaining creators that you should be watching and listening to. The creators occupy various online spaces and cover a wide range of topics including film, sports, conspiracies, and many more.
Make sure to give them a follow and a like and remember to support Black creators this month and every month.
Recommended by Emma Foley, Producer and Studio Manager
"As a D&D fan, Three Black Halflings was such a welcome addition to my podcast roster. It's so fun to listen to Jeremy, Jasper, and Olivia nerd out over everything pop-culture and hear the way they balance their incisive cultural takes and hilarious banter."
Recommended by Michelle Macias, VP Ad Operations & Client Services
"I first heard Ira as a guest on Bitch Sesh and loved his Real Housewives takes! Listening to his podcast Keep It, I really enjoy how he breaks down characters and storylines of popular shows/films (White Lotus, Don't Worry Darling) while adding in fun 90s/00s references (Buffy, Days of Our Lives, Scream to name a few)."

Note: some of the older episodes of Keep It feature Aida Osman, who you can follow on Instagram @shutupaida or watch on Issa Rae's tv series Rap Sh!t.
Recommended by Brad Hild, Account Manager
"Jarvis is an excellent guide to internet culture. Whether sharing popular TikTok trends, reviewing strange mobile game ads, or exposing toxic online creators - his content is always a healthy mix of measured and mirthful. I always leave his channel feeling cheerful and informed."
Note: check out Jarvis' long-time collaborator Jordan Adika on YouTube as well.
Also check out Jarvis Johnson! Gold and Jarvis Johnson Live
Recommended by Emma Foley and Narisa Ladak, Director of Creator Partnerships
Emma: "I don't think I fully understood the 'parasocial relationship' people talked about when listening to podcasts until I found Random Order. Listening to Trey, Jae, and Sheldon feels like hearing your funniest friends riff on any and everything."
Narisa: "I love how Jae, Trey, and Sheldon share Toronto culture with the world, whether through childhood memories in Brampton or the best place to grab wings in the city and beyond. They bring their authentic selves to the show, and never hold back on laughter at their own jokes (how can you not laugh along)?!

I can't stop thinking about this moment where Trey asks the existential question we're all wondering after the past 3 years… 'When did you jamble it?'"
Recommended by Joel Dunoff, Software Engineer
"Bomani brilliantly uses sports as a vehicle to change your perspective about the world at large. His sports takes are refreshingly nuanced and witty. A worthwhile listen if you're a sports fan!"
Note: Season 2 of Bomani's HBO show Game Theory just dropped.
Recommended by Marika Brownlee, Director of Marketing and Allie Kahan, Content Coordinator
Allie: "I've been a fan of Gossip Girl since the books came out, and listening to the way Carl and Lamar discuss the series with both hilarity and sincerity genuinely makes me laugh out loud. They're both incredible improvisers and have such great chemistry together as hosts. It's really like listening to two of your funniest friends discover the TV show you were obsessed with in middle school and then taking their fandom to the next level."
Marika: "I love when Carl and Lamar sing on the show and I genuinely cannot stop thinking about this clip."
Recommended by Will Conover, Account Manager
"I've been a fan of David Gborie for years, first finding him on the All Fantasy Everything podcast back in 2019 and eventually following his standup online. I loved his quick hot takes and excitable energy so when I heard he was the new co-host on the My Momma Told Me with Langston Kerman, I had to tune in! I knew Langston from the very underrated Bust Down, so I knew I had to check out My Momma Told Me. The show covers the wide world of Black Conspiracies and often features childhood memories from the two hilarious comedians - highly recommend checking it out!"
Recommended by Reilly Anspaugh, Review Revue, Headgum Sketches
"What I love about Bobbi is her genuine love and excitement for film and TV. She's so enthusiastic about storytelling, and it's nice to hear ALL her thoughts (what she enjoys as well as critiques) come from a place of love. She crafts her episodes so well and each one feels so intimate! Her TikTok is also hilarious."
Recommended by Alex Berkmen, Senior Creator Partnerships Manager
"It's been awesome to see the community that Ashley has created. She offers bite-sized chunks of motivational goodness to uplift and inspire women of color, and she does this in a really thoughtful, authentic, and relatable way. She's like that supportive friend who's always cheering you on!"
Recommended by Narisa Ladak
"Ali and her co-host Erica give me hope when it comes to dating. Ali is committed to the process, and shares all the interesting details I'm invested in. My favorite part of the show is when Ali and Erica nickname their prospects, from The Disco Ball to The Padre to The PowerPoint, I want to know everything."
We'd also like to honorably mention of some of our favorite Black creators on TikTok and Instagram:
AlexisNikole, who's teaching us how to forage (and not die!)
See The Thing Is, who are part of the Gumball family
EvanDaGreat26, the fastest and smallest moves never looked so cool.
Danny Sellers, part of the Headgum family and co-host of Headgum Happy Hour.
Bob The Drag Queen needs to win All-Stars already.
Know for Sure Podcast, who are also part of the Gumball family.
Monét X Change, queen of beat make-up and opera.
Lydia Okello, a great follow for personal style inspo.
Mr Grubworks, king of "flayvas".
Melisa D. Monts, Grammy-nominated and award winning producer, director, and writer.