10 Spooky Podcasts For Ghouls and Gals Who Love Halloween
What better way to celebrate the scariest holiday of the year than podcasts revolving around true crime mysteries, horror movies, and ghost stories?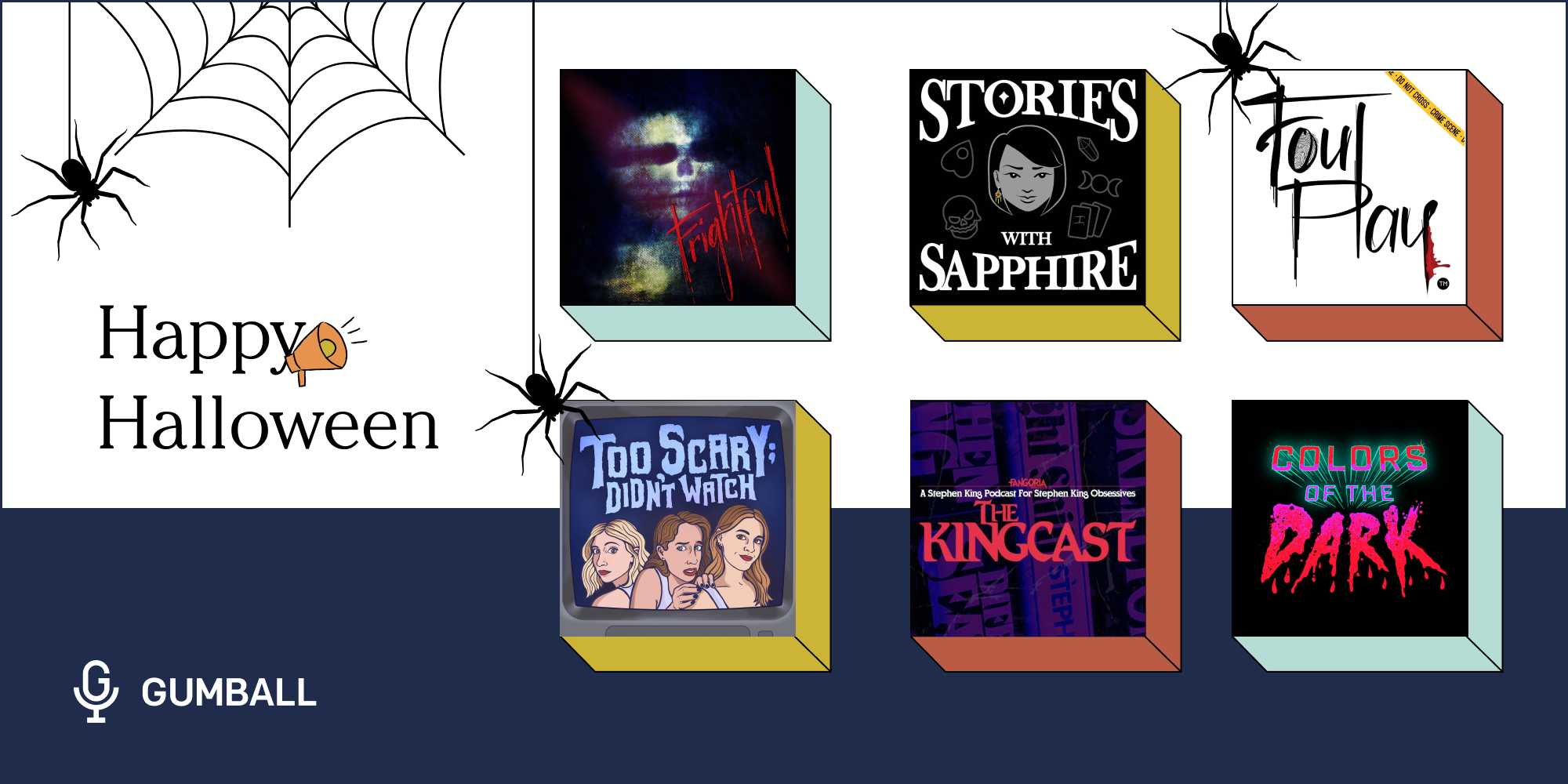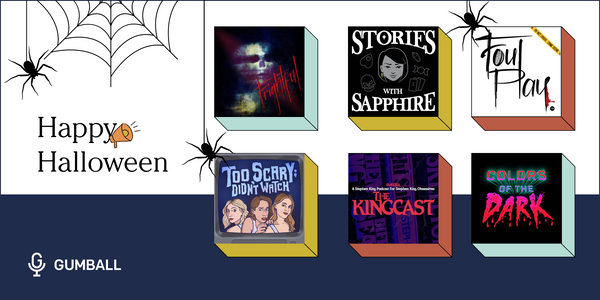 It's October, and 'tis the season to consume as much scary content as you can find, brainstorm Halloween costume ideas, and perfect your recipe for witches' brew.
To get you in the mood for All Hallows' Eve this year, we put together a list of thrilling, weird, and scary podcasts that you can listen to as you take twilight strolls in the pouring rain or explore the dusty basement of an abandoned house.
Listen to these 10 creepy-crawly podcasts this month for Halloween…if you dare.
Descriptions are taken from each show's page and may be edited for length and clarity.
1. Too Scary; Didn't Watch
A horror movie recap podcast for those too scared to watch for themselves, hosted by Emily Gonzalez, Henley Cox, and Sammy Smart.
Advertise with Too Scary; Didn't Watch on Gumball
2. Foul Play: A True Crime Podcast
Hosted by crime journalist Shane L. Waters, Netflix "The Keepers" star Gemma Hoskins, and crime writer Wendy Cee, "Foul Play" is one of the oldest true crime podcasts. Let us take you on a journey to discover some of the most unbelievable minds of the most wicked monsters imaginable. We might even solve a few cold cases again!
Advertise with Foul Play on Gumball
3. The Asian Madness Podcast
"The Asian Madness Podcast": a place where we discuss true crime, superstition, urban legends, mysteries, and weird news from the Asian continent.
Advertise with The Asian Madness Podcast on Gumball
4. The Kingcast
A Stephen King podcast for Stephen King obsessives takes a weekly deep dive into the written and cinematic works of America's prevailing Master of Horror. Each episode finds hosts Eric Vespe and Scott Wampler joined by a notable guest, each of whom brings their preferred King title to the table for discussions that run the gamut from rollicking to analytical. You never quite know what you're gonna get when you tune in, but you will always be entertained.
Advertise with The Kingcast on Gumball
5.  Behind You
Every week, Hailey Elizabeth will dive into the crazy, the creepy, and the unexpected on her new true crime podcast "Behind You." This is everything you've loved about her YouTube true crime series, with even more hair-raising and spine-chilling details than ever before.
Advertise with Behind You on Gumball
6. UFO Chronicles Podcast
Witness accounts from everyday people from all over the world with uninterrupted monologues of their encounters, from sightings of UFOs to traumatic alien abductions to scary heart stopping stories of ghosts, demons, and the Occult. Accounts of crossing paths with Bigfoots, Sasquatches, and all manner of dark entities that lurk in the woods and remote areas. The encounters in this podcast will stay with you long after you have finished listening to it.
Advertise with UFO Chronicles Podcast on Gumball
7. One Strange Thing
Searching the nation's news archives for stories that can't quite be explained. "One Strange Thing" unfolds regional tales of the mysterious, the paranormal, the unexplainable, and the delightfully weird.
Advertise with One Strange Thing on Gumball
8. Colors of the Dark
Dr. Rebekah McKendry and Elric Kane take a deep look at the horror genre. Each show explores a specific part of horror history, key players, franchises, deep cut titles, important films, and interviews with some of the genres' biggest icons.
Advertise with Colors of the Dark on Gumball
9. Stories with Sapphire
Join host Sapphire Sandalo (Something Scary, Paranormal Caught On Camera), a Filipino American on a mission to add more empathy and diversity to the paranormal community through stories, interviews, and poems.