8 Podcasts to Prepare You For the Holidays
What better way to plan for the holidays than listening to podcasts self-improvement, relationship advice, and cleaning your home?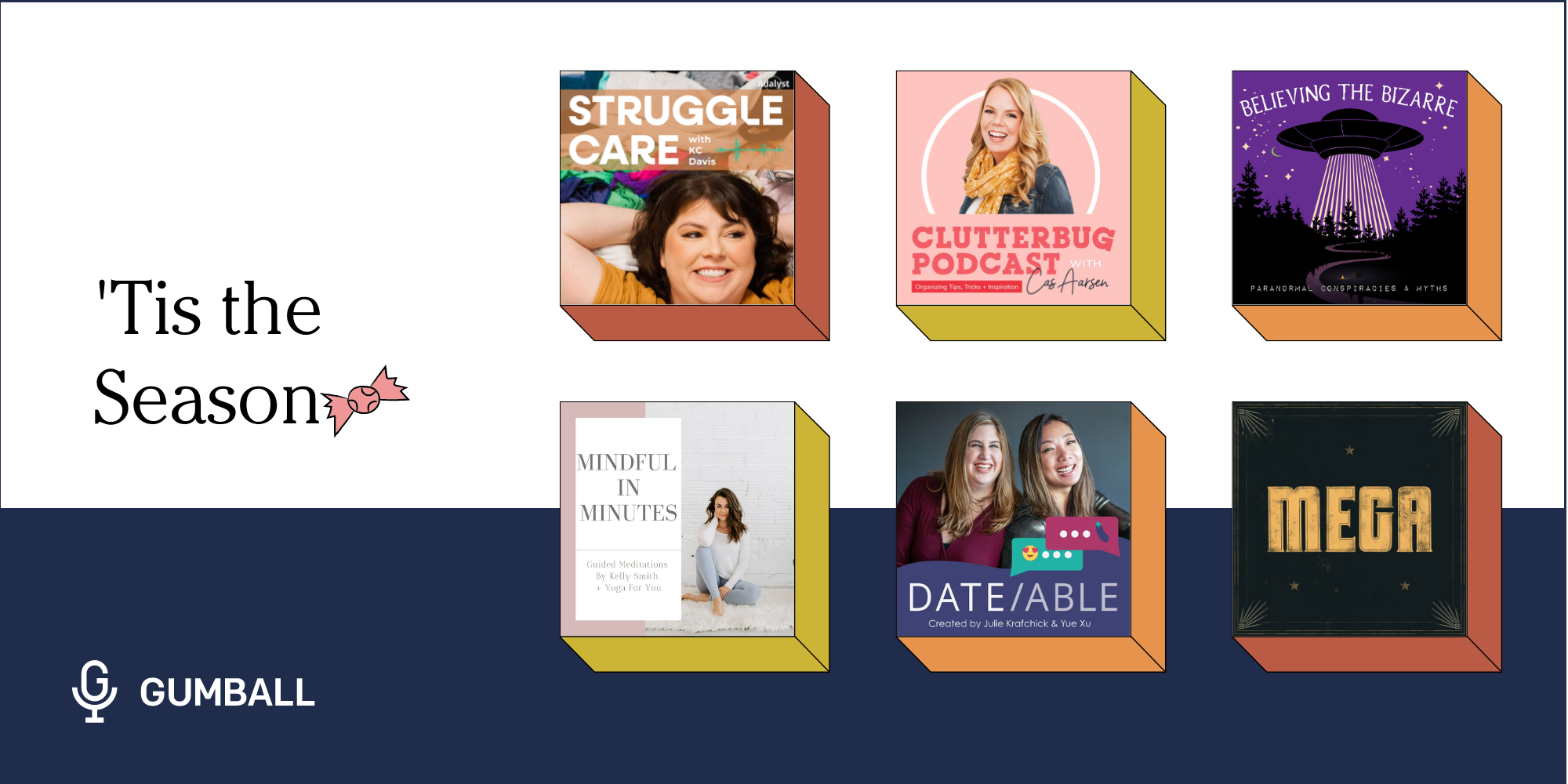 'Tis the season for holiday parties, family get-togethers, and road trips.
Whatever your plans, Gumball has you covered. We put together this list of podcasts to help you prepare for any upcoming celebrations, soirees, and treks back home.
Descriptions are taken from each show's page and may be edited for length and clarity.

Even during the holidays spending time with family can be stressful. Here are some self-improvement shows for when it starts getting heated at the dinner table.
1. Struggle Care
A podcast about self-care by a host that hates the term self-care. Therapist KC Davis, author of the book How to Keep House While Drowning talks about mental health, care tasks, and more.
Advertise with Struggle Care on Gumball
2. Mindful In Minutes Meditation
Short, weekly guided meditations to help you stress less and live more. Each week join Kelly Smith, founder of Yoga For You, for simple and grounded guided meditations that are 20 minutes or less and cover an array of topics that will help you with real life like anxiety, insomnia, self-esteem and manifestation.

Advertise with Mindful In Minutes Meditation on Gumball
Is your home in need of a deep clean before friends and family arrive? We have you covered.
3. ClutterBug Podcast - Organize, Clean and Transform your Home
Are you ready to declutter, organize, clean and take back control of your home?! You are in the right place! Clutterbug shares home organizing tips, tricks and advice to help you kick clutter to the curb for good.
Advertise with ClutterBug Podcast - Organize, Clean and Transform your Home on Gumball

4. Sustainable Minimalists
Creating eco-minimalist, non-toxic homes (without the extra work). Although minimalism has experienced a rebirth in recent years, the "less is more" movement has been around for centuries. Yet today's minimalist influencers have resurrected minimalism with a decidedly consumerist spin, as modern minimalism is nearly synonymous with decluttering. While there's a lot of chatter about tidying, it's radio silence and crickets when it comes to sustainability.
Advertise with Sustainable Minimalists on Gumball

Tired of going home alone for the holidays? Check out these relationship & dating shows to help you avoid interrogation from nosy family members.
5. Dateable: Your insider's look into modern dating
Can you find love in the time of Corona? Is monogamy dead? Are we expecting too much of Tinder? Get all the answers and more with Dateable, your insider's look into modern dating that the HuffPost calls one of the 'Top 10 podcasts about love and sex'. Listen in as Yue Xu and Julie Krafchick dig into why we date the way we do as they talk with real daters and experts about everything from sex parties to sex droughts, date fails to diaper fetishes, and first moves to first loves.
Advertise with Dateable: Your insider's look into modern dating on Gumball
6. Just Break Up Podcast
Podcast about love, heartbreak, and all the relationship advice you don't want to hear.
Advertise with Just Break Up on Gumball
Stay entertained on your journey back home with these bingeable podcasts.
7. Mega
An improvised satire from the staff of a fictional mega church. Each week, hosts Holly Laurent and Greg Hess talk with a guest comedian playing a character in the church community.
Advertise with Mega on Gumball
8. Believing the Bizarre: Paranormal Conspiracies & Myths
Paranormal stories, conspiracies, urban legends, cryptids & creatures, and diagnose whether or not they're believable.
Advertise with Believing the Bizarre: Paranormal Conspiracies & Myths on Gumball