Celebrate AAPI Heritage Month with Content From Some of Our Favorite Creators
May is Asian American and Pacific Islander (AAPI) Heritage Month, and we are celebrating by sharing some of our favorite AAPI creators transforming the podcast and YouTube spaces.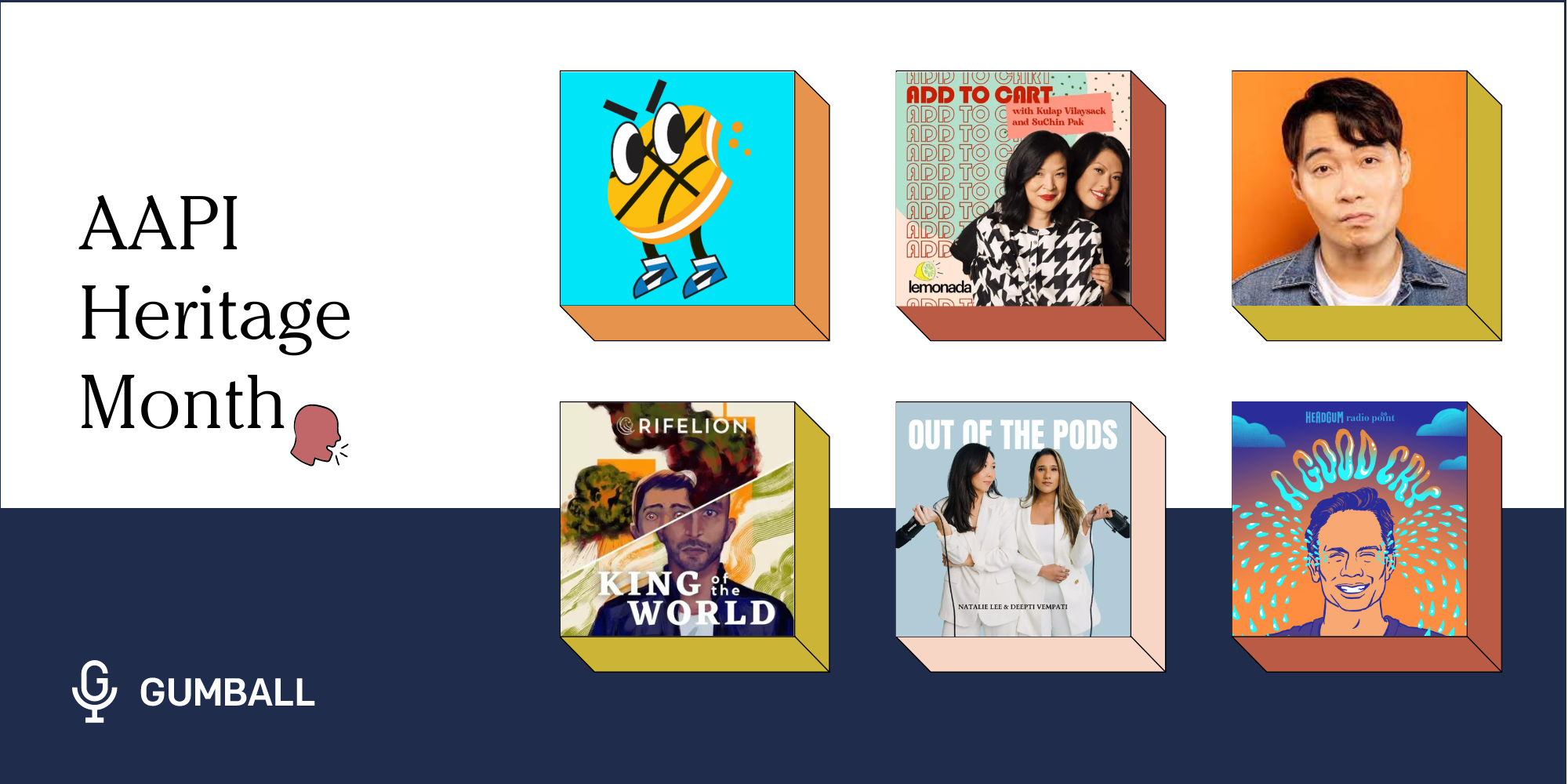 Check out the Gumball and Headgum teams' recommendations of insightful and hilariously entertaining creators that you should be watching, listening to, and ultimately celebrating – they occupy various online spaces and cover a wide range of topics including television, sports, culture, and much more. We've also compiled a list of Instagram and TikTok accounts by AAPI creators and accounts that elevate the AAPI community all year round, so be sure to scroll to the very end.
🗣️
A note from Narisa Ladak, Director of Creator Partnerships:
"I once heard that the easiest way to support a creator is to give them a follow or a like, and I never forgot that – so I'm passing the message along here. It truly is a simple way to support AAPI creators, who add so much diversity to the media landscape, this month and every month."
Recommended by Will Conover, Account Manager
"I have been loving Add to Cart hosted by SuChin Pak and Kulap Vilaysack lately; a podcast about treating yourself and enjoying the finer things in life. You've gotta check out their most recent episode with Jujubee, royalty from RuPaul's Drag Race."
Recommended by Marika Brownlee, Director of Marketing
"I'm so glad A Good Cry is back for a second season with some incredible guests like Jason Ritter and Amanda Kloots. Michael Cruz Kayne and guests' reflections on grief are honest/moving/funny/sad in a really beautiful way. I'm also excited to go see Michael's one man show, Sorry For Your Loss, Off-Broadway!"
Recommended by Brad Hild, Account Manager
"Geek Climber is one of my favorite YouTube channels – and the only YouTuber I can think of that makes content combining my love of both data analytics and rock climbing; video topics like 'Grading Climbs with Data Science' and 'How Much Does Chalk Actually Help in Climbing?' are creative and unique ways of engaging with the sport."
Recommended by Amir Blumenfeld, Co-founder and Chief Creative Officer
"I'm a fan of Pablo Torre, who used to host the ESPN Daily – a fun short daily podcast about the top sports news story of the day. His final episode was a chat with Jeff Passan about clocks, evolution, and how to finally leave your history behind. I'm excited to see what he cooks up on the Pablo Show at Meadowlark Media."
Recommended by Narisa Ladak, Director of Creator Partnerships
"Out of the Pods with Natalie Lee and Deepti Vempati is my weekly excuse to continue thinking about Love is Blind while off season; the tea continues to spill and it's been a surefire way to get more insight into guests' lives post show and better understand what really happened in the pods. Natalie and Deepti are multi-faceted Asian American women who I'm learning about beyond their social media presence and time on the reality tv show."
Recommended by Saige Gipson, Marketing Intern
"King of the World is a gripping limited series about American Muslim life  post-9/11. Host Shahjehan Khan pieces together how things went wrong, and explores how society changed in the 20 years after 9/11. The podcast is insightful and I really love how Khan beautifully weaves his personal stories with commentary from experts, victims, and friends."
Recommended by Alex Berkmen, Senior Manager Creator Partnerships
"Nigel Ng (a.k.a. Uncle Roger) is my favorite new comedian and online creator! Whether I catch him on YouTube, TikTok, or anywhere else, I'm laughing out loud in a way that I haven't in a long time. His pseudo-feud with Gordon Ramsey also really tickles me. HAIYAA."
Recommended by Joel Dunoff, Software Engineer
"Cookies: A Basketball Podcast adroitly weaves between stony postulates that will turn your basketball-perceiving mind upside-down, interstitials on daily life in NYC, and what this all means. Andrew Kuo and Ben Detrick introduce their listeners to concepts such as "Jordan Originalism", "Boston Media Mafia", and where and when to eat carbs on carbs. To quote their friend of the pod Cat Marnell: 'It's all so elegant'"
Recommended by Emma Foley, Producer and Studio Manager
"Negin Farsad fearlessly tackles current events with tact, insight, and humor on my favorite TLDR news & culture podcast, Fake The Nation. Her approach to politics is informative without being dense, and she always features incredible guests like David Cross, Samantha Bee, and Margaret Cho."

We'd also like to honorably mention of some of our favorite AAPI creators on TikTok and Instagram as well as accounts that highlight the community year-round:
"Every month is #AAPIHeritageMonth ✨
Leave your shoes at the door
📍 We're from here"
The Juggernaut is an online publication that publishes global South Asian stories you need to know, for the diaspora and beyond. Their recent coverage on Tharshan Selvarajah, who is Tamil and originally from Sri Lanka, winning best baguette in Paris made us smile.
The Represent Asian Project celebrates, advocates, and elevates Asian representation and voices in media and beyond. We love that the Project covers representation in the fashion world, recently highlighting Peter Do as the new creative director of Helmut Lang, and showing off the beautiful attire of Bollywood stars at a launch party in Mumbai.