Headgum and Radio Point's "A Good Cry" Hosted by Michael Cruz Kayne Returns for its Second Season
Season two of "A Good Cry" premieres Thursday, March 9. Host Michael Cruz Kayne interviews acclaimed guests while examining the impact of losing a loved one.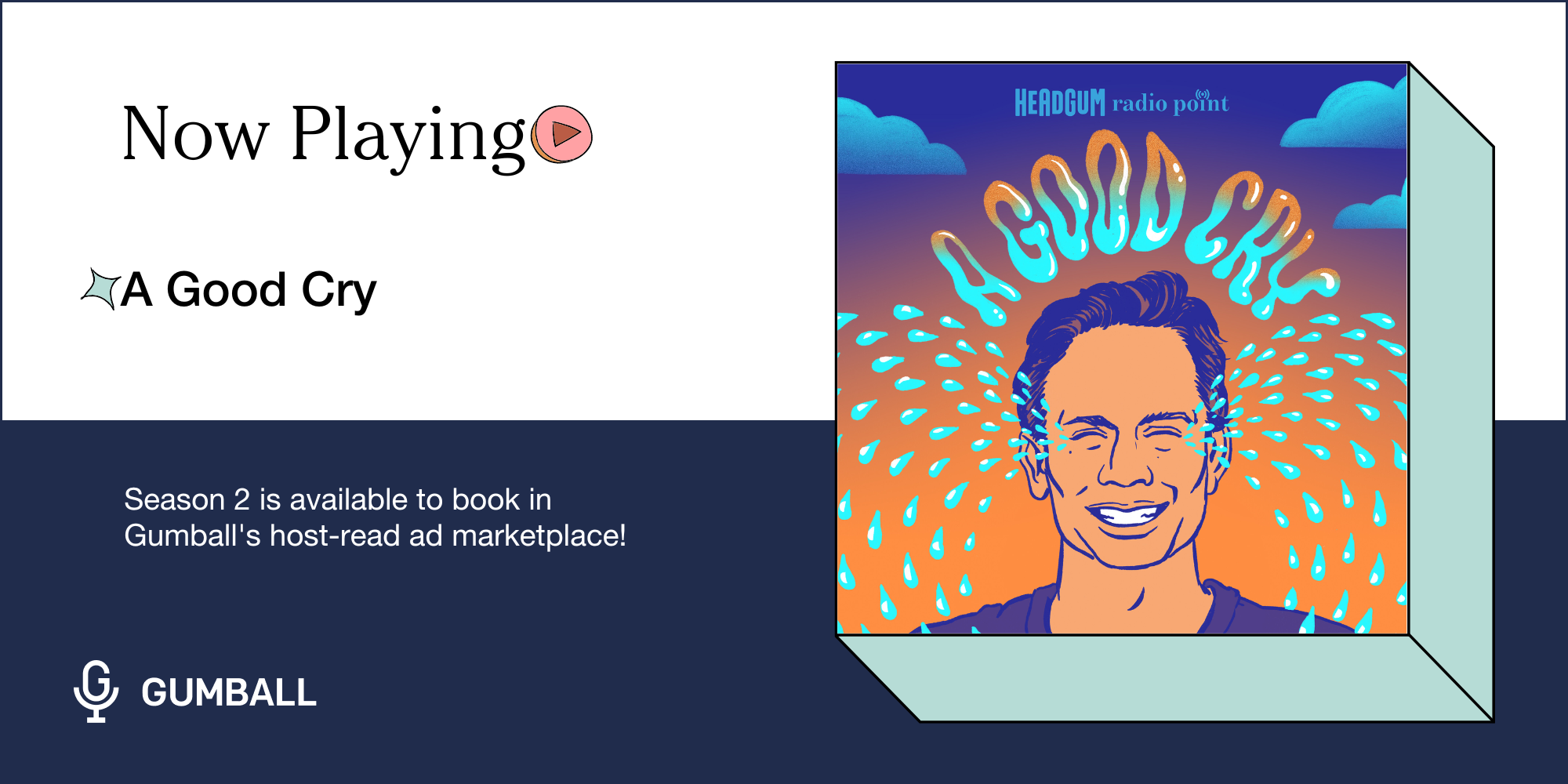 Los Angeles, CA – March 7, 2023 - Headgum, the comedy podcast network founded by Jake Hurwitz and Amir Blumenfeld from College Humor, with shows such as Doughboys, Dead Eyes, and Newcomers with Lauren Lapkus & Nicole Byer and Radio Point, the podcast network founded by Alex Bach and Daniel Powell from Irony point, audio producer Houston Snyder of Great City Post, and  producer Rich Korson are excited to announce that their joint podcast, A Good Cry, is premiering season two on March 9, 2023. Additionally, ad sales for A Good Cry Podcast will be through Gumball, the Headgum-owned marketplace for advertisers to buy host-read ads directly from podcasters.
The show is hosted by comedian and writer Michael Cruz Kayne. Season two features interviews with acclaimed guests such as Amanda Kloots, Jason Ritter, BenDeLaCreme, and Moshe Kasher. The show's impetus was inspired from a Twitter thread, where host Michael Cruz Kayne opened up about the loss of his young son, who is survived by his twin brother and younger sister. Cruz Kayne thoughtfully articulates the deep and ever present impact of losing a loved one, from his wife changing careers to become a pediatric intensive care nurse to his daughter asking to put an extra candle in her surviving brother's birthday cake. Cruz Kayne's plea is simple: ask those around you who are grieving about their grief. It is an isolating and solitary experience, and so often it goes undiscussed because of the fear of what to say. Thus, A Good Cry was born.
The podcast has been running since September 2021, featuring commentary about the complicated nuances of grief. Not just the hard parts, but also the memories that make us laugh, the dumb stuff people have said, and the ways in which we've recovered… or didn't. Each episode is a funny, joyful, and also sometimes really really sad reflection on grief, which is something the show champions to normalize in today's culture that tends to shy away from honest conversations about death.
Michael Cruz Kayne is a writer and comedian known for his work on The Late Show with Stephen Colbert. He is the recipient of both a Peabody and Writers Guild Award and can be recognized from his appearances on High Maintenance, Late Night with Seth Myers, and The Chris Gethard Show. He was a creative consultant for Billy on the Street and wrote for @midnight's pilot presentation. He was also featured in two Audible series: 64th Man with John Cena and Holiday Greetings from Sugar and Booze with Ana Gasteyer.
"We're excited and proud to share the second season of A Good Cry with the world," said Headgum Founders Jake Hurwitz and Amir Blumenfeld. "Michael truly understands how to deliver an authentic, funny, and nuanced conversation about hard subject matter, and our hope is that you connect with and enjoy these new episodes as much as we have".
Listen to new episodes of A Good Cry here, or listen on Apple Podcasts, Spotify, and everywhere podcasts are available.
Follow A Good Cry on Instagram.
About Headgum
Headgum is an LA & NY-based podcast network creating premium podcasts with the funniest, most engaging voices in comedy to achieve one goal: Making our audience and ourselves laugh. The network produces hit shows such as Doughboys, Dead Eyes, Newcomers with Lauren Lapkus & Nicole Byer, If I Were You, and Not Another D&D Podcast.
About Radio Point
Radio Point is the podcasting venture that is helmed by Alex Bach & Daniel Powell of Irony Point, audio producer Houston Snyder of Great City Post, and veteran producer Rich Korson. Our first scripted podcast, Ellie and the Wave (starring Natalie Morales, Paul Scheer, and June Diane Raphael) was released in 2019. We have since released various scripted and unscripted formats across a variety of genres. These projects include Marvel's Squirrel Girl: The Unbeatable Radio Show!, the Who Was? Podcast (iHeart), Ruined with Alison Leiby & Halle Kiefer, and A Good Cry with Michael Cruz Kayne.
Radio Point's upcoming slate includes projects with Spotify, Netflix, Big Money Players, Story Pirates, and iHeart, as well as a slate of kids and family podcasts in partnership with Penguin.